Divya Marie Kato FRSA, CEO Atelier Kato Tokyo, Paris-born, London-raised, Tokyo-based, British Indian Fine Artist working in Japan since 2005.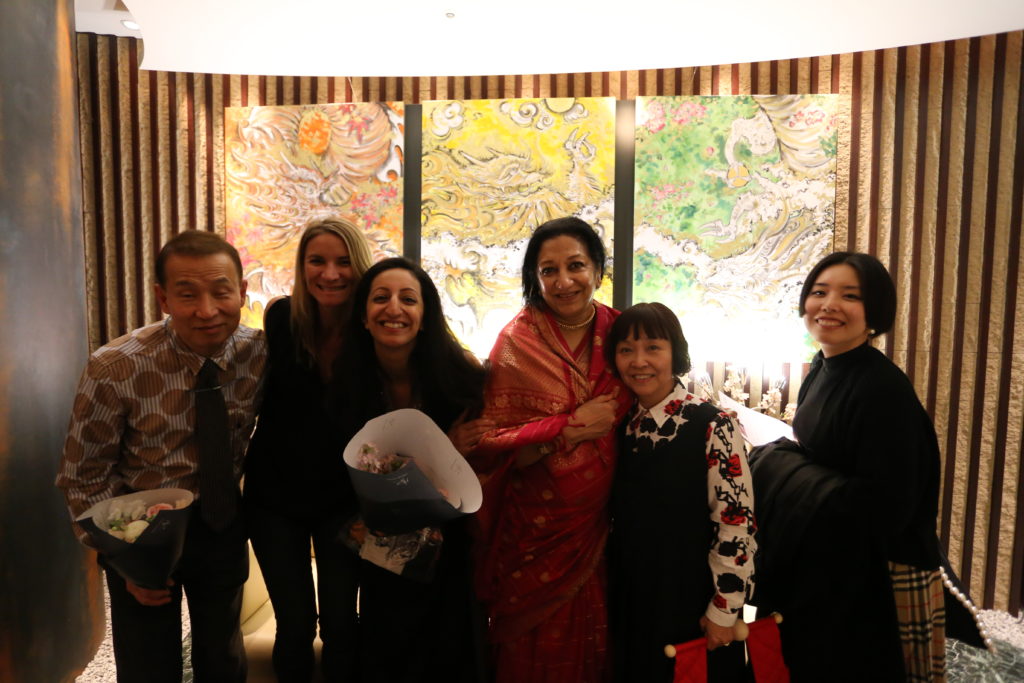 Drawing is a constant correcting of errors….maybe a great deal of creation is actually like that…there's not really a point where you're suddenly aware that there's nothing more to correct and if you were aware of that, it would probably be very bad.
-John Berger
20+ years (and counting) of correcting errors in: drawing, painting, commissioned art, art education, workshop facilitation and collaborative, cross-culture art projects.
Fellow of The Royal Society of Arts, Companion of The Guild of St. George, Founder of the When In Doubt, Draw drawing programme and the award-winning Big Draw Japan drawing festival.
Passionate advocate of art education, drawing, visual literacy, art therapy and collaborative, cross-cultural art projects that strengthen ties between countries and cultures.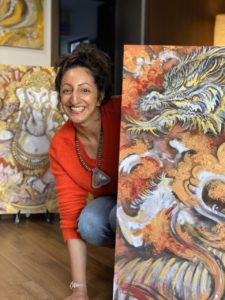 Portfolio:  ANA InterContinental Tokyo, ELLE, The Indian Express, the Royal Society of Arts (RSA), the Curlew Nature Journal, BCCJ (British Chamber of Commerce Japan), Metropolis, Tokyo Families, CCCJ (Canadian Chamber of Commerce Japan), Tokyo Weekender, FEW (For Empowering Women in Japan), ADOBE Japan, LUSH Japan, Refugees International Japan, TEDx.
Portfolio below.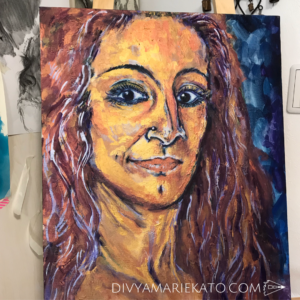 **********************
"Thanks very much for the wonderful painting!"
-Michel Chertouh, General Manager, ANA InterContinental Tokyo
"I thought this was just an art class! It's so much more!"
 – Shivani, Student
"You are the absolute best!   Always so positive and full of vibrant energy. An inspiration to us all."
-Karen Thomas, Toriizaka Art
"I have a coach, but you explained things in a way that I understood so completely.  You opened the door for me!"
– Megumi, Afrika Rose Tokyo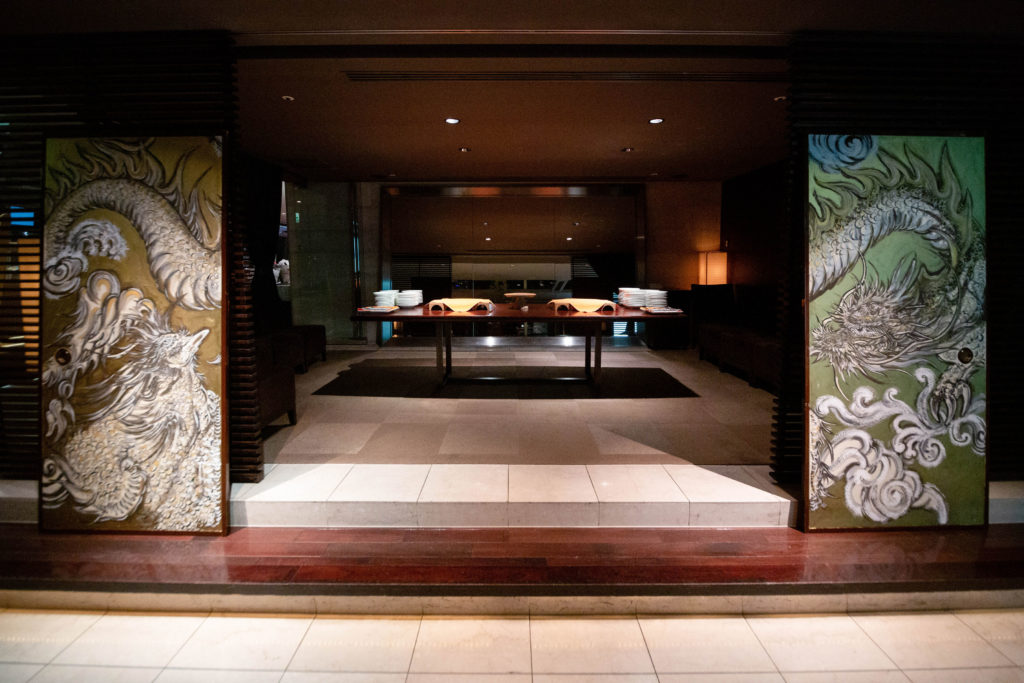 "Thanks a lot for being you in front of me…who was in search of myself at that time.

You taught me, not only about drawing, but also about being my real self."
– Nirmin, Student
"An environment that revealed what I had always thought was missing"
-Matt, Teacher
"I am much happier now about how my life is going!"
-Ellis, Senior Strategic Development Analyst, Sun Life Indonesia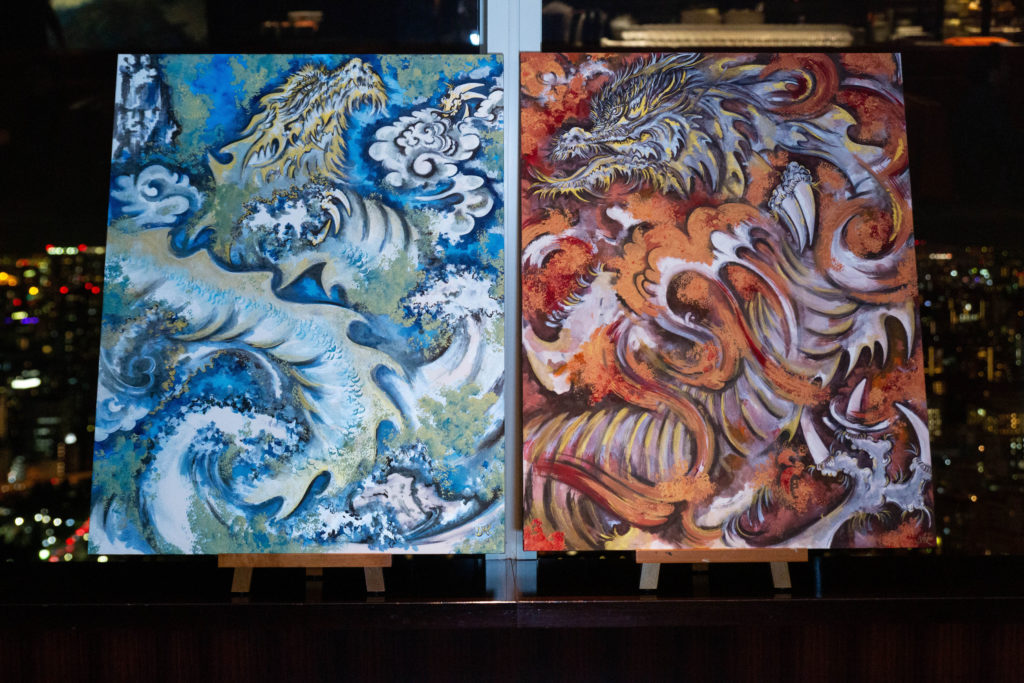 "Thank you very much for your beautiful class today as usual… always relaxing and healing.  Thank you very much for giving me a wonderful opportunity to explore the beauty of life!"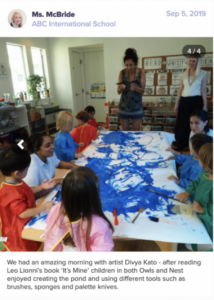 – Yuka
"It was heart-warming and inspiring. THANK you!
I love the way you made the classes feel like an adventure, and the materials you gave were gifts to delight and encourage.
I deeply desire that more people can learn from you. Please let me know how I can promote you and spread the word!"
– Tania Coke, Tarinainanika, RSA Ambassador Japan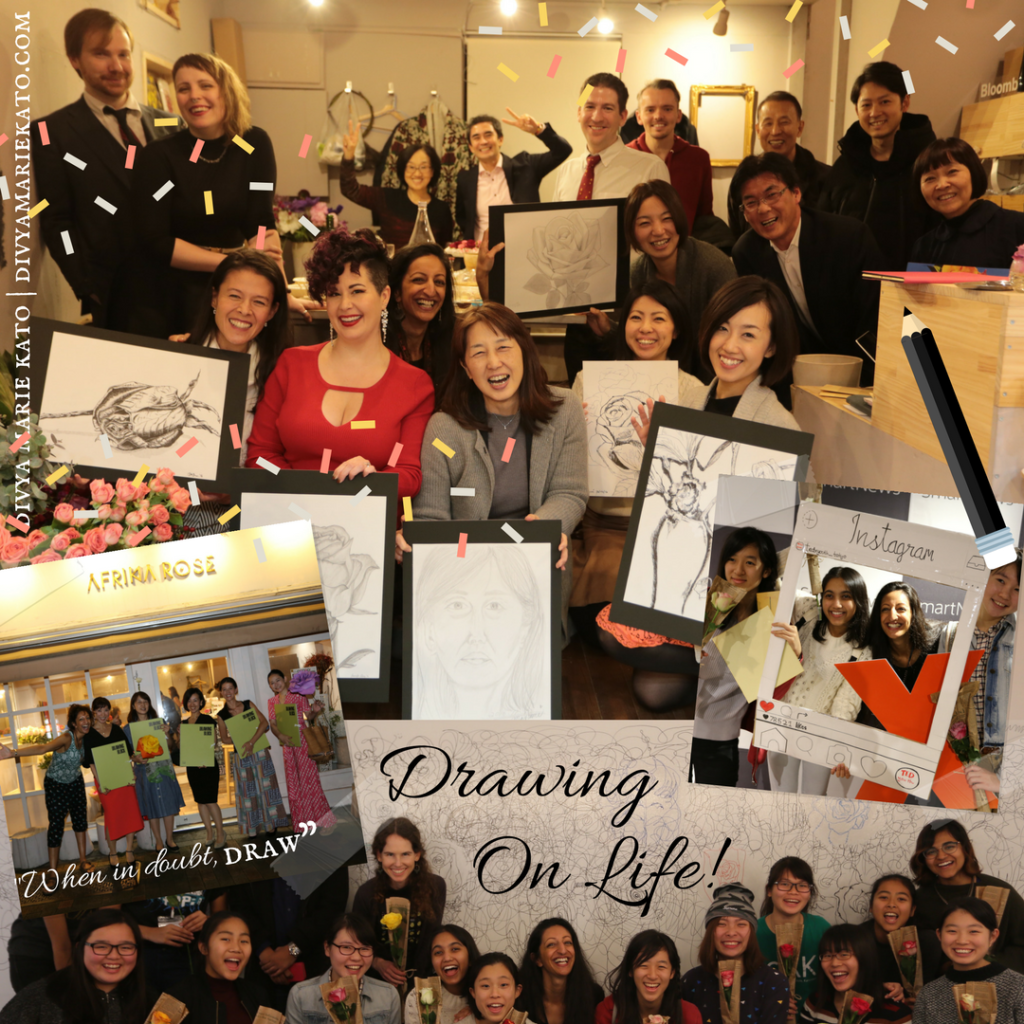 ---
*****************************
FUSUMA 襖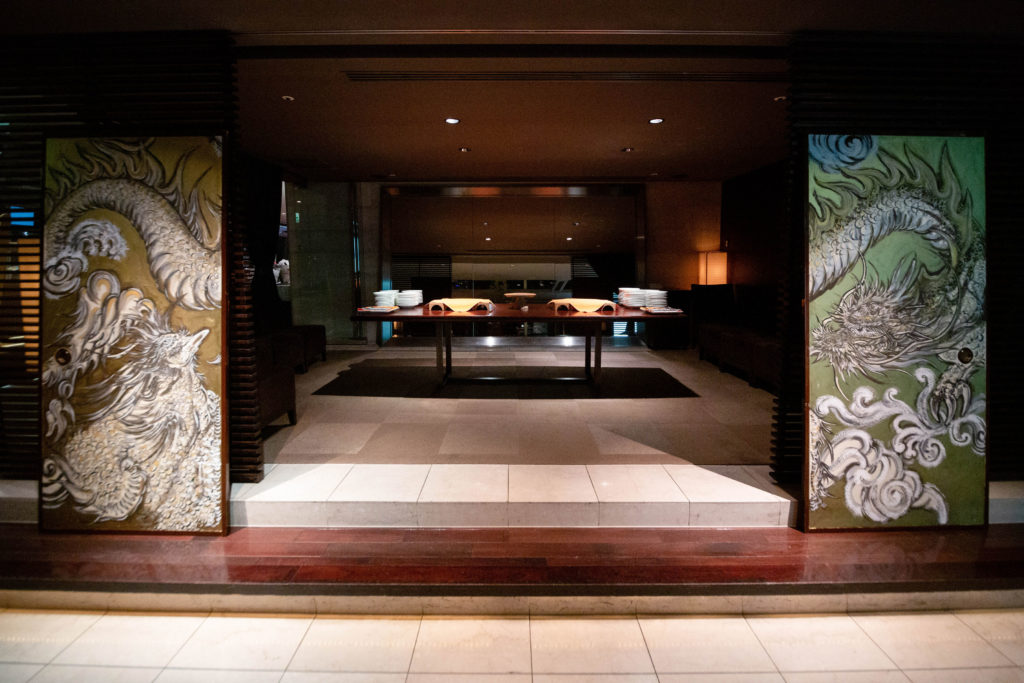 *******************
COMMISSION:  REFUGEES INTERNATIONAL JAPAN

******************
HOPE 希望 & AUTUMN 秋:  ART FOR HOPE PROJECT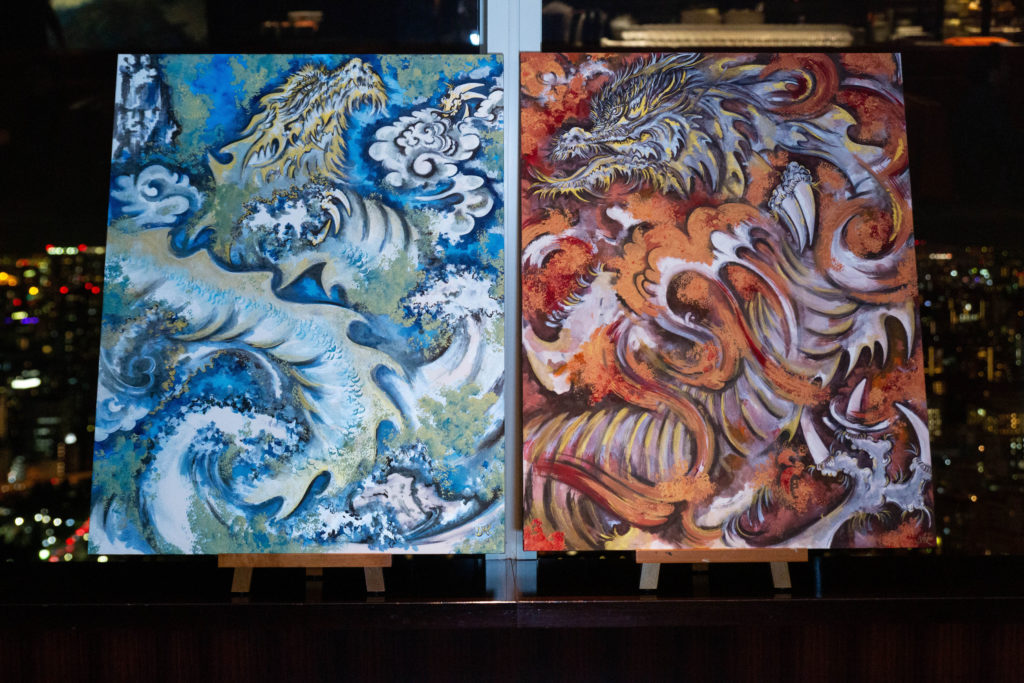 HOPE 希望 & AUTUMN 秋
Sumi & Mixed Media, Washi Mounted On Wood Panel, 90 x 73 (F30), November 2019.
Both paintings part of the Art For Hope project funding humanitarian projects around the world.
***************************
Exhibition:  Brick Lane Gallery London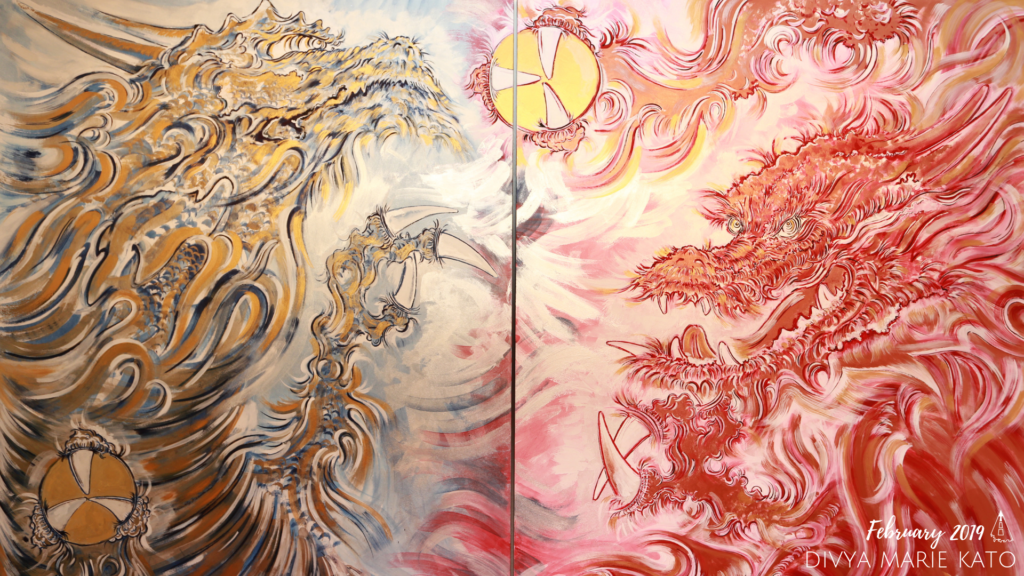 ***********************************
COMMISSION:  ANA INTERCONTINENTAL TOKYO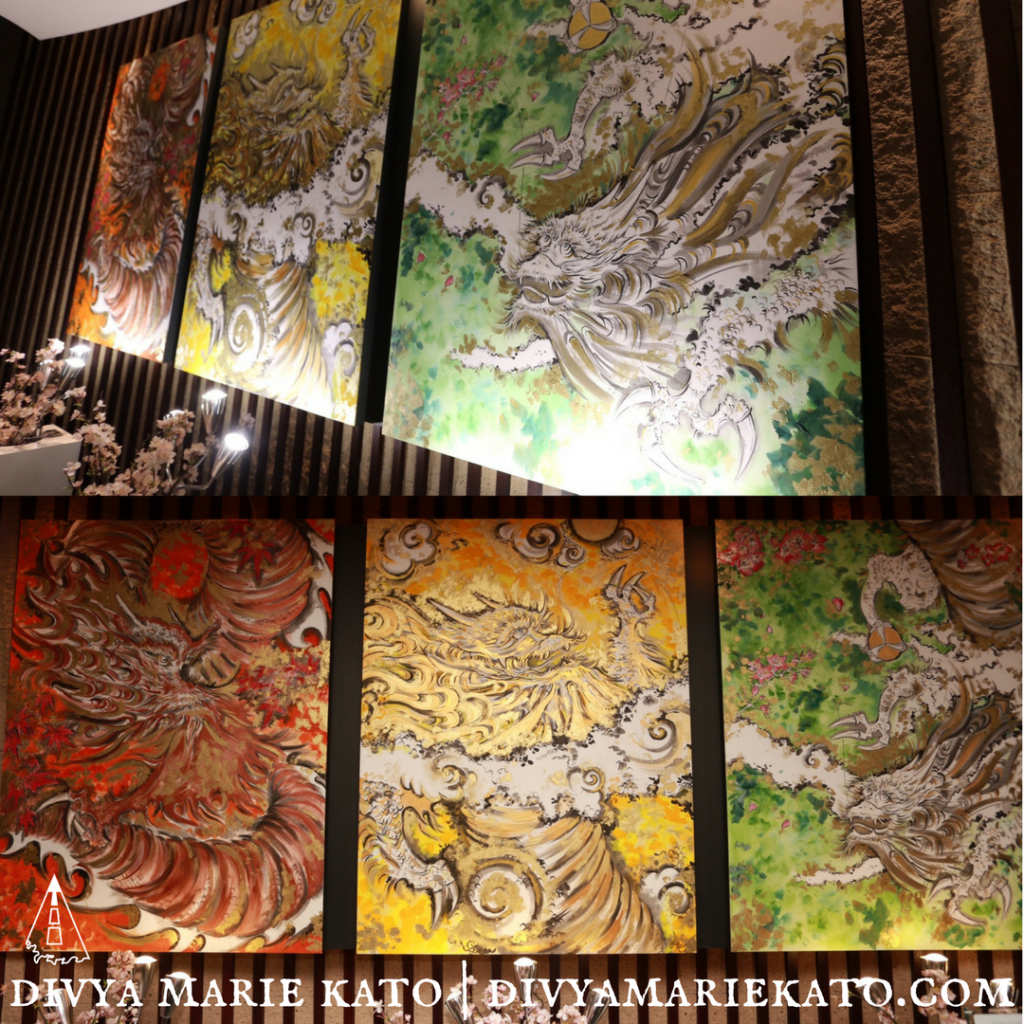 **************************
HOPE 希望:  Art For Hope Project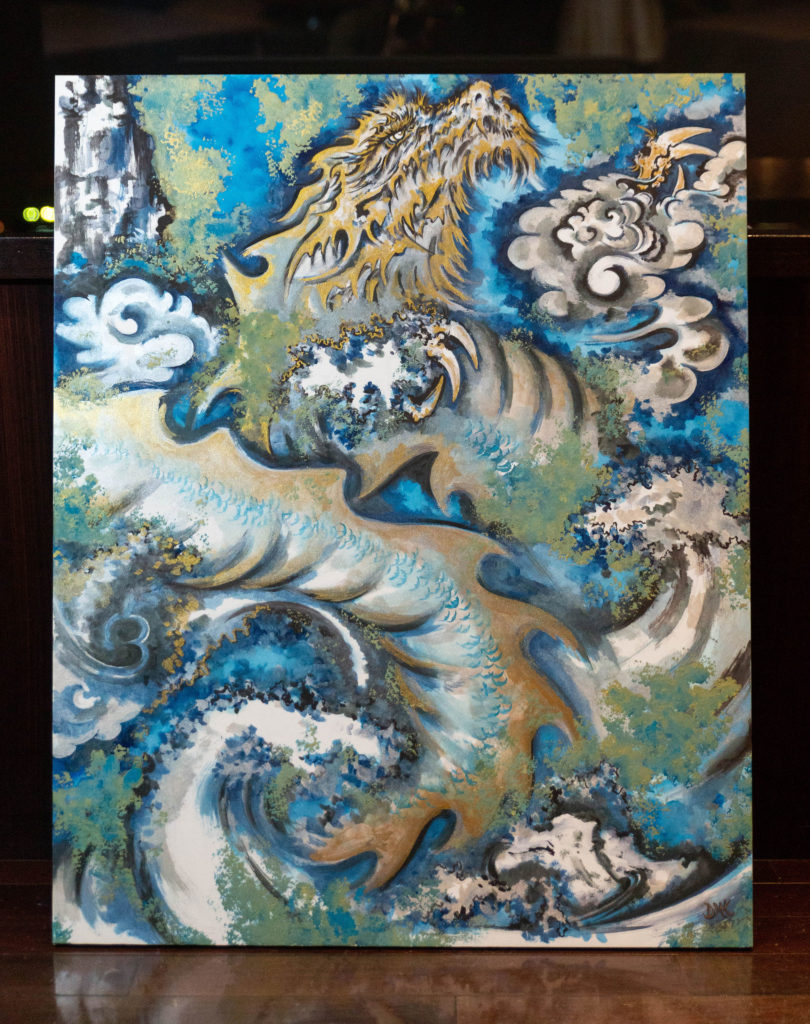 HOPE 希望
Sumi & Mixed Media, Washi Mounted On Wood Panel, 90 x 73 (F30), November 2019 ©
Part of the Art For Hope project funding humanitarian projects around the world.
************************
RSA (Royal Society Of Arts) Event Facilitation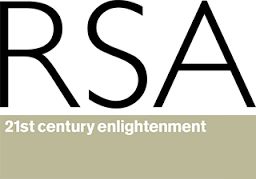 Building Global Connections In Times Of Coronavirus | Link To Event Recap Blog
Ruskin Calling: Educating hands, heads & hearts in changing times
*********************************************
KIZUNA 絆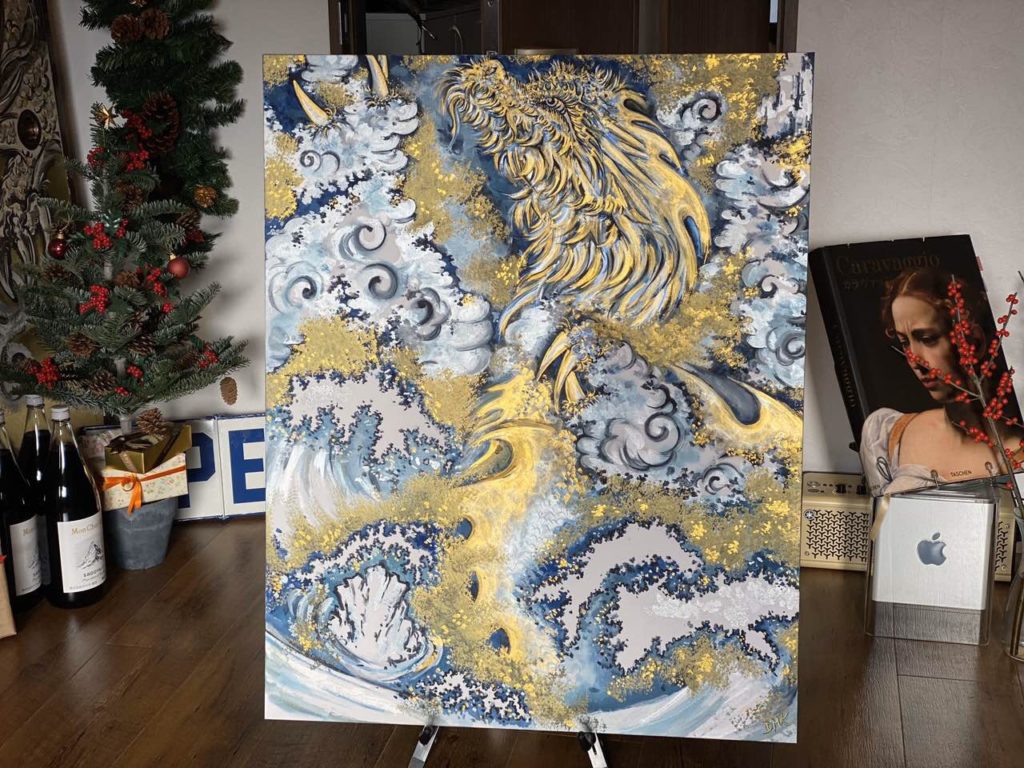 Sumi (Japanese Ink) & Mixed Media, Washi (Japanese Paper) Mounted On Wood Panel, 97 x 73 (F30), December 2019, Private Collection Japan ©
***************************************************
WINTER 冬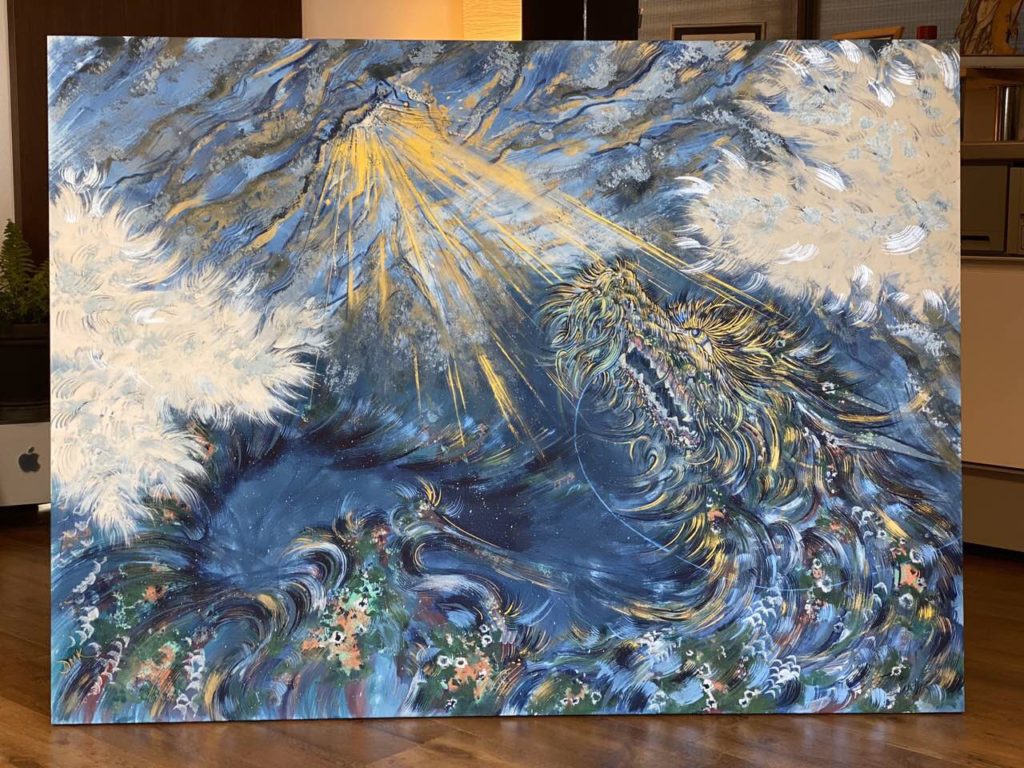 **********************************
GANESHA: Art For Hope Project

*******************************
DRAWINGS:  THE CURLEW NATURE JOURNAL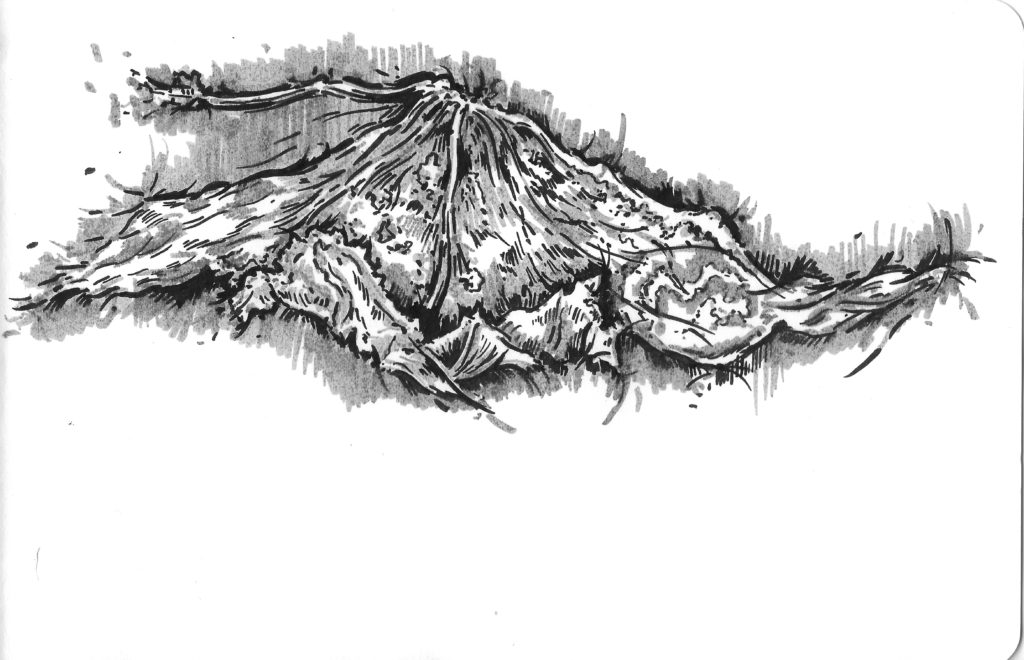 The Curlew Nature Journal | Ink Pen Drawings
***************
THE AWARD-WINNING BIG DRAW JAPAN DRAWING FESTIVAL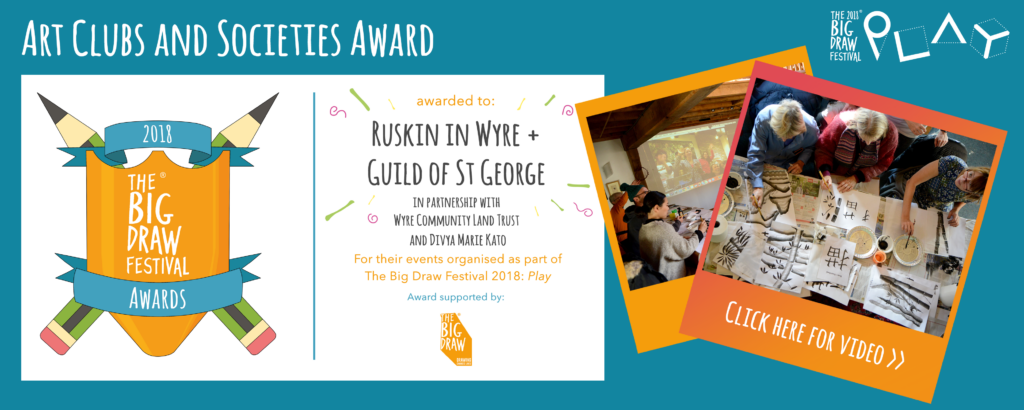 Championing and celebrating ideas born from the scratch of pencil on paper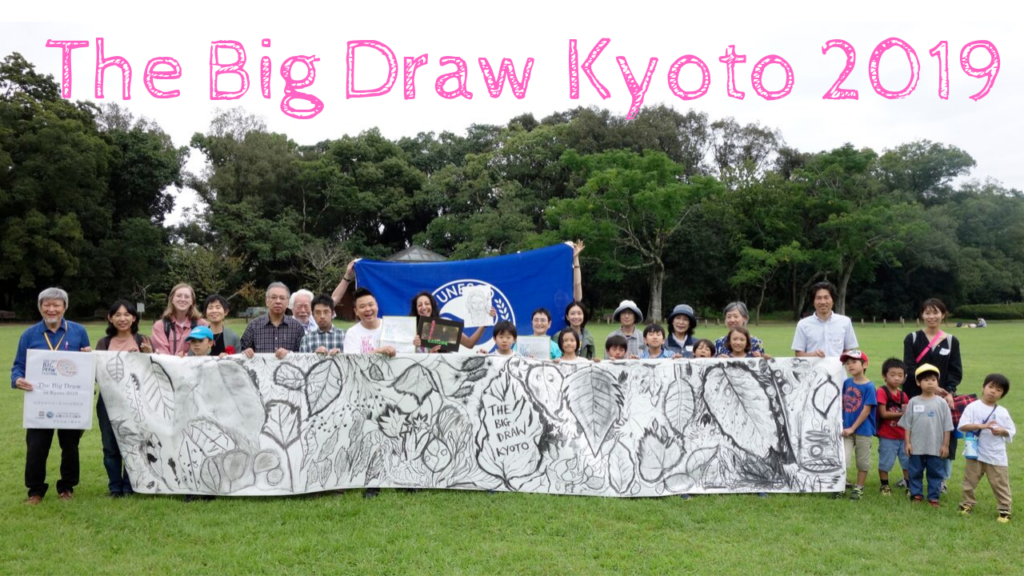 ***********************
COMMISSION:  Private Collection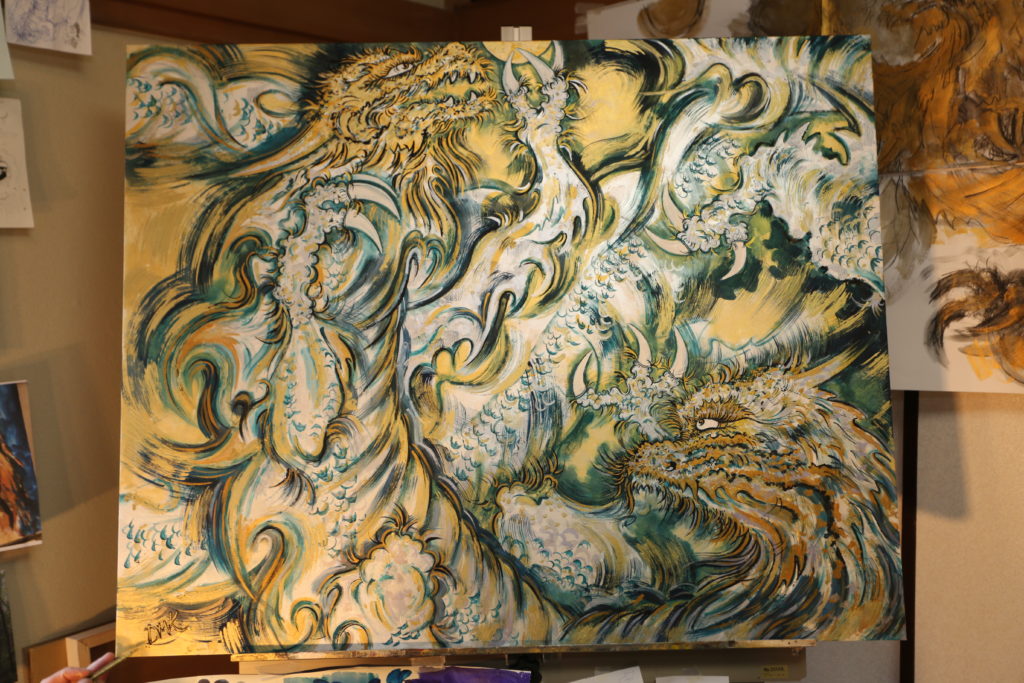 *********************************************
Exhibit UEMATSU Shibuya, Tokyo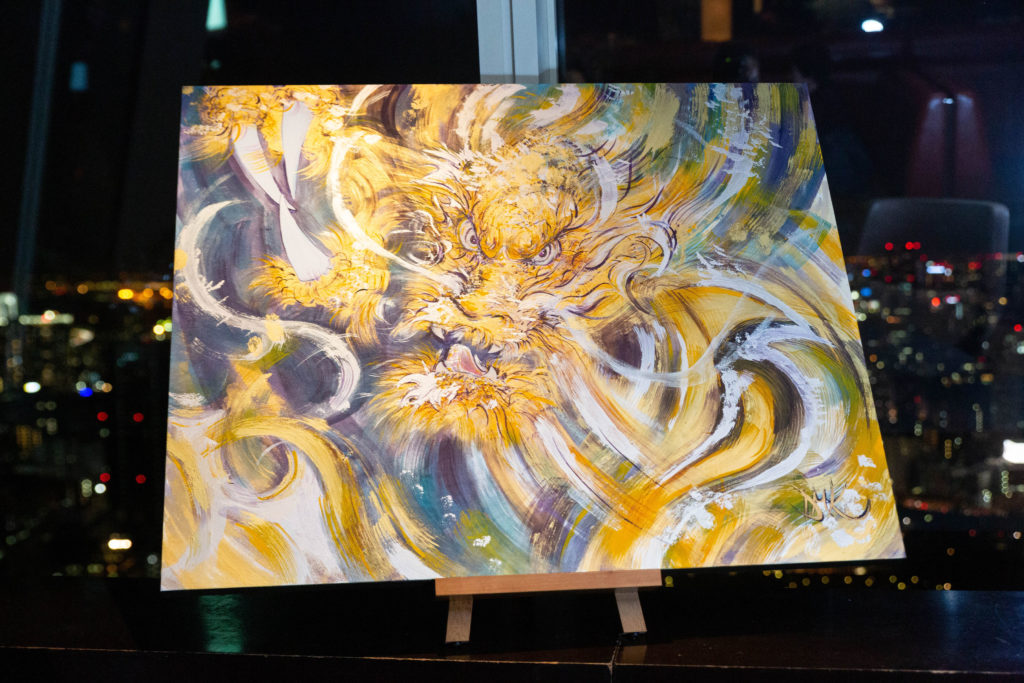 **********************************
COMMISSION:  Private Collection Japan

*********************************************
COMMISSION: INTERNATIONAL ROSE & GARDENING SHOW JAPAN 6M MAIN STAGE MURAL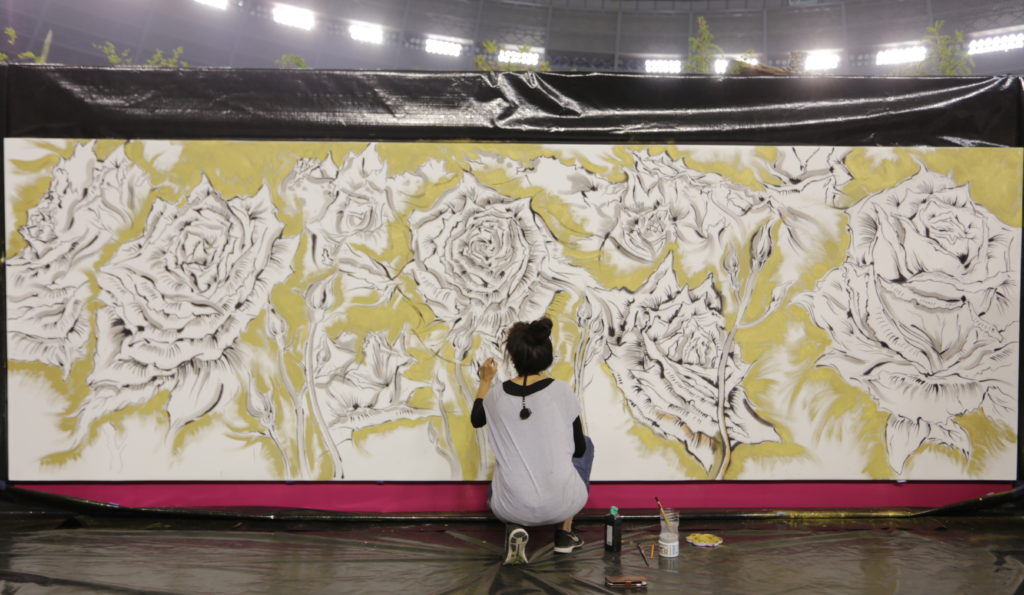 *************************
AUTUMN 秋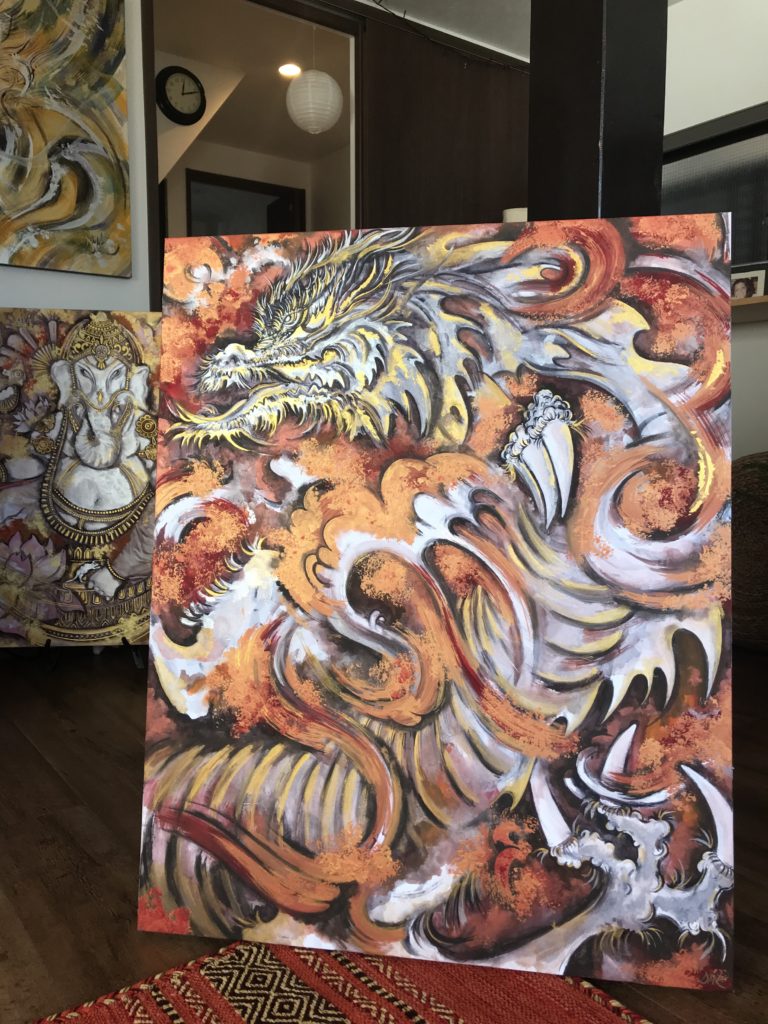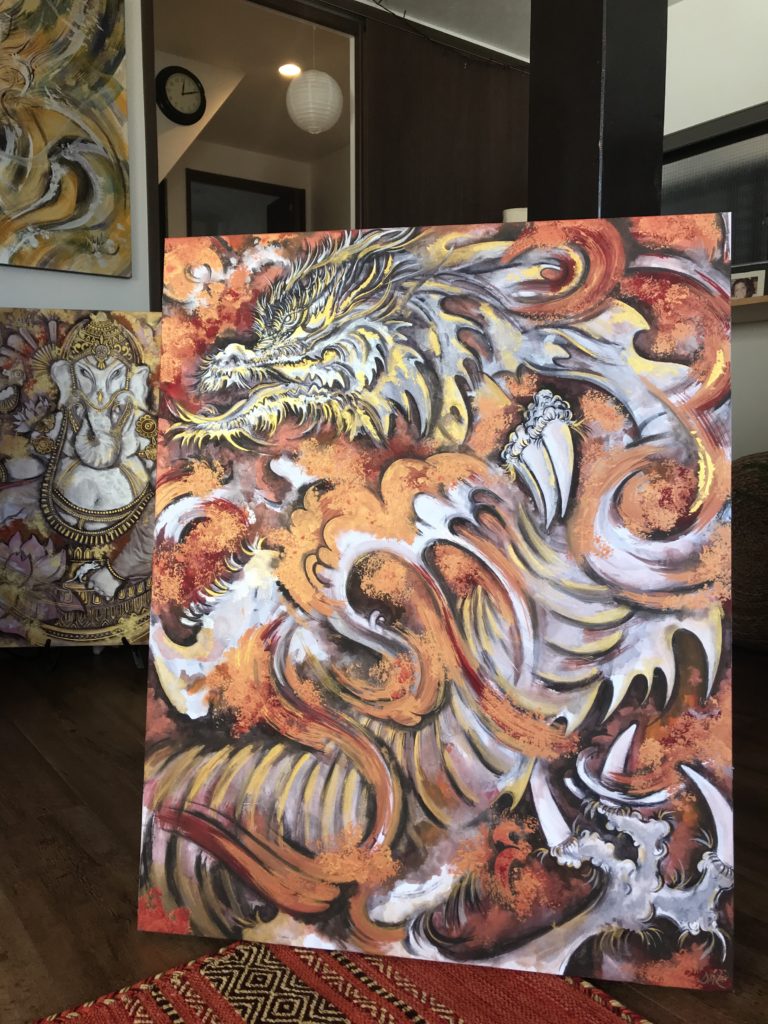 ******************
FACILITATOR:  WORKSHOPS & VISUAL FACILITATION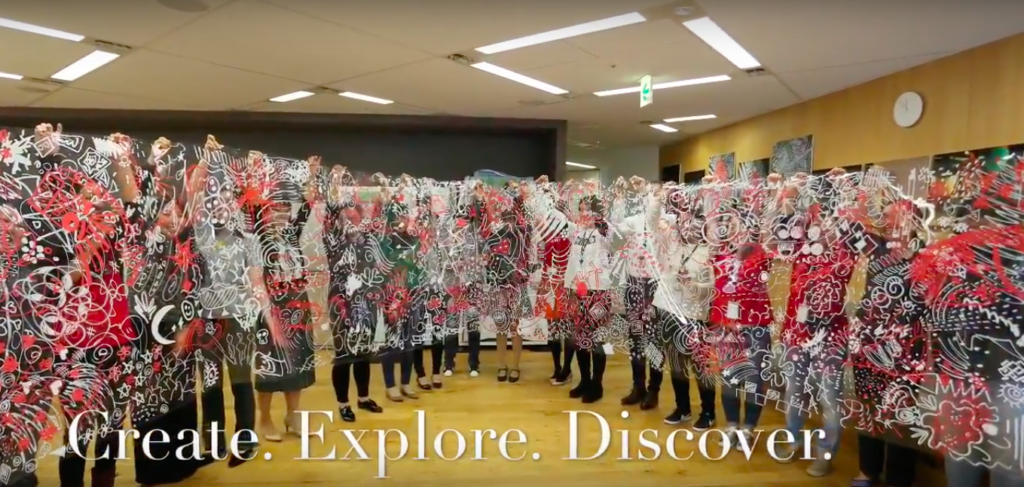 "I walked out of the workshop reminded of what it felt like to be free like a child!"
The Power Of Visuals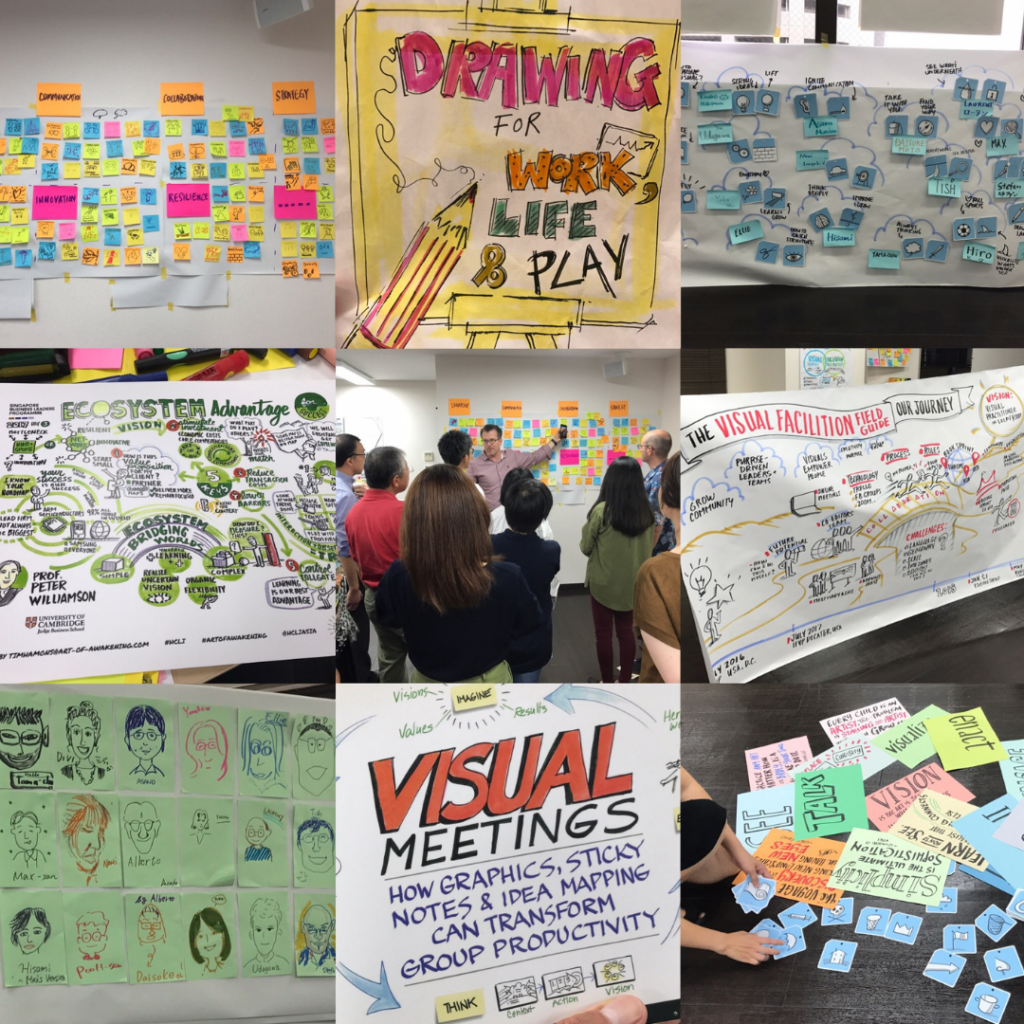 Liven up meetings, retain information for longer, keep people engaged, have an objective pair of eyes and ears in the room, take home a beautiful memento documenting the process… and more!
**************************************************
ELLE INDIA FEATURE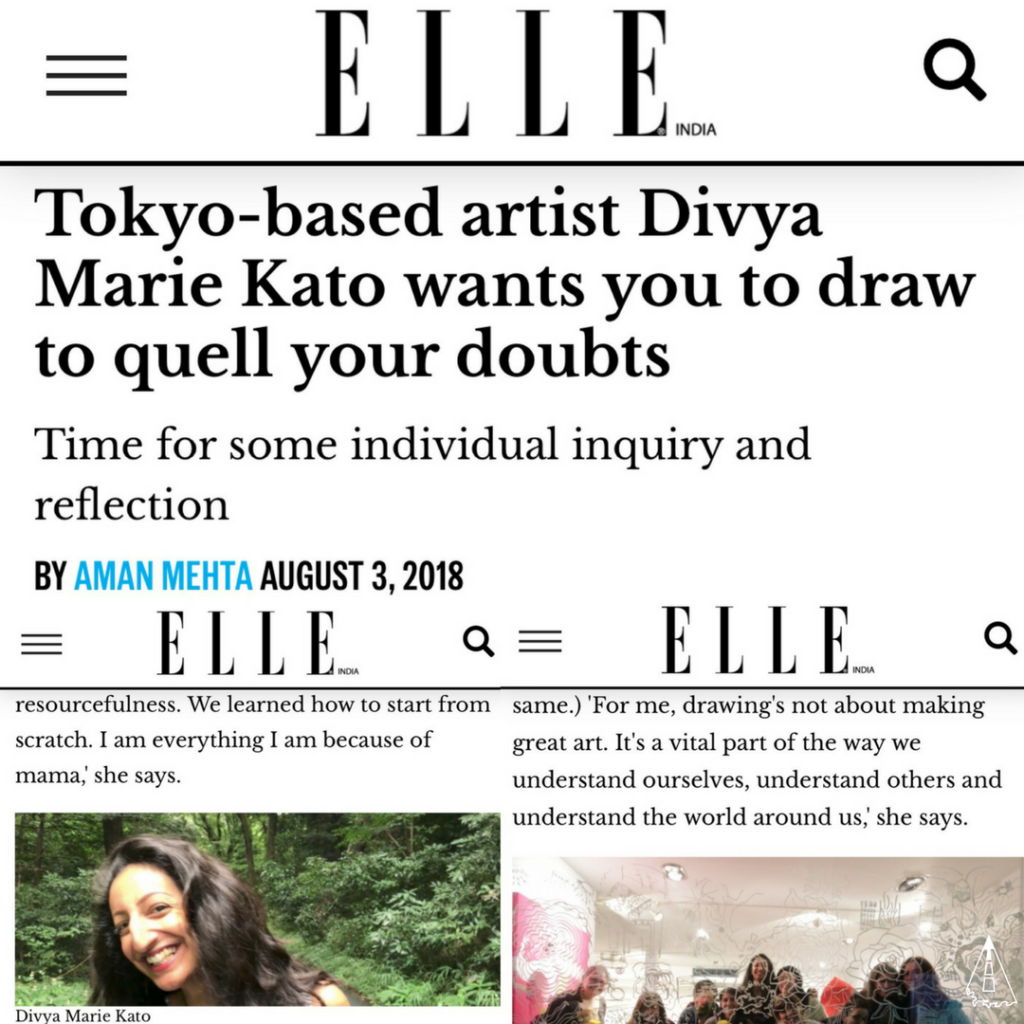 ********************************************************************
British Chamber of Commerce Japan & Peaceboat Volunteer Weekend:
Rebuilding following the earthquake & tsunami of 2011 in Tohoku, Japan.  Painting project with local artist, Shuhei Sakimura, Onagawa Art Guild.
Video  '500 Miles' : Watch Here
Article in the British Chamber of Commerce Japan Magazine, Acumen: Click Here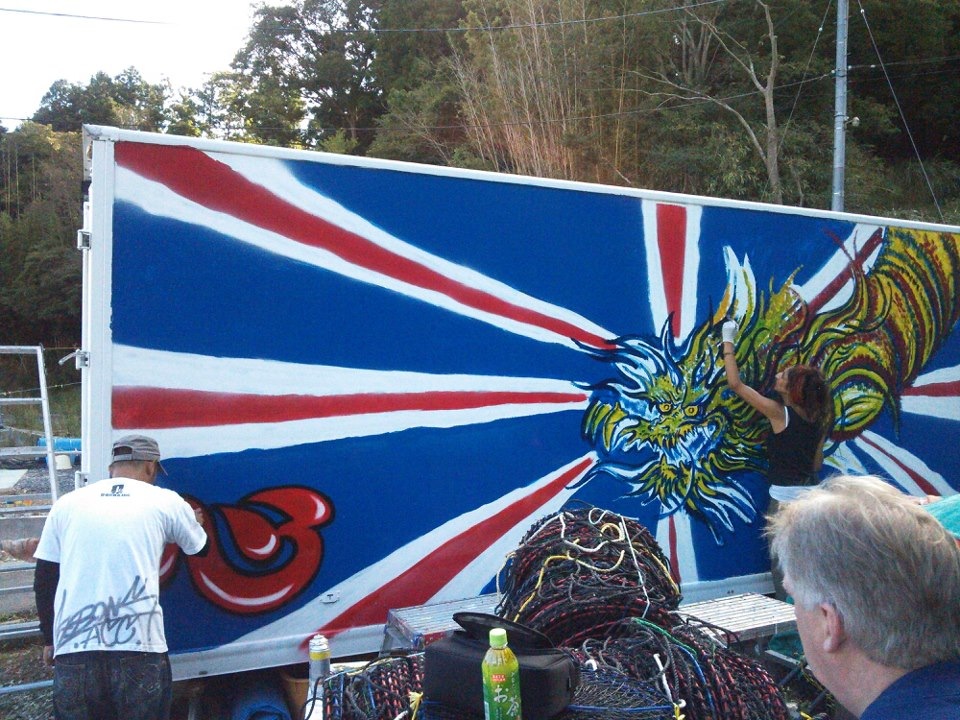 ******************************************************************
COMMISSION:  WARAKU DAIKO, TAIKO DRUM GROUP STAGE MURAL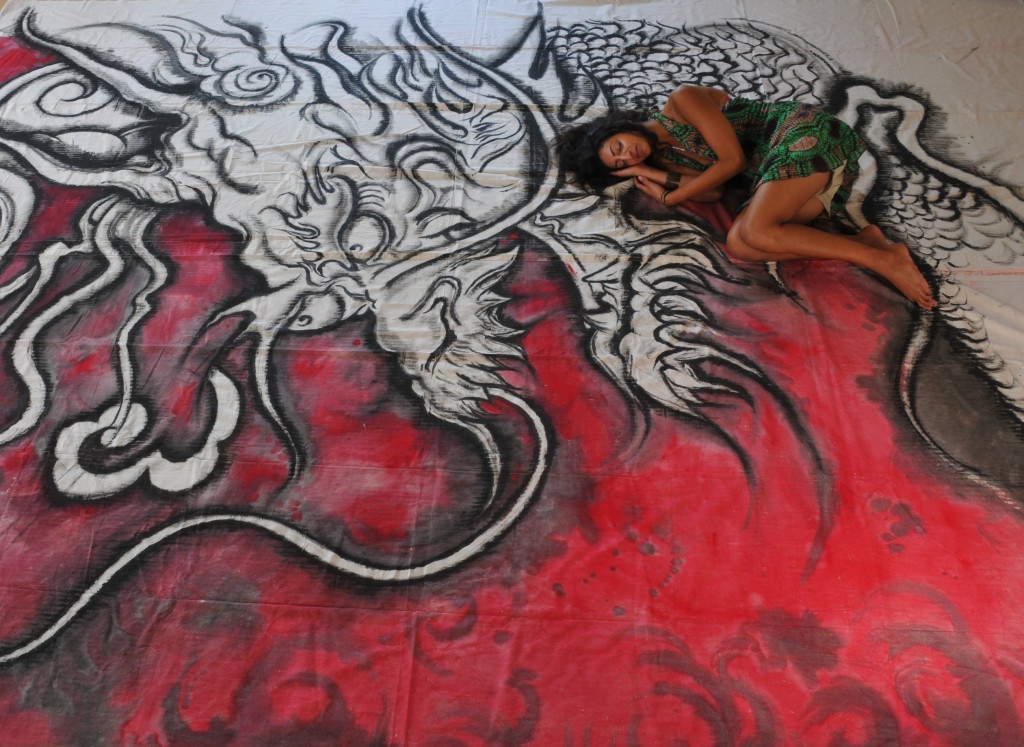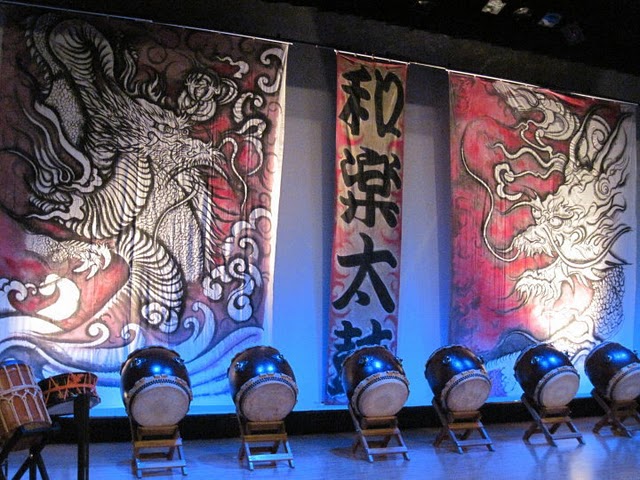 Waraku Daiko Mural, Sumi On Canvas, Private Collection 2012 ©
***************************************
METROPOLIS MAGAZINE FEATURE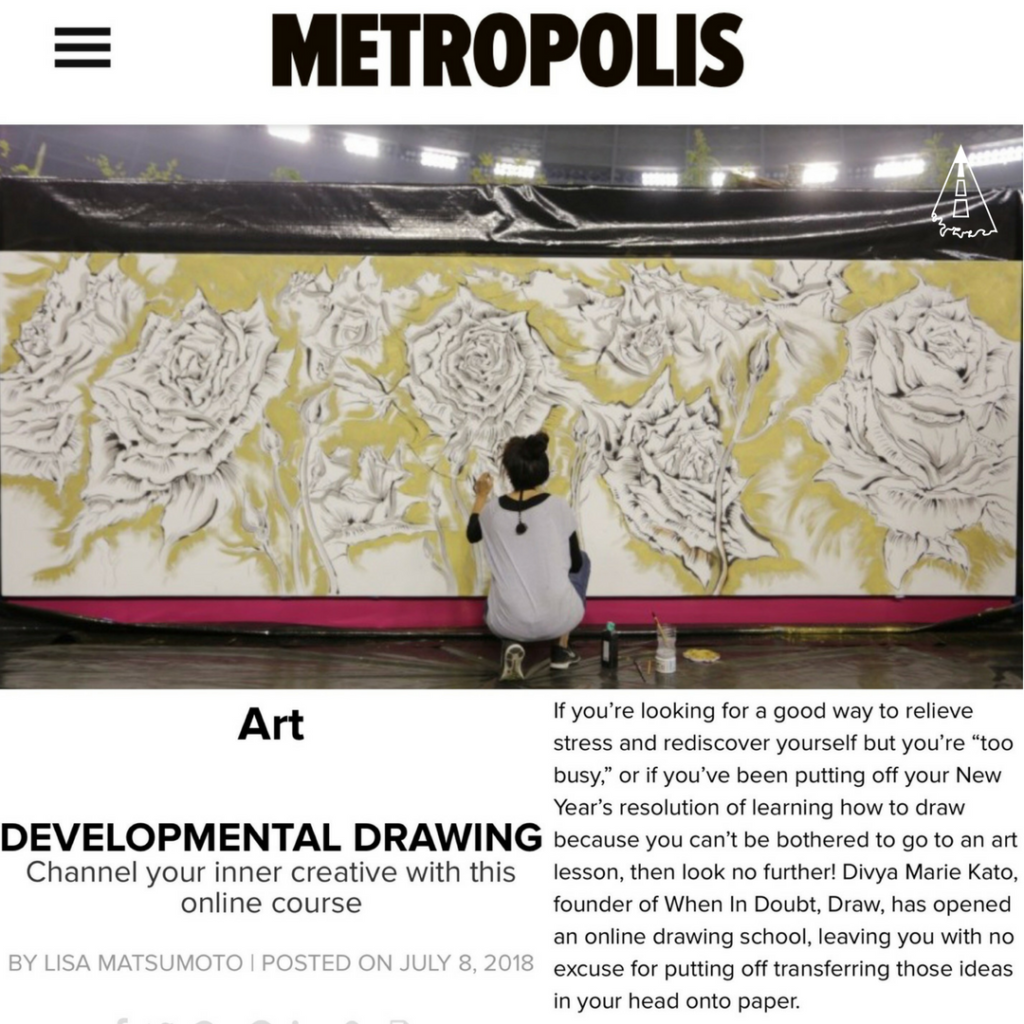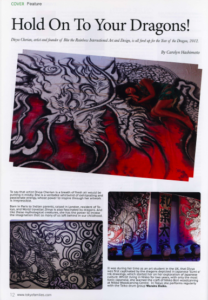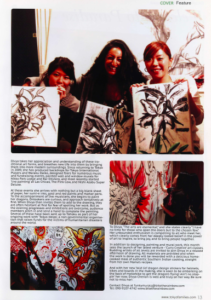 Metropolis Magazine Article: Hold Onto Your Dragons
***************************************
Indian Express Article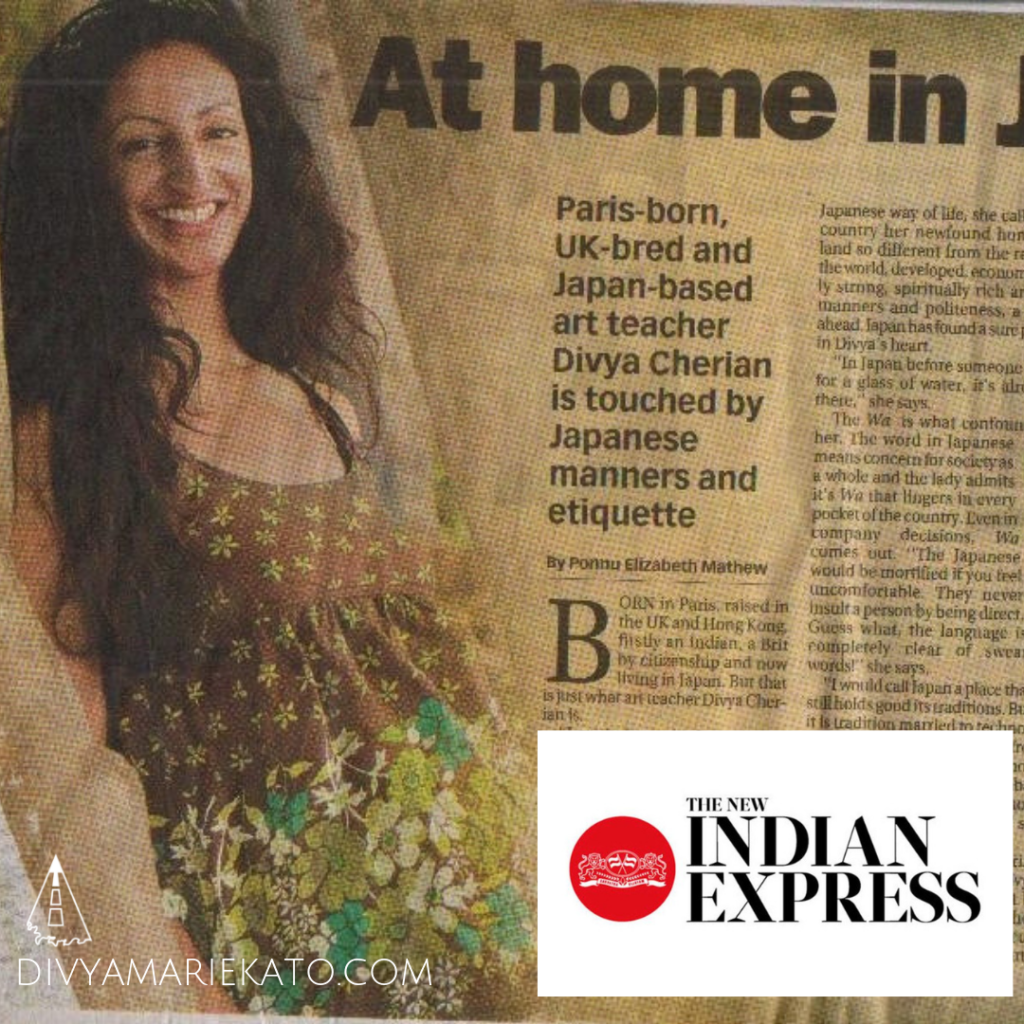 ********************************************************
DIVYA MARIE KATO'S CREATIVITY WORKSHOPS.  TEAM BUILDS.  EVENTS.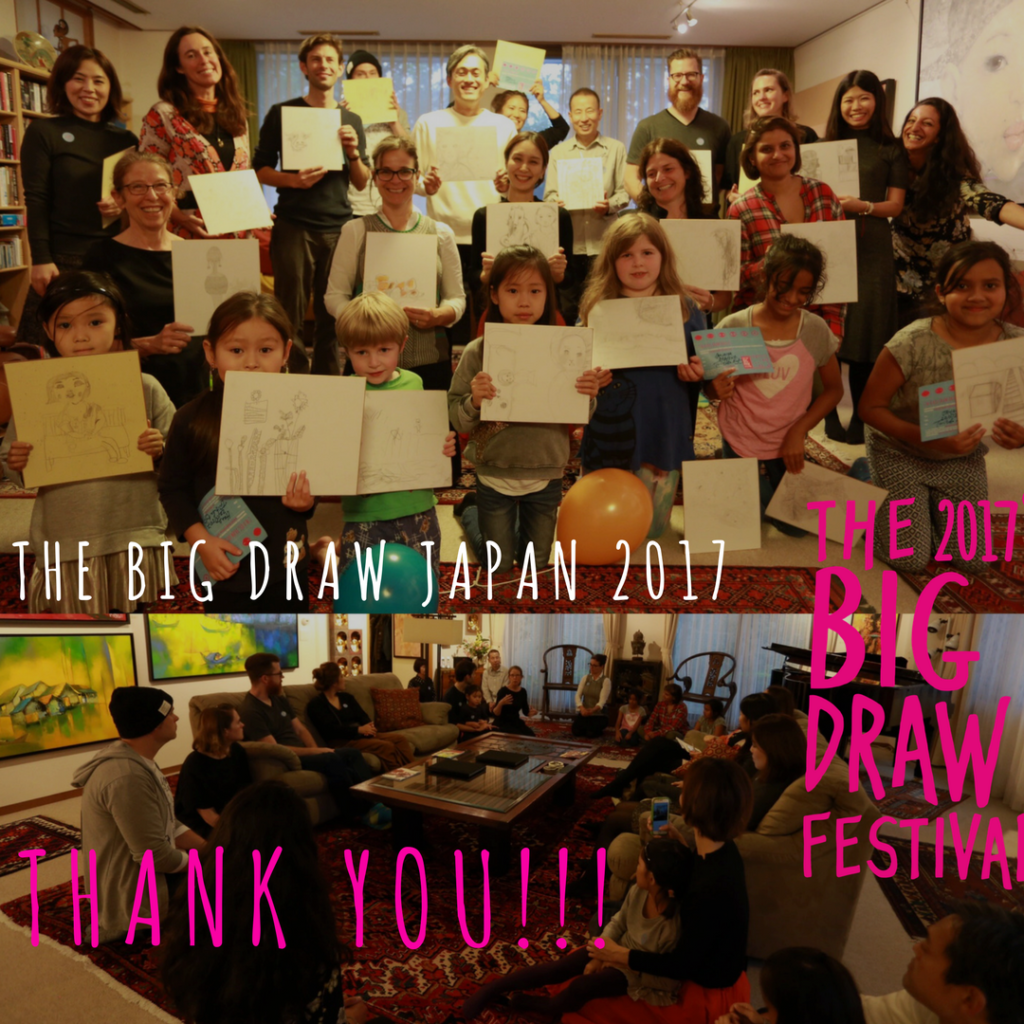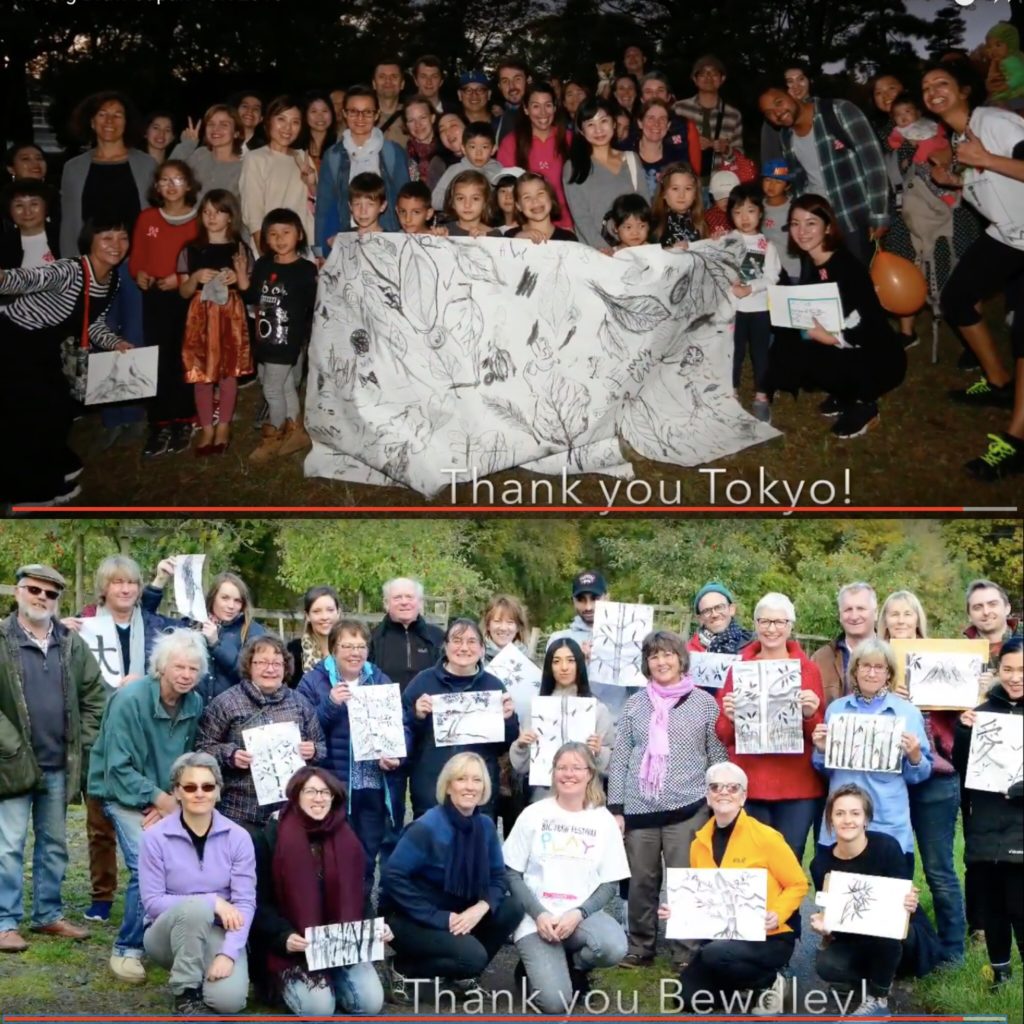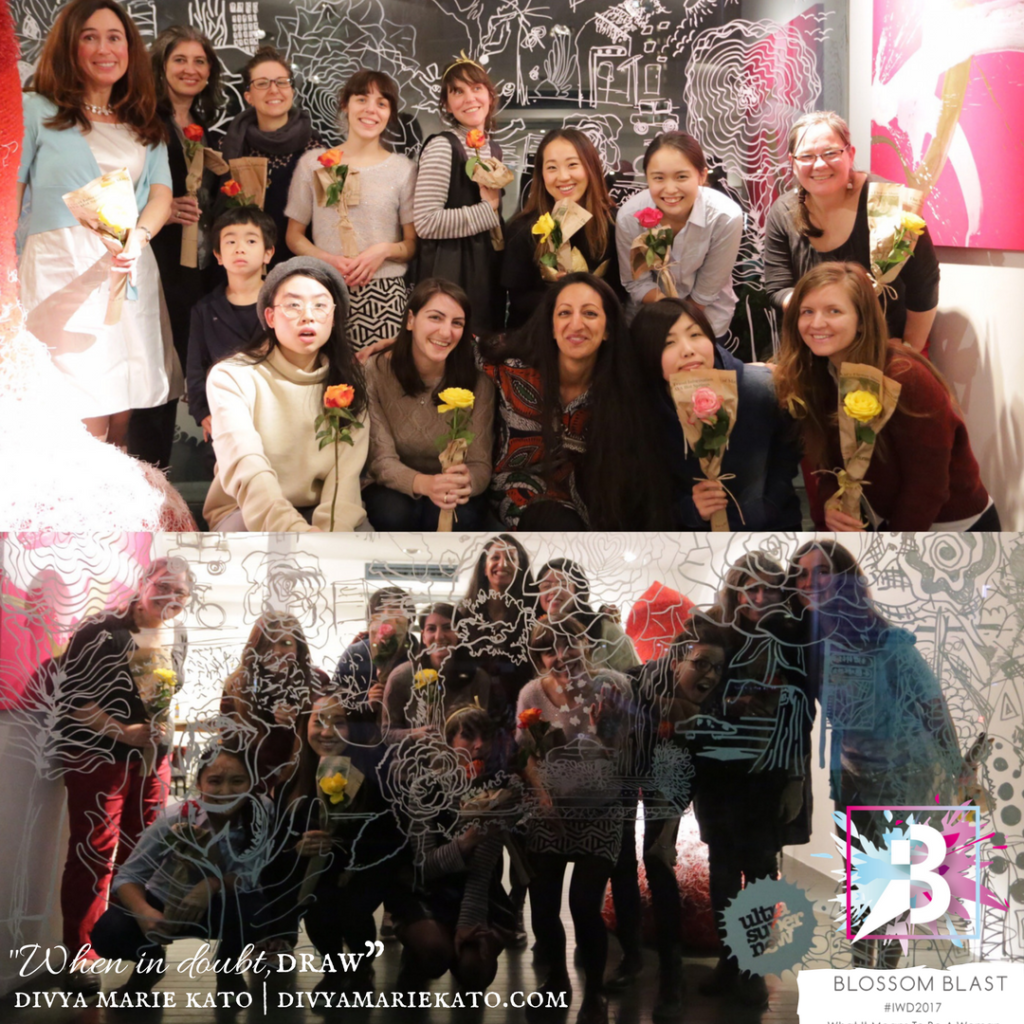 Ruth:  "Your event gave me the chance to toss myself into a different realm, with different people, doing something I am interested in but don't make time for.
My rose sketch sits on my desk and it is reminding me of many things, but mostly, "Stop JUST thinking. Take action." I think that is what I need to keep telling myself more than anything right now."
****************************************
Gaia:  "Divya!!!! Thank you again for the great experience I had with you and the other girls!  It has been magical!
I felt like an artist for a night!"
****************************************
Emika:  "It was my first time to attend to an art workshop in a while..I enjoyed and discovered something new about myself!  It was not only so much fun, but also I found that it was very relaxing for me.  Although, the activity of "drawing" is still pretty new to me, it was very nice experience.  Thanks for introducing me a new world!"
****************************************
INTERVIEW: Creative Café Podcast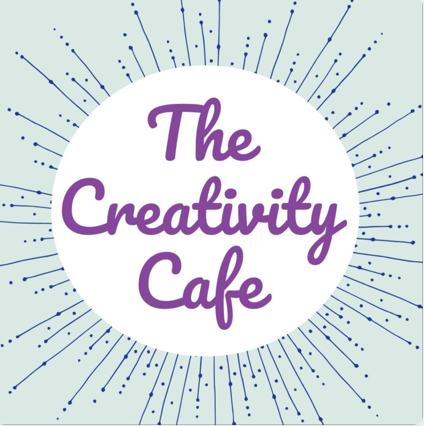 ***************************
EVENTS:  RSA (Royal Society of Arts) JAPAN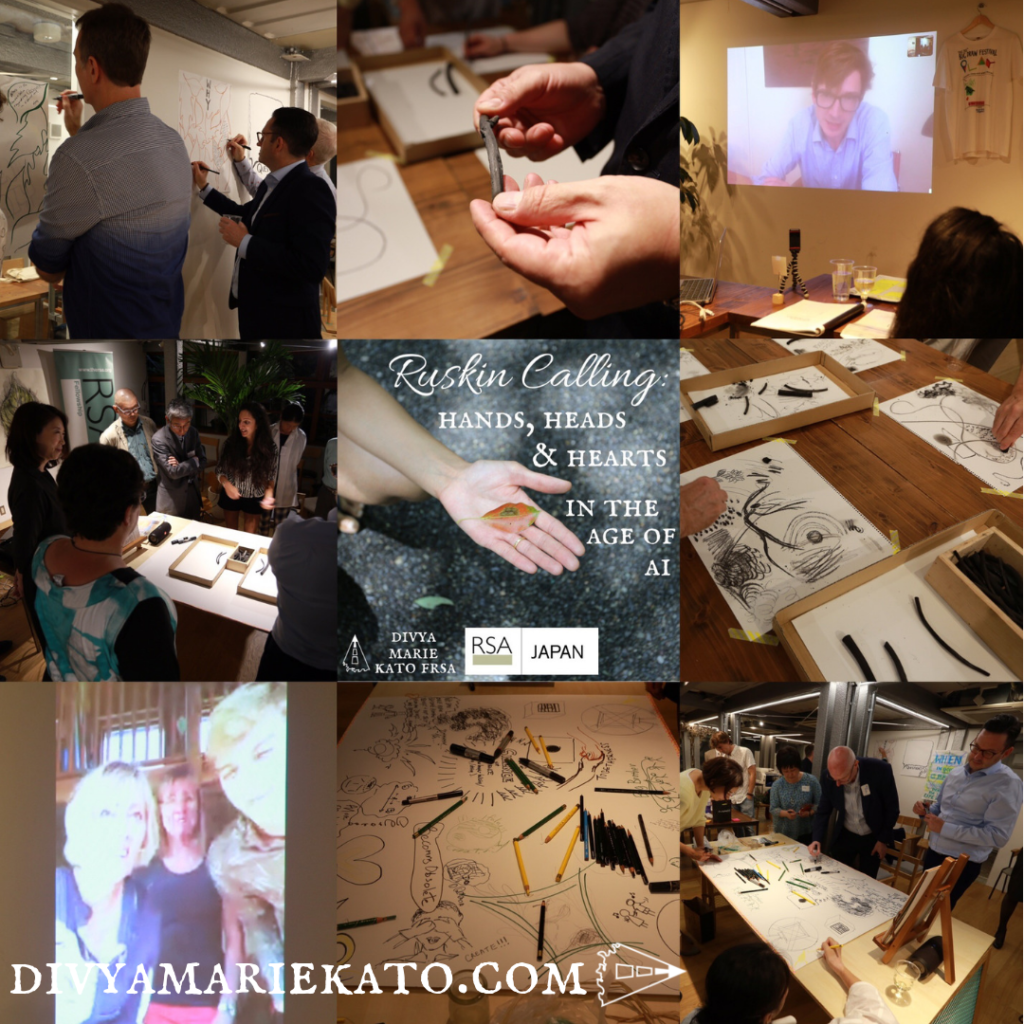 RSA JFN Ruskin Calling: Educating Heads, Hands & Hearts Event | Event Recap Here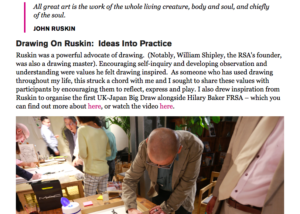 EVENT RECAP ON THE RSA BLOG |  ARTICLE HERE
***************************************************
TEAM BUILDING With DIVYA MARIE KATO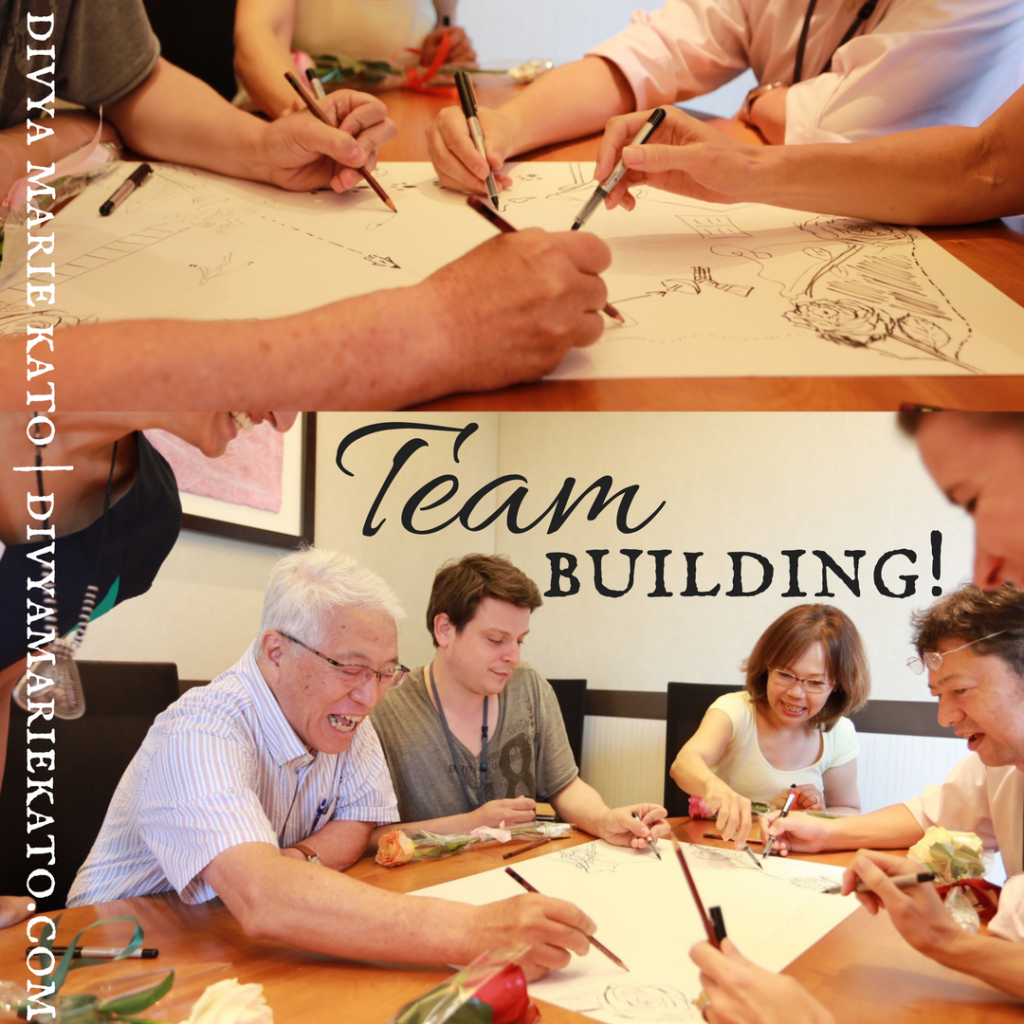 "Thank you Divya and Masa!  It was a great session and very useful to switch the brain…I certainly had a lot of fun!"
– Cassandra, President, ResMed International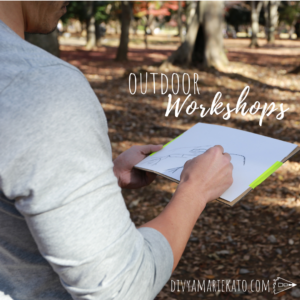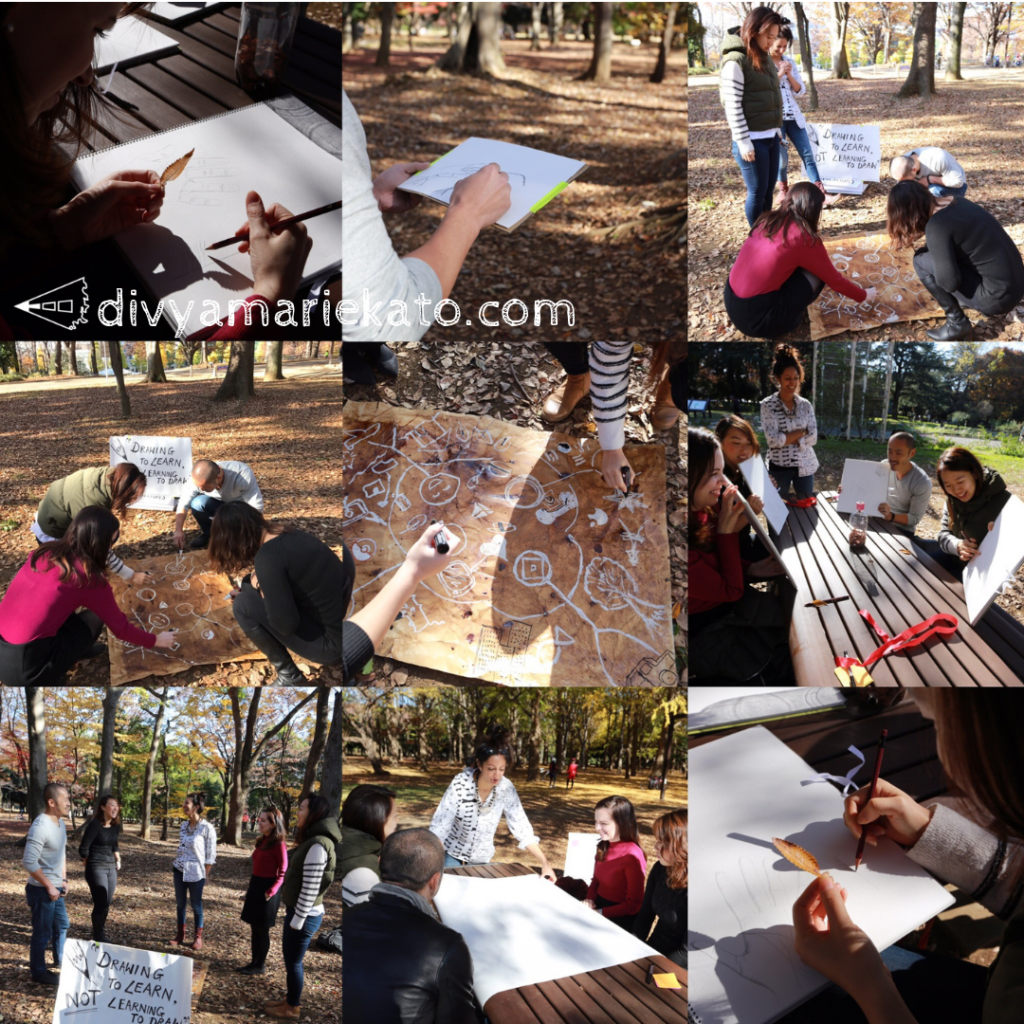 "We really enjoyed your workshop, and spending the afternoon with you and Masa. I'm inspired to find more opportunities to go outside and create.. Thank you Divya and Masa!! What a way to spend a lovely day…  It really was a liberating experience for both mind and body."
– Google Play Japan, End Of Year Outdoor Team Celebration Workshop
****************************************************************
SPEAKING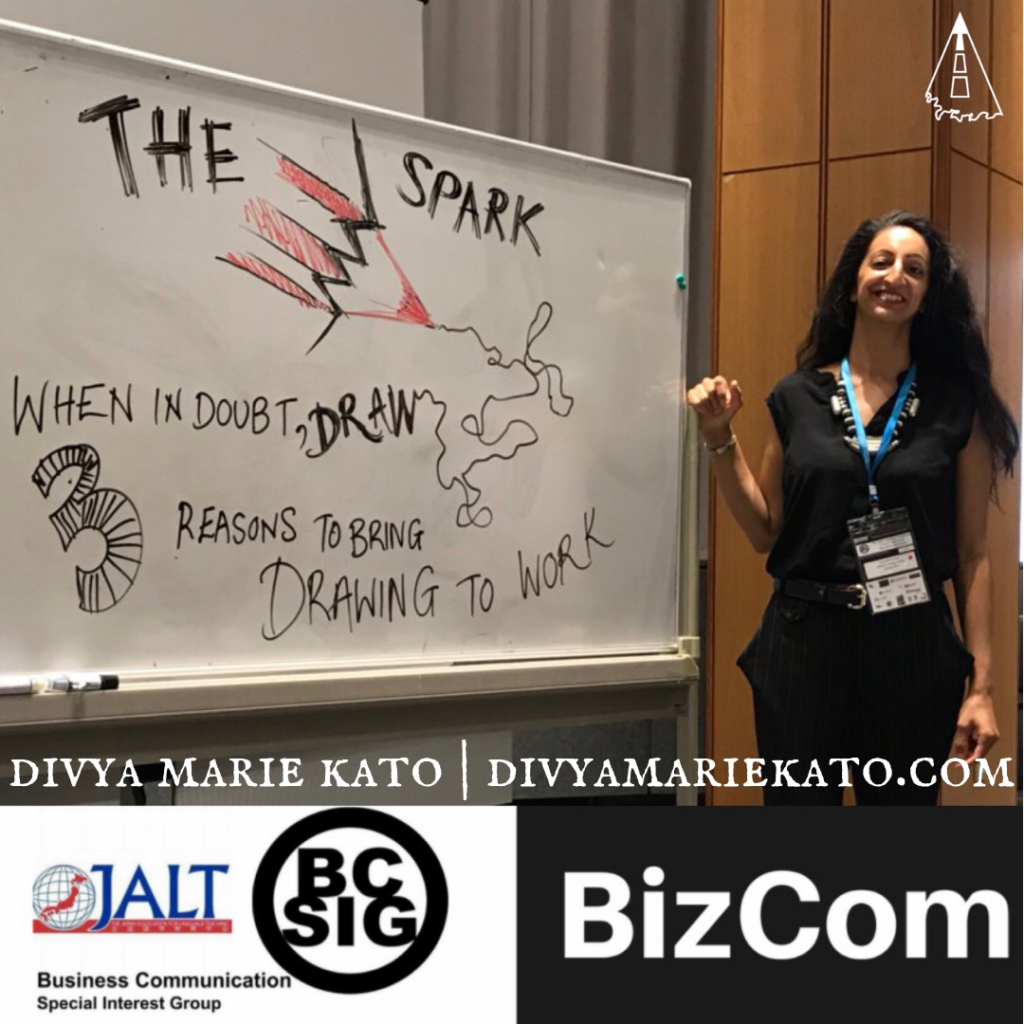 ******************************************************************
PRESENTATION:  LAKELAND UNIVERSITY JAPAN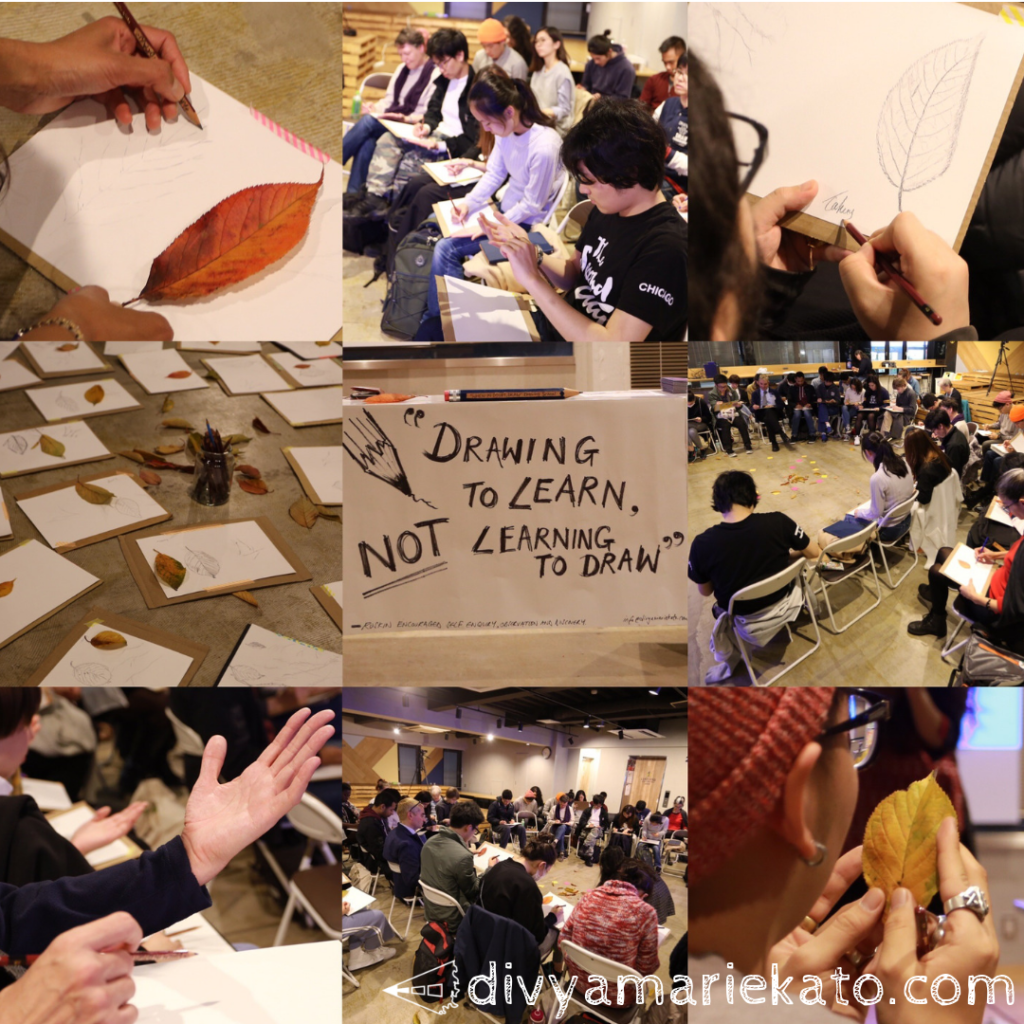 PRESENTATION RECAP & VIDEO CLICK HERE
***************************************************************
ARTIST:  LIVE ART AT BRIDGE STREET MARKET 2017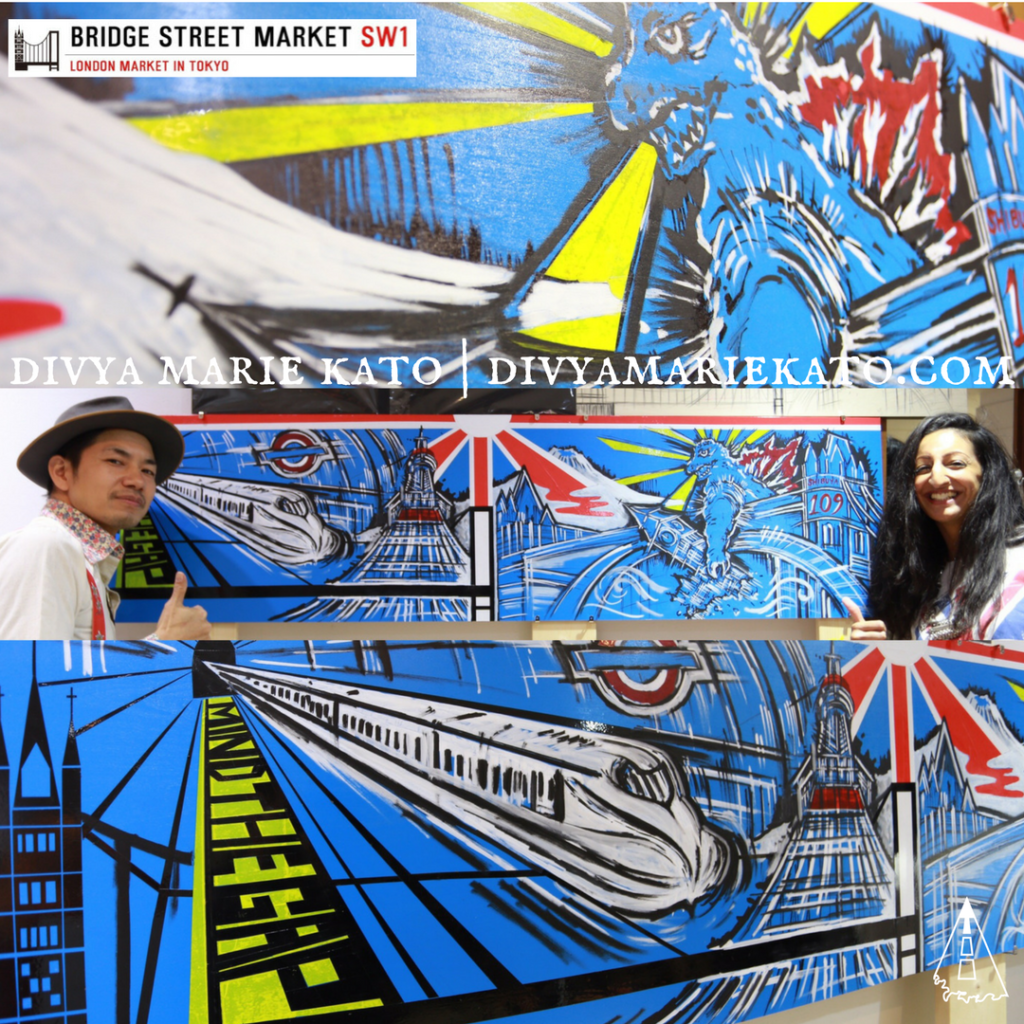 ************************************************
ARTIST: Divya Marie Kato's Collaboration with LUSH Japan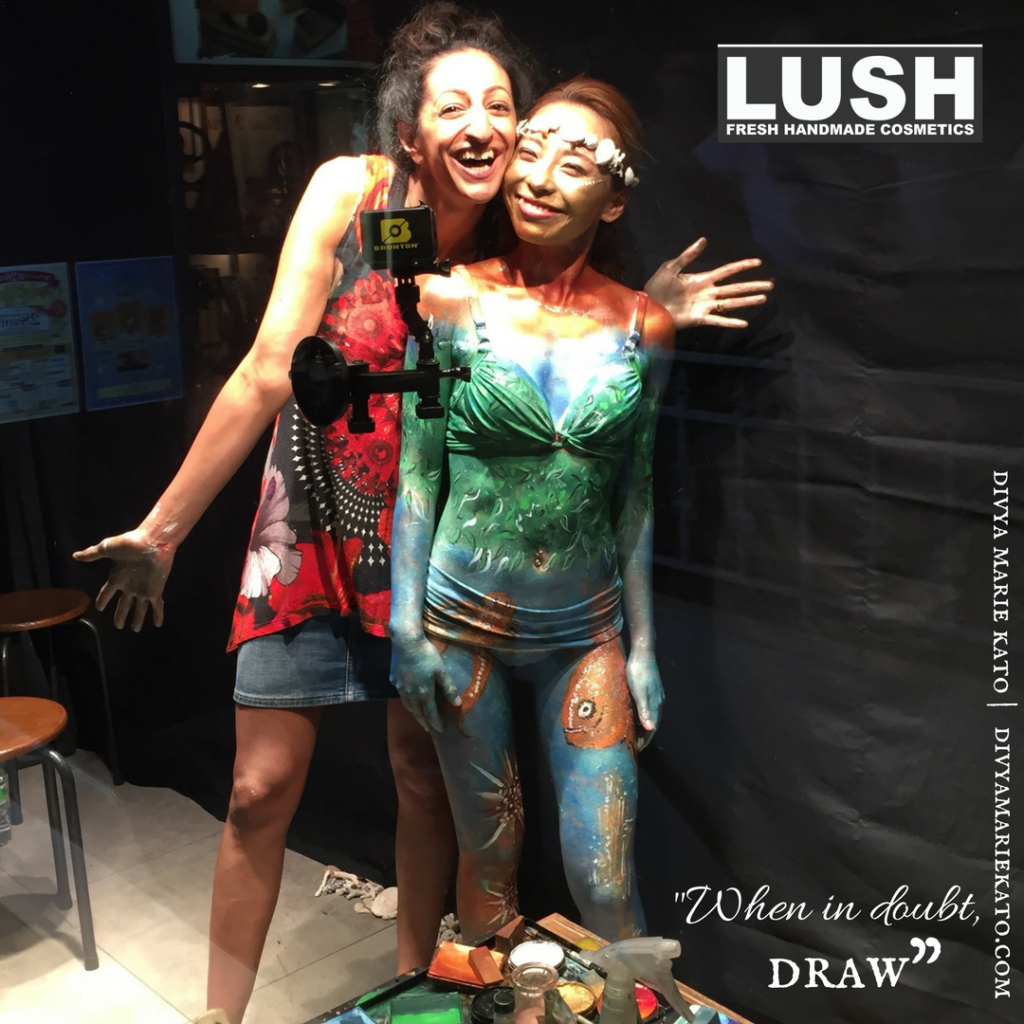 Incredible event celebrating Henoko, Okinawa at the flagship LUSH Store, Omotesando, Tokyo.
Wholehearted thank you to the incredibly hard working team at LUSH Japan. Maho Takahashi for her tireless organization, insight, dedication, passion and for inviting me to be part of this creative collaboration celebrating Henoko with body painting.
"Divya prioritises the connection with people as well as heart and thoughts involved. It was exactly what we were seeking… to communicate to protect the area but to share how local people are feeling and how that matters.

Although very skilled in professional and inspirational aspects, I consider Divya's most valuable strengths to be her warmth of character, honesty and high integrity, strong communicative ability. These qualities earned her the respect of those around her.

She performed a long-hour body painting at our window which offered a beautiful introduction to the issue we strongly care about and were hoping to share with our customers in a positive way, and it was just perfect.  Yes we will be happy to work with Divya again and highly recommend her to any others who may be interested in her creative services."
---
TEACHER:  DRAWING CLASSES WITH DIVYA MARIE KATO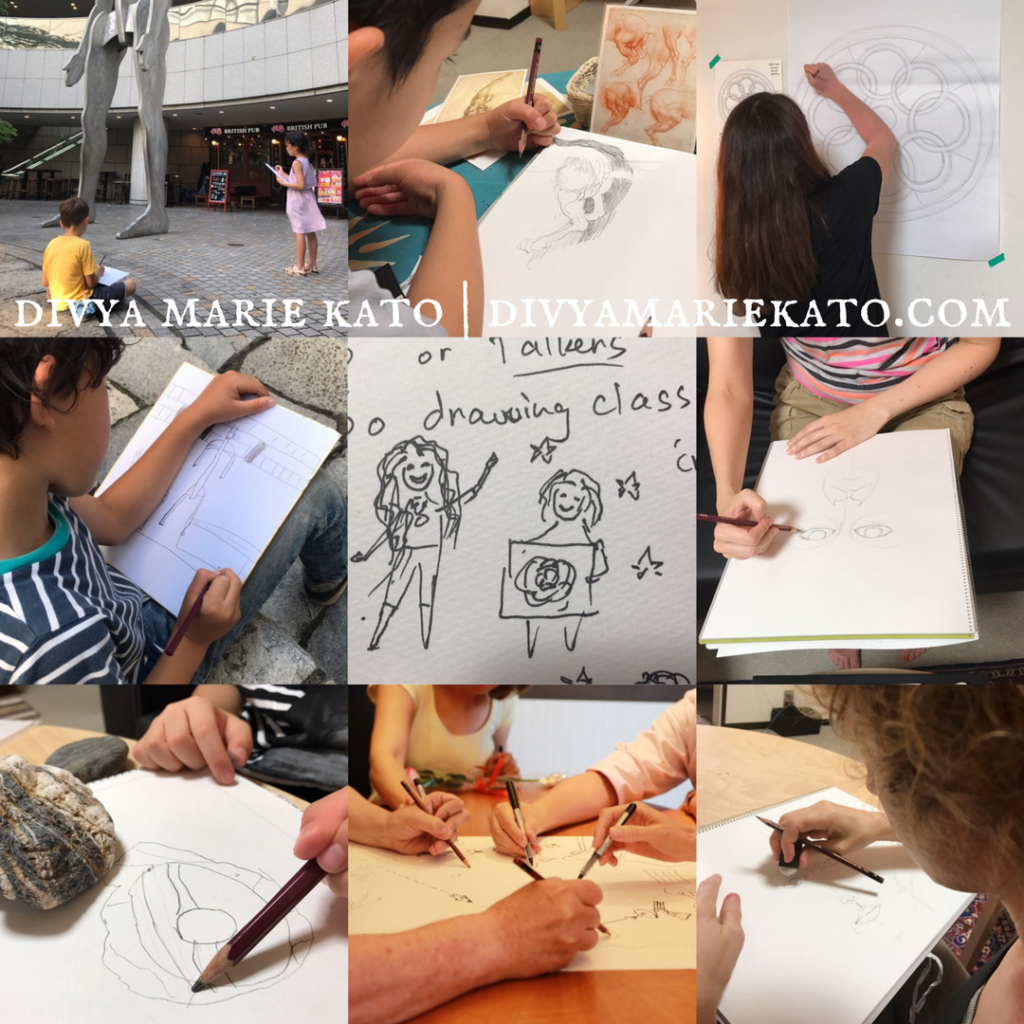 "Thank you for reconnecting me to this part of myself."  – Judy

"Thank you for bringing art and peace into my life!"  – Daria

"Drawing is meditation – I'd like to recommend it as a great way of living."  – Akiko

"I was curious about how drawing would help me with my doubt..I was scared to draw before, now I understand that every drawing has infinite possibilities!" – Barbara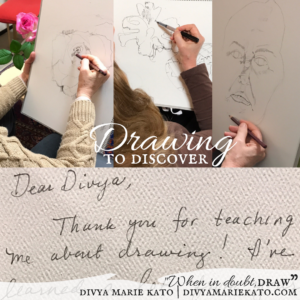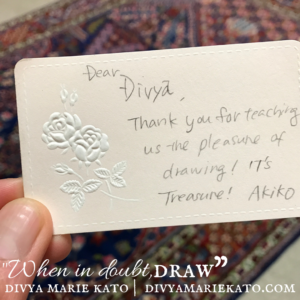 ***************************
"Love my drawing class, lessons and teacher♡ Through to face to beautiful roses, I can now remember my positive feeling of drawing like as childhood!"  – Hisaka, Drawing Class of 2016
*****************
"The beautiful ladies from my Afrika Rose drawing class. This was such a fun, inspiring, supportive group of women. I'm so happy I went on this journey with them.

Thank you Divya for bringing us all together and helping us see what we're capable of."

– Jenny, Drawing Class of 2016
***********************
From "I used to draw…" to "I became more brave…it was so much fun!  I'll definitely recommend this class to my friends!" and  "I want to draw again…" to "I'm more open minded, I want to draw more, I'm more creative and I enjoy life even more – I want to continue my art journey!"  – Fumi & Alicia, Class of 2017
***********************
What's Changed?
"Seeing things I've seen before – in a totally different way."

"Making marks, focusing on the moment…the connection between humans and nature."

"Meeting new friends! New styles, differences and opportunities!"

"I used to draw a little before – but now my mind set has changed. I see things differently."

"More delight, confidence, recognition and sharing."

"Accepting the world as it is. Trying to have a different point of view when I have difficulties."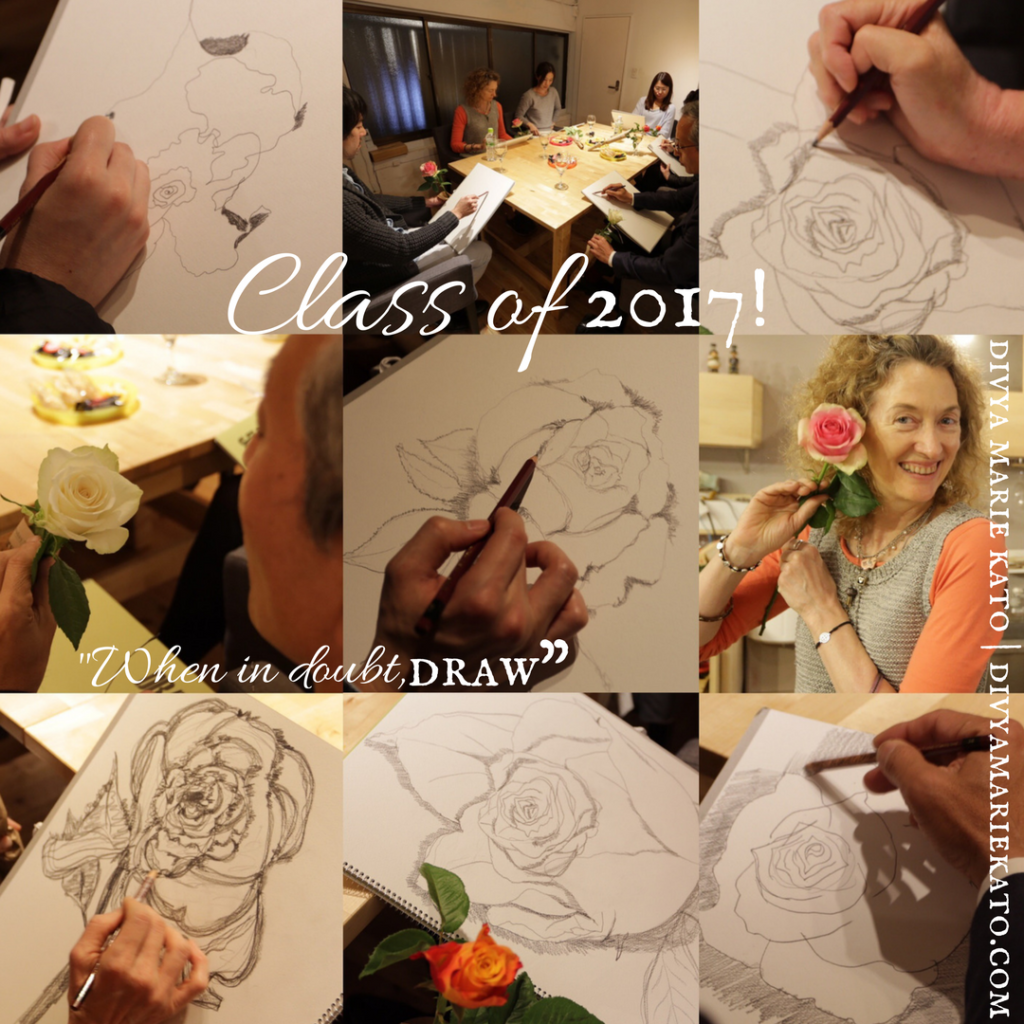 ---
FACILITATOR:  WORKSHOPS WITH DIVYA MARIE KATO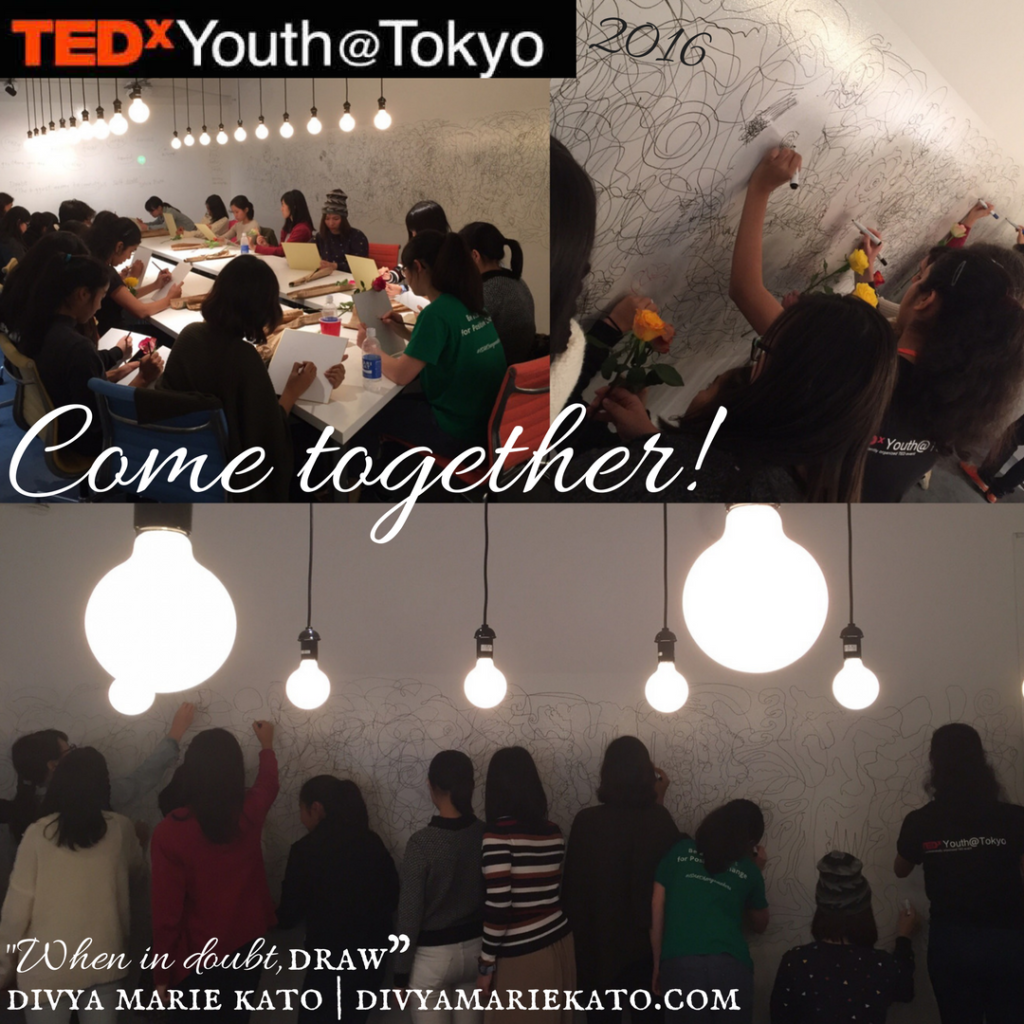 ***********************************************************************
TEACHER:  DRAWING CLASSES & CREATIVITY COACHING WITH DIVYA MARIE KATO
Ellis Pieters,  Senior Strategic Development Analyst, Sun Life Indonesia, Finance Manager, ING Life Insurance Japan, BEHANCE Japan
"Drawing – something I had always wanted to try.  Actually I was convinced I couldn't draw at all!  It was so scary for me in the beginning.

But somehow, step by step, I just started feeling more relaxed about it and drawing became a certain mindset.

What if you do things, without thinking too much about it – just because you FEEL it is good for you.  From then on, everything that happened seemed logical.

 I am much happier now about how my life is going."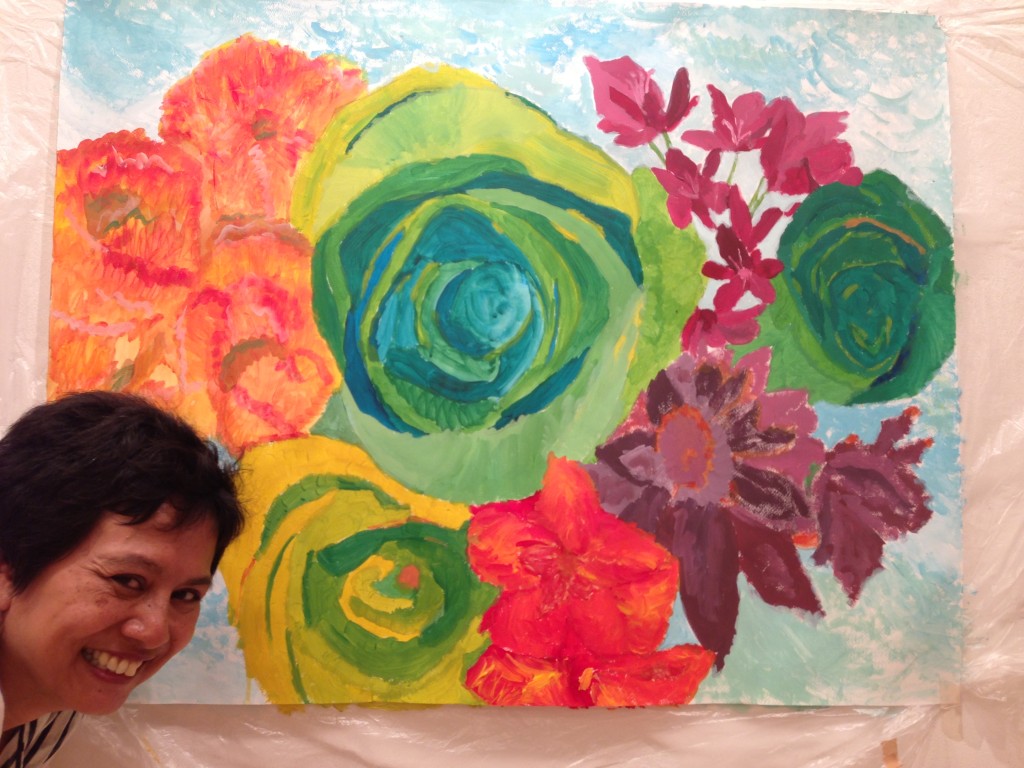 ---
TEACHER
"You opened the door for me!  There's so much possibility!" – Megumi, Founder, Afrika Rose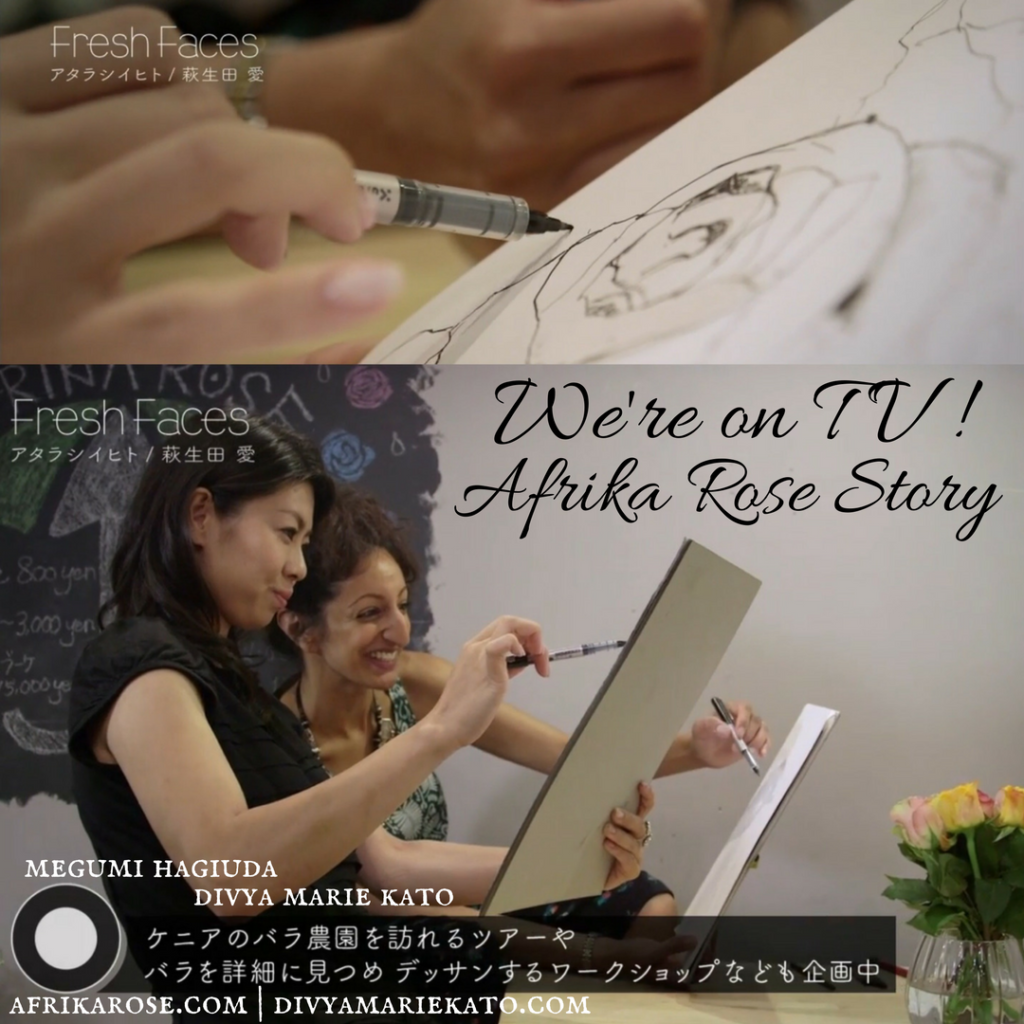 ---
EMPOWERMENT WORKSHOPS
SUNDAI College Of Business & Foreign Languages & FEW (For Empowering Women in Japan) Career Strategies Seminar & Drawing Workshop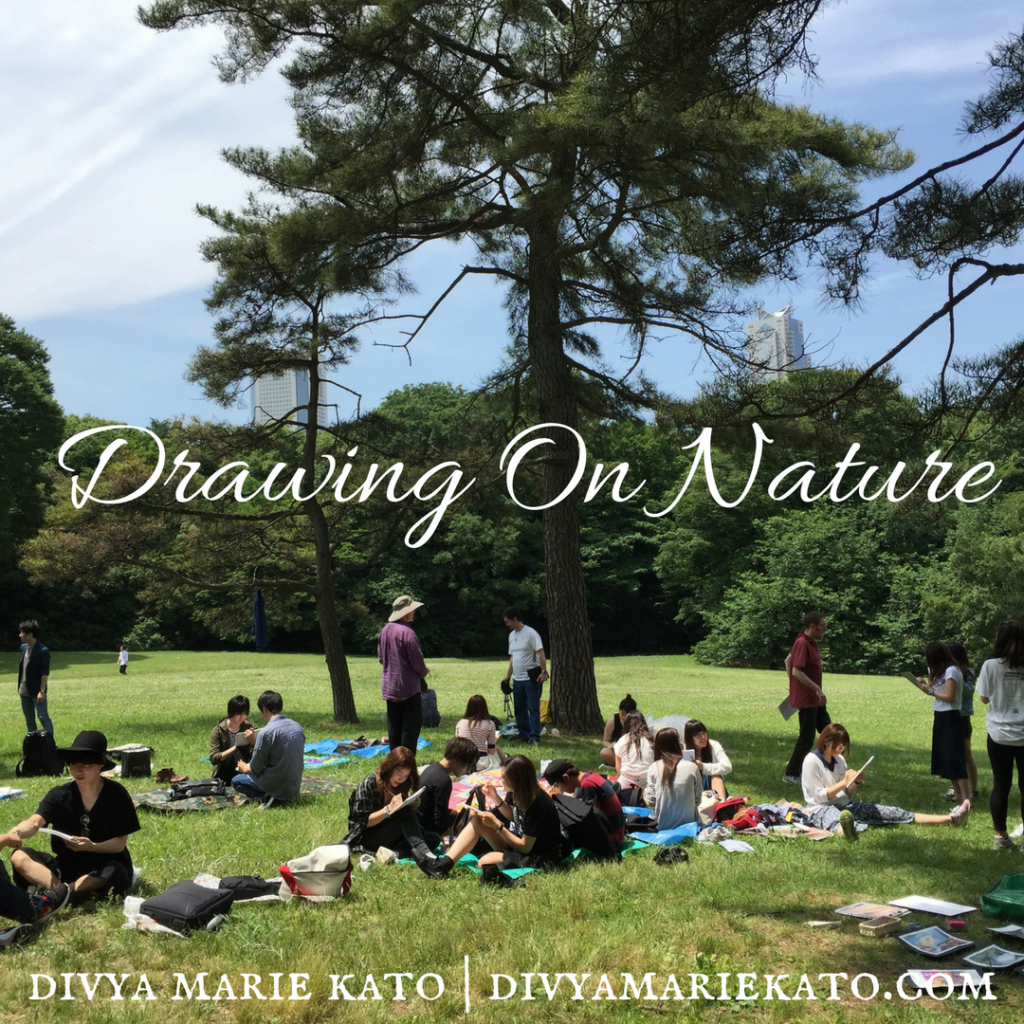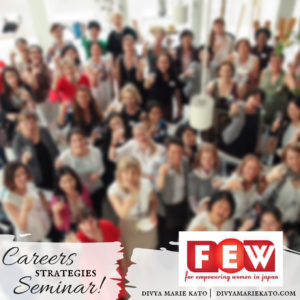 ---
Ellen P. Motohashi, Columbia International School PTSA
'Celebrate-Create-Generate' – A Day Dedicated To Creativity

"Divya came for a visit to Columbia International School…She and I had been developing a day long live art event that would involve… the kindergarten up to the seniors…over 250 students.

Through joint collaboration and discussion we worked out a plan that would cater to the interests of the students, showcase Divya's extensive talents, as both an artist and an educator, and involve the students in a shared art-creating experience.

They were so proud of their accomplishments, proving as such in the highest compliment one can receive these days, with selfies in front of the works of art!

For many, this was one of the most fulfilling and memorable events at the school all year. Thank you Divya for your magic and your passion!"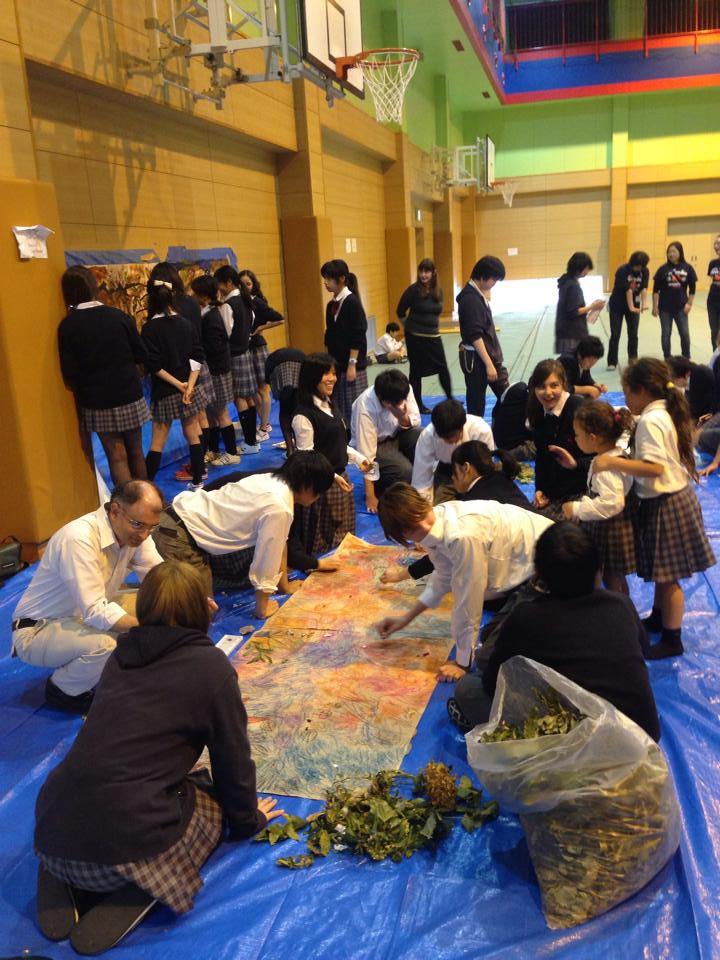 ---
ARTIST:  EVENTS  COMMUNITY
TEDx YOUTH Collaborative Mural  
With Artist Shuhei Sakimura, Onagawa Art Guild, Rebuilding Tohoku & Tokyo International School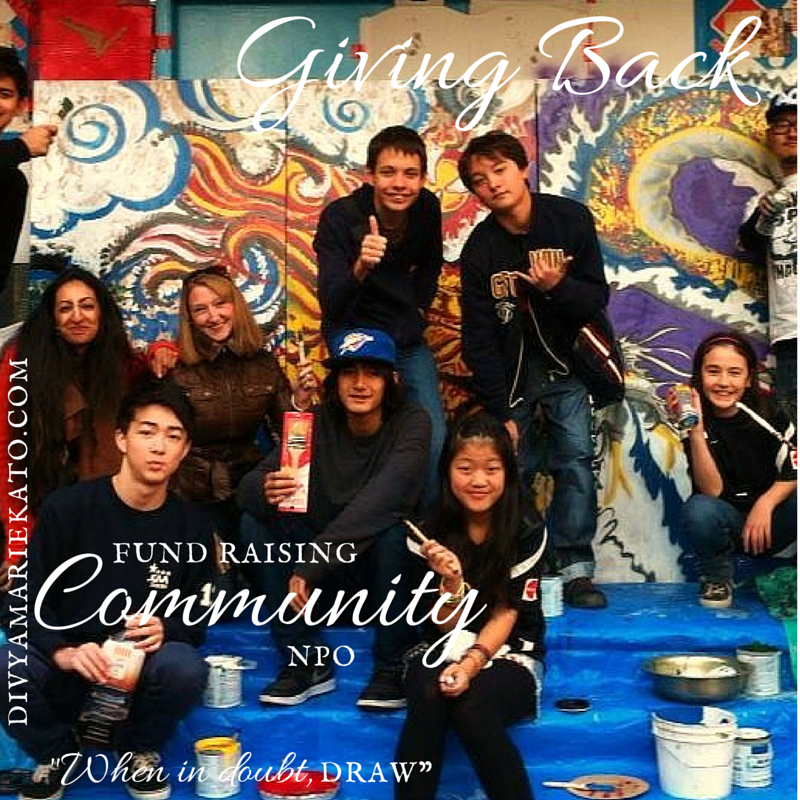 ---
Celebrating new life and ourselves.  Read Joanna's beautiful piece about her experience and why she wanted to do this here: Making Peace With My Belly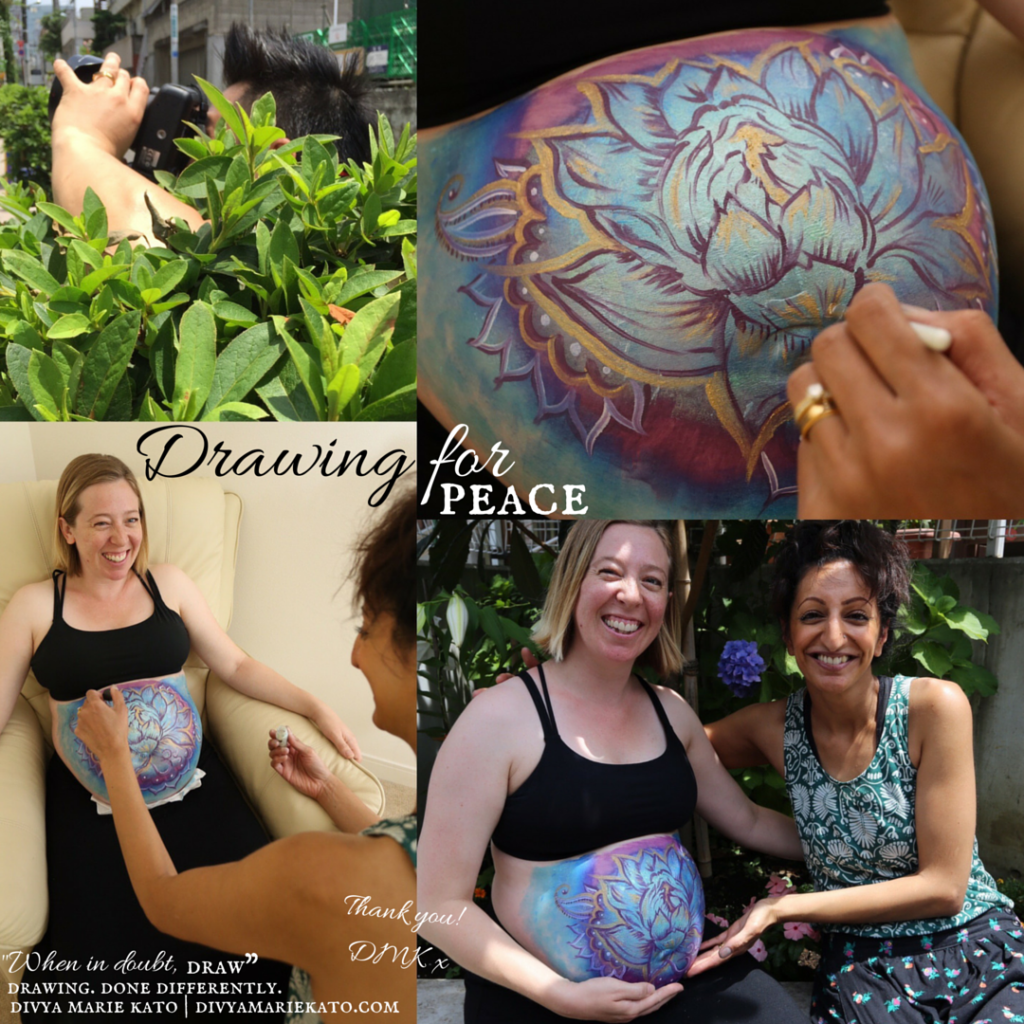 ---
Kuki Koibuchi
"I really enjoyed Divya's art session – it is very easy-going, and you can be as creative as you choose to be.  
If you are a beginner, Divya's guidance will help you lose the fear for drawing, and if you are someone trying to improve in some particular areas, she will give you constructive, encouraging feedback to challenge yourself and gain confidence.  
And all the positive energy and glowing smiles you get by attending the session? … Simply priceless!"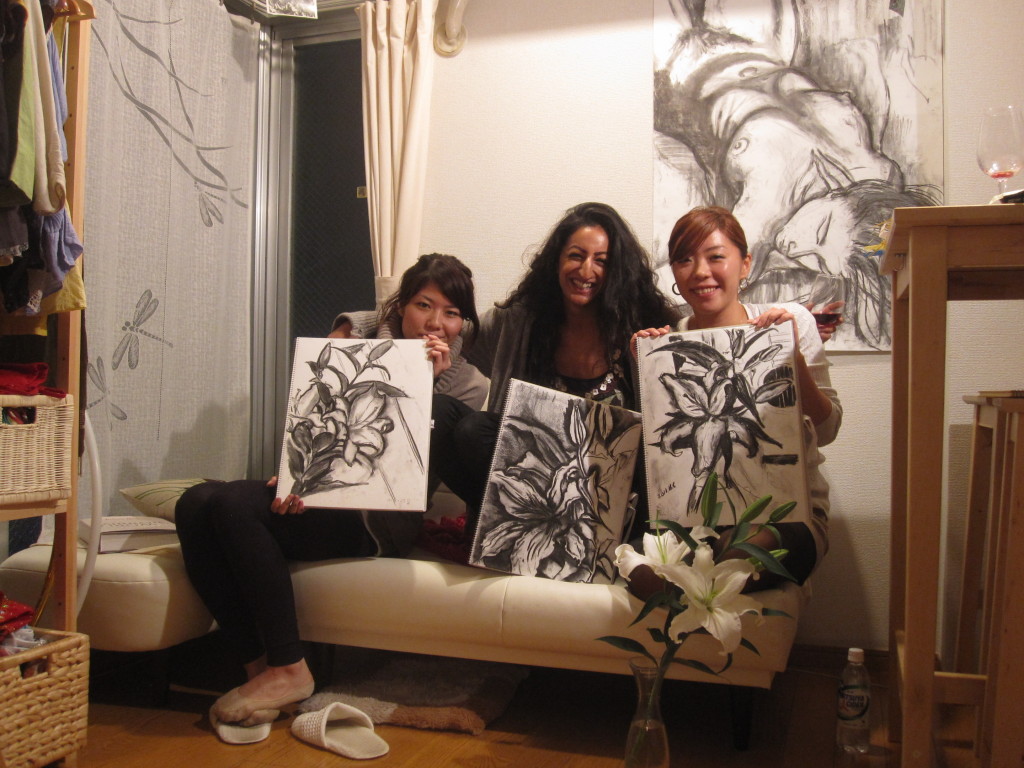 ---
ARTIST:  COLLABORATION  Time Lapse Painted Dragon Mural for 2012 Year of the Dragon
With Musician, Sorcha Chisholm & Time Lapse Photography by Peter Blake
Time Lapse Video: [yt4wp-video video_id="yYNv_NpAG6Y"]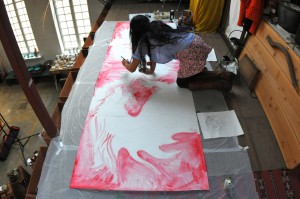 ---
ARTIST:  COMMUNITY  Shine On Kids Fund Raising Gala, Grand Hyatt, Tokyo. 
Supporting children with cancer & other illnesses & their families in Japan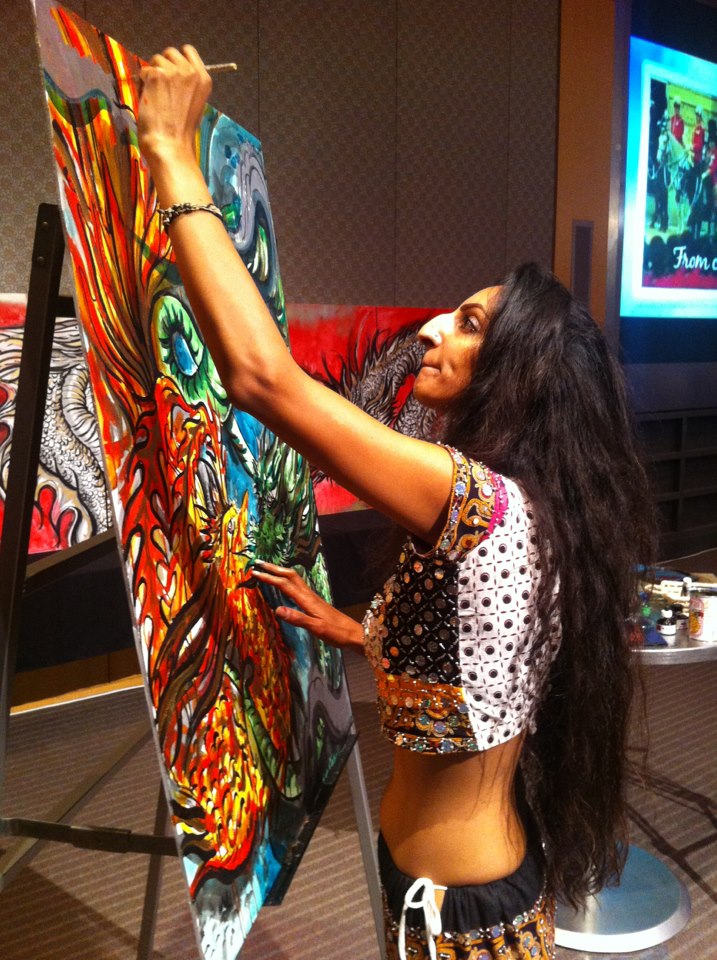 ---
ATIST COMMUNITY:  Tokyo Helps Fund Raising
Tokyo Helps Pakistan & Tokyo Helps Tohoku: Flier Design & Live Painting
 Samar Shaheryar, Founder & President

"While I ran Tokyo Helps, Divya was our Head of Donor and Community Relations as well as our Creative Head. Divya would be an outstanding asset to any organization.
She is tireless in her dedication to a job, an out of the box thinker who is willing to take risks as well as someone with excellent attention to detail and follow through.  Divya is also an unforgettable person due to her kindness and enthusiasm for life.
As a result she has built up an extensive network of contacts in Tokyo, from which we benefitted greatly as an organization. For our charity events in Tokyo Divya wore a number of caps.
She created stunning advertising for us, liaised with various media organizations to spread the word, introduced us to local talent who performed at our events and managed their performance, procured donations from businesses around the city and donated her own live paintings.
Despite a busy schedule she was always available to help out and raised her hand for additional duties many times.
She was, for me, our most valuable volunteer."
---
ARTIST COMMISSION:  Ecomesse Recycle Shop Shutter Painting, Sangenjaya, Tokyo
"Encouraging sustainability & a dedication to & inspired by our beautiful environment and shared planet"

---
ARTIST:  FACE PAINTING
 Devon Bartlett, Director, Co-Founder & Head Teacher, Pitter Patter Preschool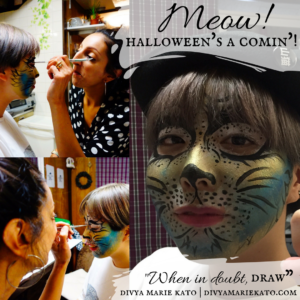 "Divya was such a pleasure to come to our school – with her bubbly personality, the children fell in love with her before she even started face painting!  She made all the children feel comfortable and we definitely look forward to working with her again!"
---
ARTIST:  COMMUNITY
Sakura Tomodachi Collaborative Mural created with students to raise funds for two Sendai kindergartens destroyed by the earthquake and tsunami
 EtonHouse International School – Peter Ackerman, Director
"In the wake of the March 11th 2011 Tohoku Earthquake and tsunami, Divya's care and respect of all people and her desire to help was evident as she led our school's 'Sakura Tomodachi' charity fund raiser
…in which money was raised for two Sendai kindergartens that were devastated by the tsunami, through a large scale art mural created through collaboration with our students."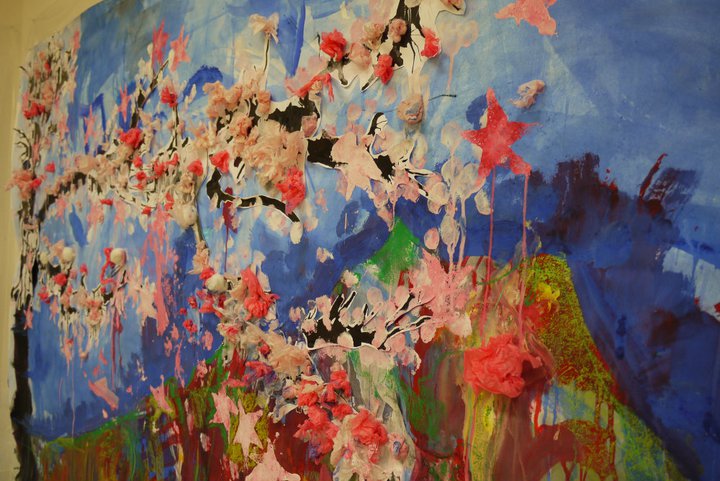 ---
TEACHER:  ART CLASS/CREATIVITY COACHING
Nirmin Juber,  Art Student
"I would recommend your classes to anyone, because in this class anyone can learn the techniques how to draw, even if anyone had no prior experience dealing with art before.  
For me as a total beginner, this art class helps me to build my confidence to start new things and since the classes has structured curriculum, every week I can be introduced to the art techniques gradually.
My motivation to take class is to have knowledge of basic art to prepare myself more when I am in my home country.  Since I believe, to have good art instructor in Tokyo will give new perspective for me to see the arts itself. Surprisingly, my prediction is right.

The art instructor's way of teaching is so personal and she tries to teach patiently and giving constant feedback as necessary. Personally speaking, since I am intimate person and like to share things, to have an open art instructor to take conversation with is very important for me, and I have an opportunity to exchange ideas as well through this art class. So, this class becomes interesting for me.

In the future, I will use the knowledge that I gain to create art by myself as healing process and for creative process as well. So, for me this class meet my expectancy already and I will keep carefully all the knowledge, weekly lesson conclusion and feedback to be used in my future.
I am very grateful to have an opportunity to meet you and have your class to widening my perspective about the art and life experience itself."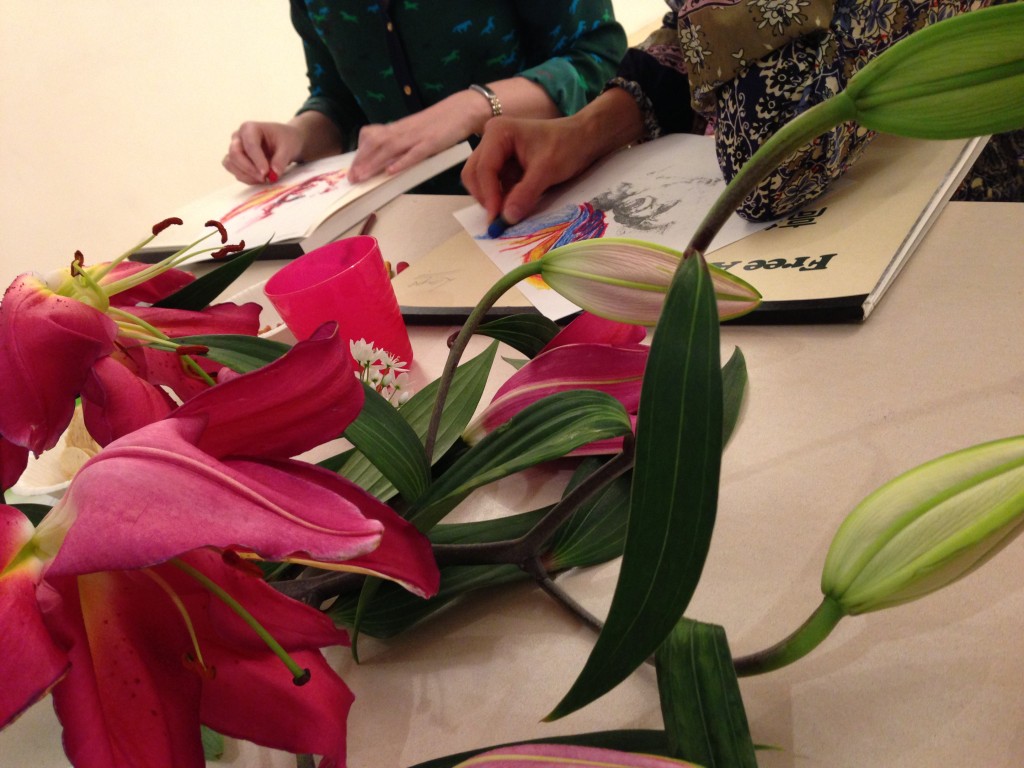 ---
COMMISSIONS & EVENTS
Dragon Mural Paintings & Collaborative Performances, Japan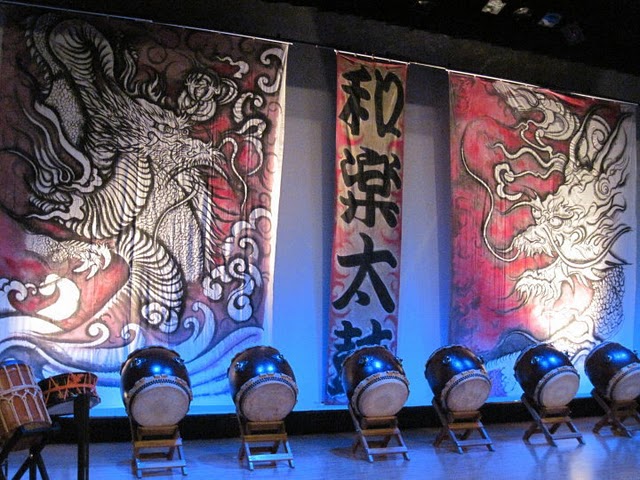 ---
COMMISSION
Tokyo International Players Community Theatre, Jon Reimer, Director 
"I have known Divya in my capacity as a Director for Tokyo International Players in Tokyo.  As a scenic painter, she worked closely with the set designer and myself to create beautiful and elaborate, large scale theatrical sets for audiences of over 300 people.  
Divya has a number of strengths to offer professionally. Her skills as a painter are apparent when observing her work, but what truly sets her apart as an artist is her skillful ability to create art simply and effectively on a large scale.
For example, one set included a 2-metre high story book and another a 5-metre high street backdrop.  
We were thoroughly pleased with her ideas and the final result, which from the distance of the audience was beautiful and effective.
Beyond her skills as an artist Divya is an impressively pleasant person to work with as someone who stays positive and optimistic and always open to collaboration."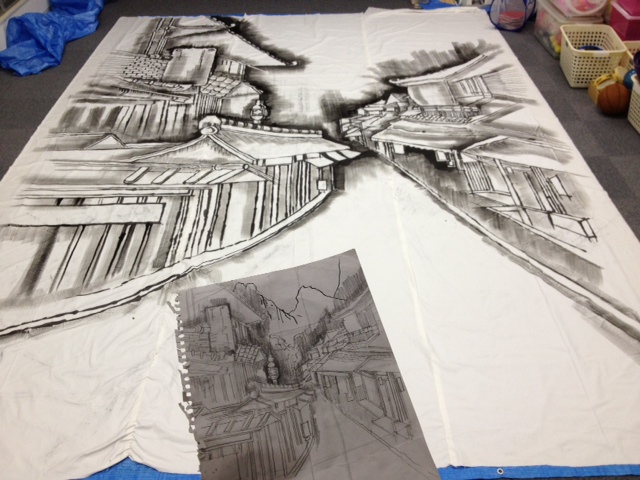 ---
EVENTS
Canadian Chamber of Commerce in Japan, David Anderson, Executive Director
"I have been lucky enough to have had Divya's diligent support as a Volunteer and Gold Donor Sponsor at a number of CCCJ events.
She has played a key role in ensuring the success of the two largest-ever CCCJ events; our CCCJ Tohoku Support Gala and Joint-Chamber Summer Cocktail, each attracting well over 300 attendees.
Divya brings a high-level of professionalism, excellent organizational skills and an über-positive attitude to the projects she is involved in.
With her diverse background and experience, she excels in international settings recognizing and responding to cultural sensitivities and niceties with ease.
She is a pleasure to work with and it is my hope to continue to have her support as a volunteer at CCCJ functions moving forward. With Divya's positive energy, proactive attitude and commitment to success I highly recommend her"

---
COMMISSION
Nikko Park Lodge, Nikko  Ken Sakamoto, Manager 
"The artwork Divya created for Nikko Park Lodge has been greatly appreciated by numerous visitors.
Our foreign guests are especially excited about the exclusive Nikko-themed mural that's being prominently displayed in our cafe/bar.
We have also received a lot of positive comments from local people, who have been saying that
Divya's painting on the shutter of the cafe is a special, recognizable part of Nikko.  
The artwork matches wonderfully with the casual, yet engaging atmosphere we intend to create, and is a perfect eclectic mixture of traditional Japanese art and modern Western styles. Our guests have pointed out the skillful brush techniques, with which the three monkeys were created, as well as the very selective yet effective color panel that makes it  a really unique mural. 
I'm very happy with the paintings Divya provided for Nikko Park Lodge, and I'm happy to display more work from this excellent, beautiful artist!  Keep on rocking!"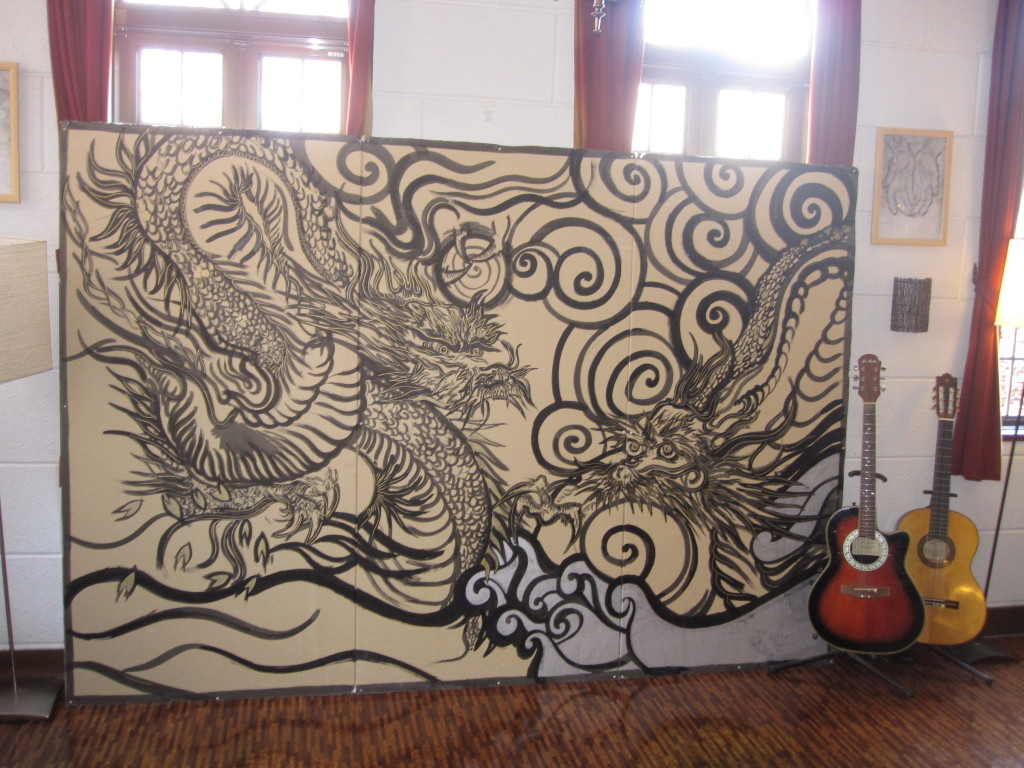 ---
EVENTS:  Dragon Rising
Body Art Collaboration: 3 British Women Rising Up, Rebuilding & Celebrating 2012 Year of the Dragon