Welcome to When In Doubt, Draw.
An introduction to drawing, for beginners and pros alike, where all you have to do is start with a line.  Online & In Person Courses.
Take off the label 'drawing.'  Now the labels 'good' and 'bad'.  Now the bigger label 'creativity'.  And finally the mighty one 'art.'  What's left?
Just you and a blank page.  And it all starts with a line.
Welcome. Here's where you'll find everything you need to enjoy drawing, either in person, from the comfort of your own home, whatever your age or ability, for yourself or with your team at work.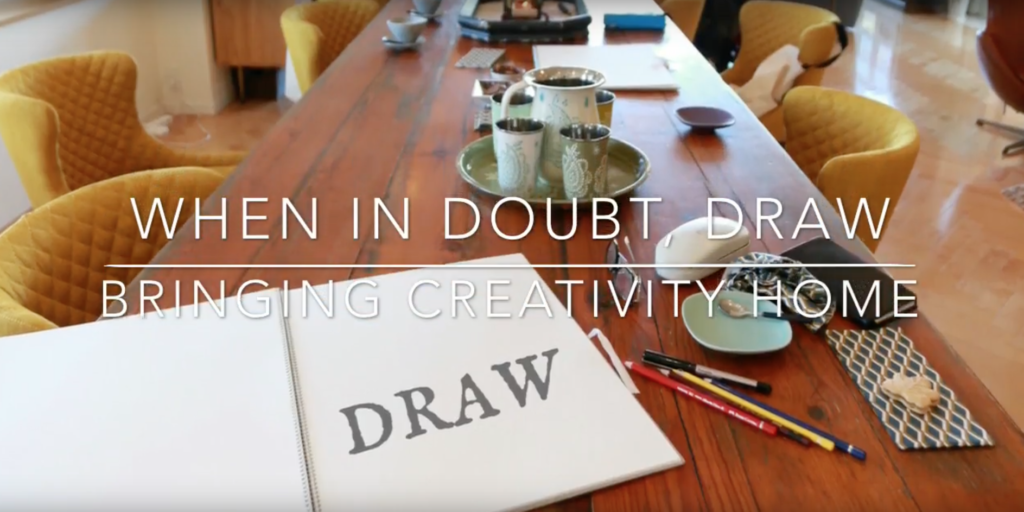 Ways To Work With Me:
Drawing Classes In Person At Atelier Kato Tokyo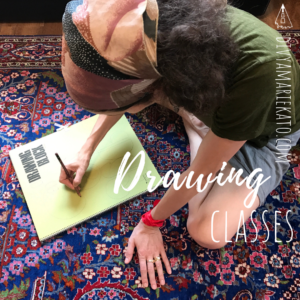 "What a wonderful teacher you are!

The lesson on Thursday was glorious. I loved it. Whole worlds opened up, and connected with other worlds.

It was heart-warming and inspiring. THANK you! I felt very strongly your "being with me" as I engaged in the monumental task of reconstructing the lines of a shell.

I was touched by your attentiveness to my state and what I was going through.

I love the way you made the classes feel like an adventure, and the materials you gave were gifts to delight and encourage.  I deeply desire that more people can learn from you.

Please let me know how I can promote you and spread the word!"
– Tania Coke, Corporeal Mime Artist, Tarinainanika.com & RSA Japan Ambassador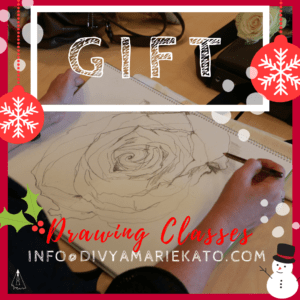 Gift Drawing Classes
To gift drawing classes and get us to send a surprise gift voucher to someone special, email: info@divyamariekato.com for details.
CLASSES On Your Own | With A Friend/Family Member
**************************************
Online Drawing Courses
Take my drawing courses wherever you are!
Divya's Sketch Sesh:  My free mini course
When In Doubt, Draw:  My signature drawing foundation course




***********************
The Big Draw Japan Drawing Festival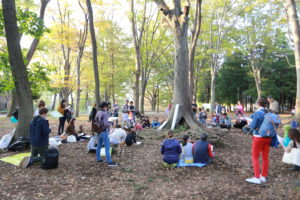 Our award winning, annual drawing event:  Part of the international Big Draw Festival – the world's largest drawing festival!
The Big Draw Japan: Celebrating & Championing The Ideas Born From The Scratch Of Pencil On Paper. 
2017:  Launched First Big Draw Event In Japan
2018:  Award-Winning Tokyo, Japan -Bewdley, UK Big Draw Event
2019: Art & Music Collaboration | Japan-UK Season Of Culture 
info@divyamariekato.com
**********************************
Atelierista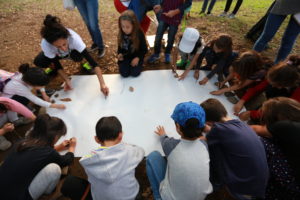 What is an atelierista and why create an atelier at your school?
"The atelier provides a place for children to become masters of all kinds of techniques, such as painting, drawing and working in clay – all the symbolic languages.

…it assist the adults in understanding processes of how children learn. It helps teachers understand how children invent autonomous vehicles of expressive freedom…

ABC International School

…it provides a workshop for documentation… presenting projects or experiences with children … artistic discoveries…

The environment of the atelier becomes a centre of culture… the relationship between the atelierista and teachers has grown and deepened, affecting in turn the professional relationship between teachers and children…

The visual language, as interpreted and constantly reinterpreted… provides the possibility to be involved in an ongoing process of communication"
– The Role Of The Atelierista, An Interview with Lella Gandini and Vea Vecchi
email for a consultation or school visit: info@divyamariekato.com
***********************
Visual Facilitation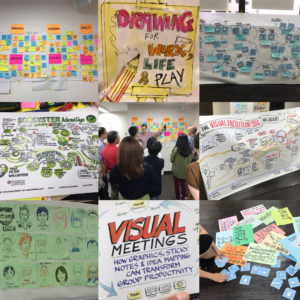 Harness The Power Of Visuals To…
Liven up meetings and presentations
Increase human touch, reduce screen time
Retain information for longer
Collect the views of many in one place
Objective ears and eyes in the room
Keep participants engaged
Have a dynamic and fun memento documenting the process as a takeaway for attendees
Email For Consultation: info@divyamariekato.com
********************
Drawing Classes Online  (free course & signature programme)

"Hi Divya!  I'm really enjoying your course 🙂
…so far it's really nice to be given an idea of where to start but also freedom to draw what I want…
Think I spend too much time on screens etc and it's really nice to work with "real" things!" – Grace Kishino, Twigtea.com
*********************************
Corporate & Community Drawing Workshops

"Thank you so much for the lovely photos and for your time today!

We really enjoyed your workshop, and spending the afternoon with you and Masa.

I'm inspired to find more opportunities to go outside and create. 🙂

Thank you Divya and Masa!  It really was a liberating experience for both mind and body."
– Maky & Ken
*************************************
Commission Art Work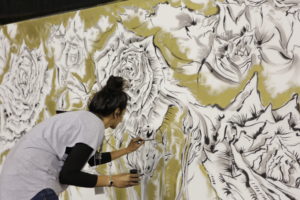 Drawings
Paintings
Murals
Email For A Free Consultation:  info@divyamariekato.com
************************
Drawing Courses & Team Workshops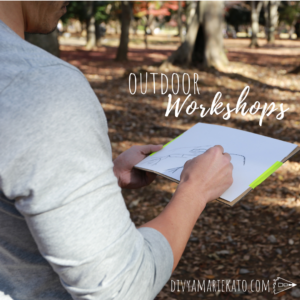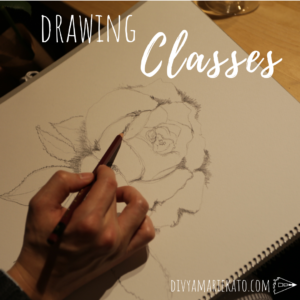 Drawing Classes:
Beginner to advanced classes, in person or online.
Workshops:
Get your team out of the office and into the great outdoors
Reservations & Enquiries:
info@divyamariekato.com

*******************************************
"By drawing something you can really see it and that's the most important thing."
– Hilary Baker, Our award winning Big Draw 2018 Partner
***********************************************
Want To Take My Online Drawing Course For A Test Drive?
As featured in ELLE, Tokyo Weekender & Metropolis
I know committing to creativity, especially later in life, takes a lot of courage.
How do I know if this will be a good fit for me?

But I'm really not good at drawing…

Can I really learn online?
There Are So Many Wonderful Art Courses Out There
So I want you to be absolutely sure this is the one for you 🙂
Please take my free, online mini course and see how you go.  Afterwards, you can even begin my flagship programme, When In Doubt, Draw, for FREE.


Divya's Online Drawing School
*******************************
"From the age of 6 I had a mania for drawing the shapes of things.
When I was 50 I had published a universe of designs. But all I have done before the the age of 70 is not worth bothering with.
At 75 I'll have learned something of the pattern of nature, of animals, of plants, of trees, birds, fish and insects.
When I am 80 you will see real progress. At 90 I shall have cut my way deeply into the mystery of life itself.
At 100, I shall be a marvelous artist.
At 110, everything I create; a dot, a line, will jump to life as never before. To all of you who are going to live as long as I do, I promise to keep my word.
I am writing this in my old age. I used to call myself Hokusai, but today I sign my self 'The Old Man Mad About Drawing."
― Hokusai Katsushika
******************************
If there's anything we can do to help, please reach out to us here: info@divyamariekato.com

Can't find what you're looking for or anything we can do to help?
Please reach out to us here: info@divyamariekato.com