When In Doubt, Draw:  Workshops & Drawing Classes In Person & Online
"Thank you Divya for bringing us all together and helping us see what we're capable of."  
– Jenny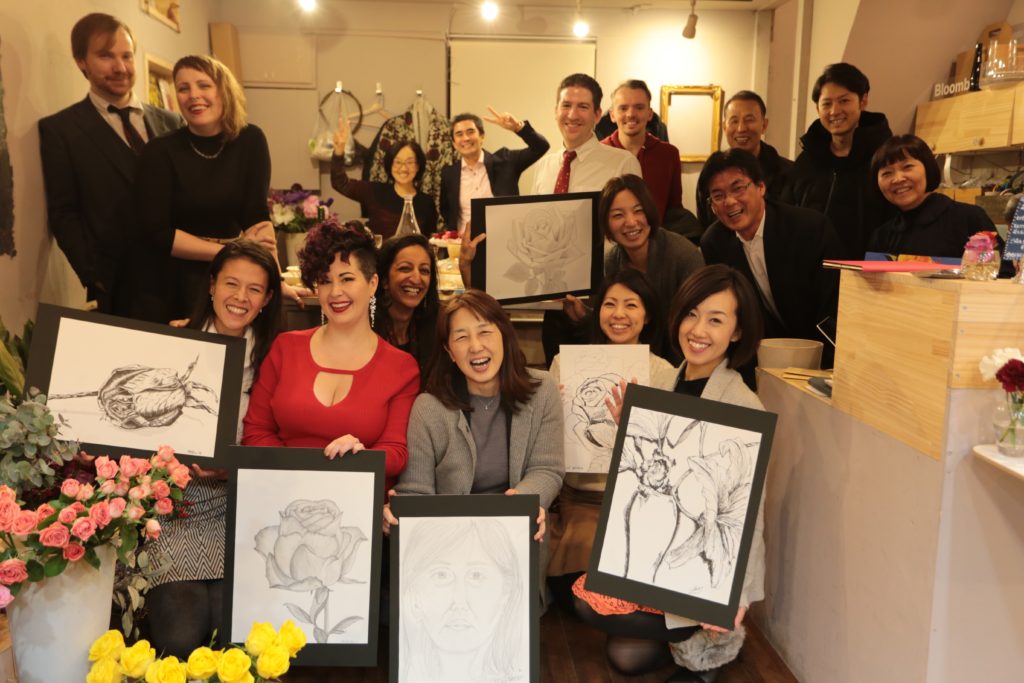 メールでのご質問は日本語でも対応可能です。 Email: info@divyamariekato.com  にご連絡下さい!
Drawing Classes & Workshops In Person In Tokyo & Online
**************************************************************
The When In Doubt, Draw Programme
Click picture or link below for video to find out more about the course from Divya!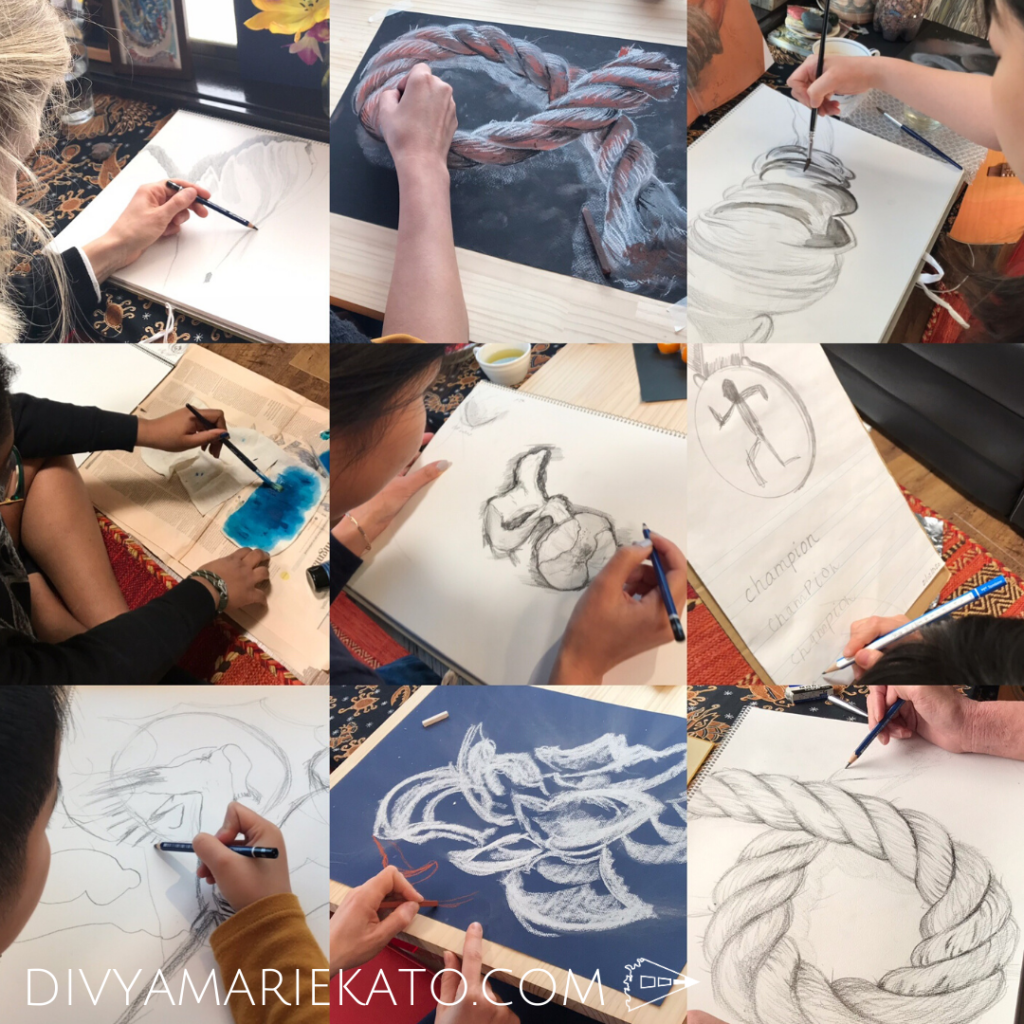 ****************************
WHAT'S WHEN IN DOUBT, DRAW & WHAT WILL I LEARN?
When In Doubt, Draw is Divya's original, creative empowerment programme which teaches you how to draw – even if you think you can't or it has been a while!
Made up of five sessions, guiding you through the foundations of drawing and painting, you can take the full course with her in person, at Atelier Kato Tokyo, experience it through one of her workshops (worldwide: email to book), or from the comfort of your own home, with When In Doubt, Draw Online.
WHY DRAW?
"Whether this book is to be of use to you or not, depends wholly on your reason for wishing to learn to draw."
– John Ruskin, The Elements Of Drawing
************************
WHERE?
IN PERSON: ATELIER KATO TOKYO | ONLINE: SEE BELOW | WORKSHOPS: SEE BELOW
Classes At Atelier Kato Tokyo
Please email to place your name on the waiting list for classes: info@divyamarieakato.com 
Take Classes On Your Own Or With A Friend/Family Member
Full Course:  5 Session Drawing Course  (5 x 2 Hour Sessions | Beginner To Advanced)
One Off Classes:  2 Hour Studio Session Class
Taking Classes:  All students need to take the basic, five session drawing course first before moving on to advanced classes.
The basic course (5 x 2 hour classes) covers pencil drawing, ink drawing, basics of colour, moving from drawing to painting and self portraits.
Following the basic course, you can use advanced classes to develop your specific area of interest.
All materials are included (basic course includes a drawing set) and more information will be sent to you upon enquiry and registration.
Schedule:  Most students choose to come once a week, either in the mornings or afternoons, and we book in class dates beforehand.  Classes are 2 hours.
FAQ:  Click here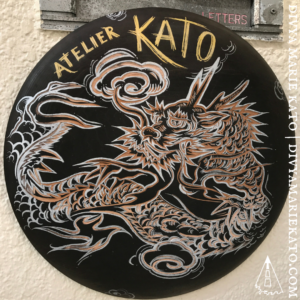 Start With My Free Mini Course

WORKSHOPS: See Below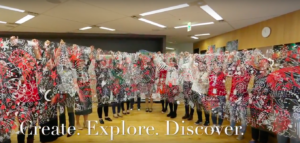 *************************************************
BOOKING & ENQUIRIES:  info@divyamariekato.com
*********************************************************
Download Divya Marie Kato & When In Doubt, Draw Flyer |  Download A4 Flyer
---
WHEN IN DOUBT, DRAW:  DRAWING WORKSHOPS WORLDWIDE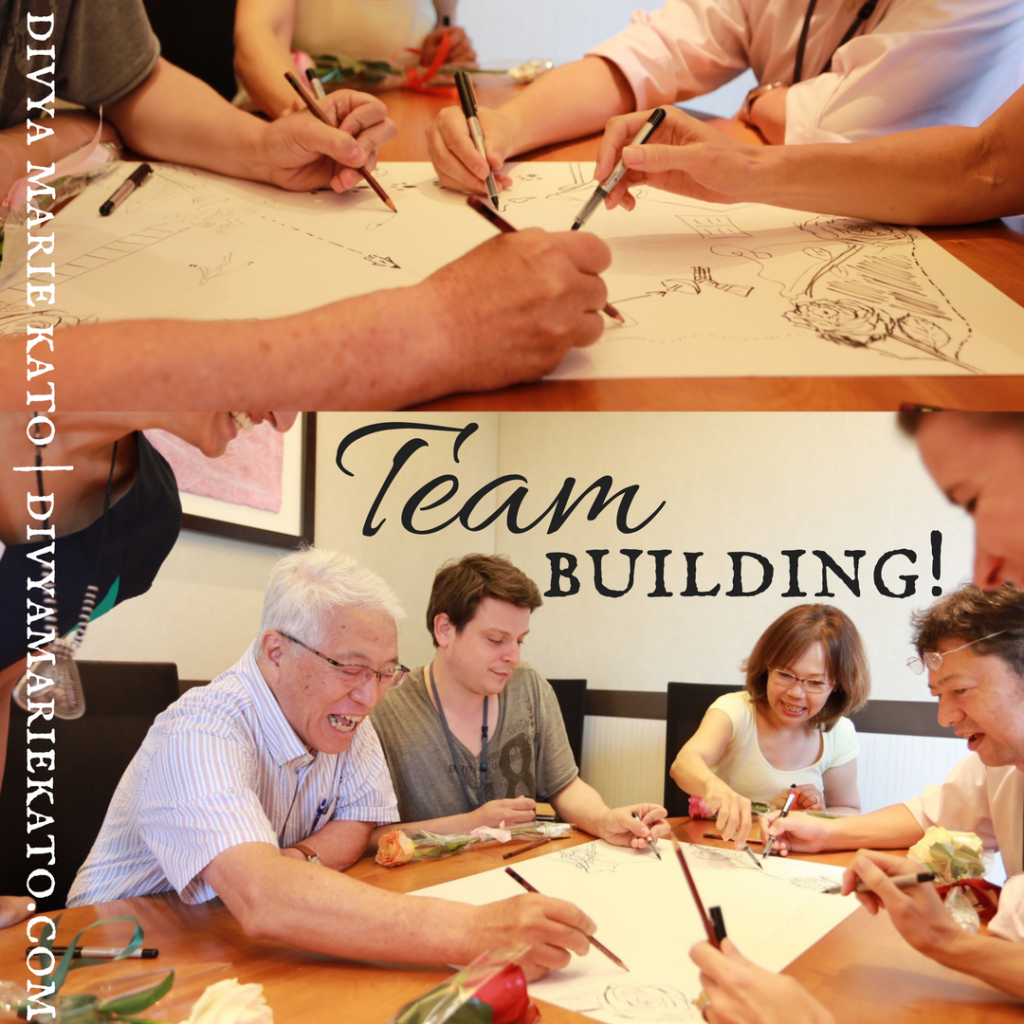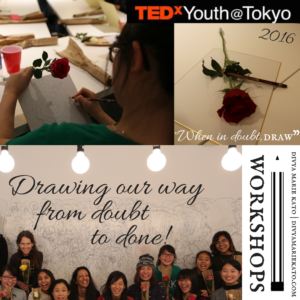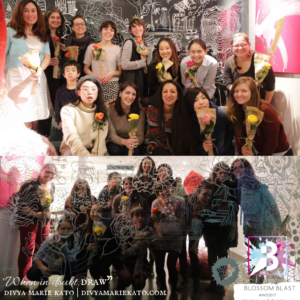 "Thank you Divya and Masa!  It was a great session and very useful to switch the brain….I certainly had a lot of fun!"
– Cassandra, President ResMed Japan 2017
***************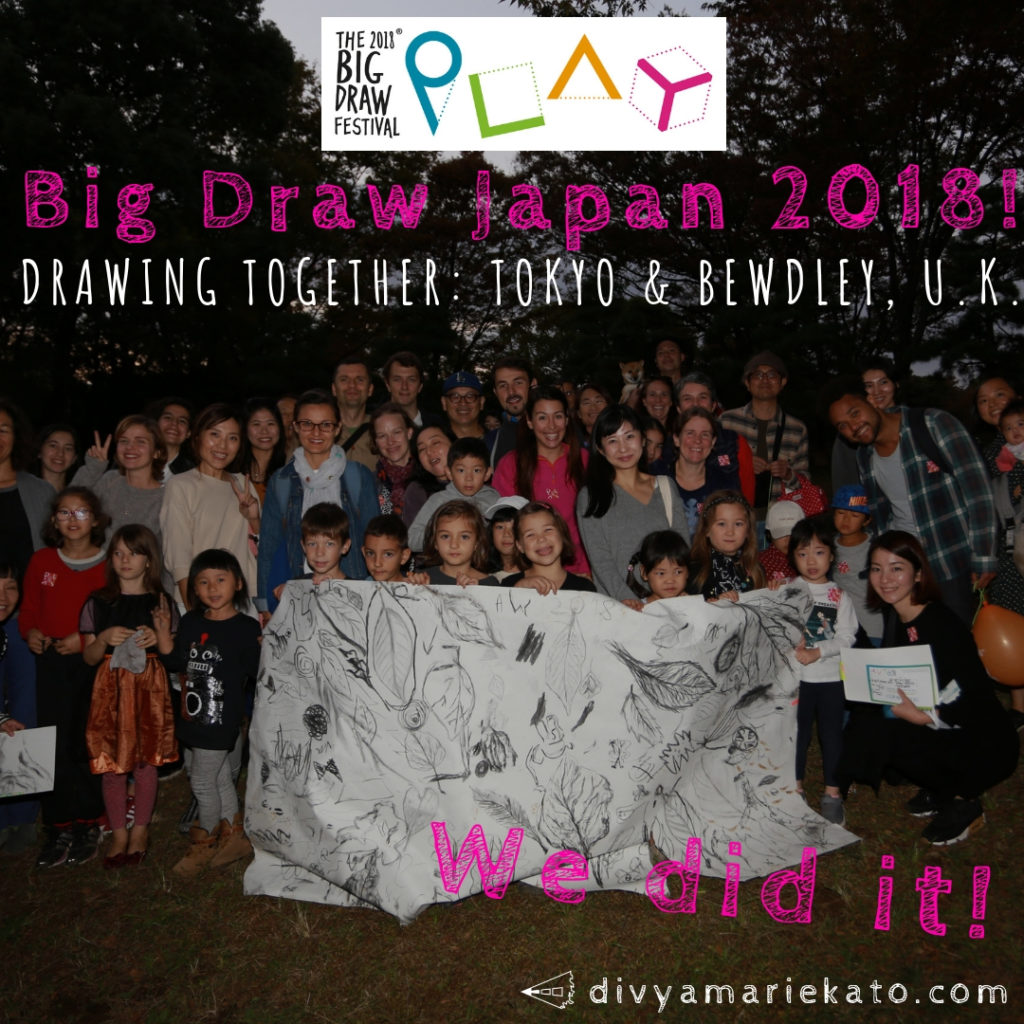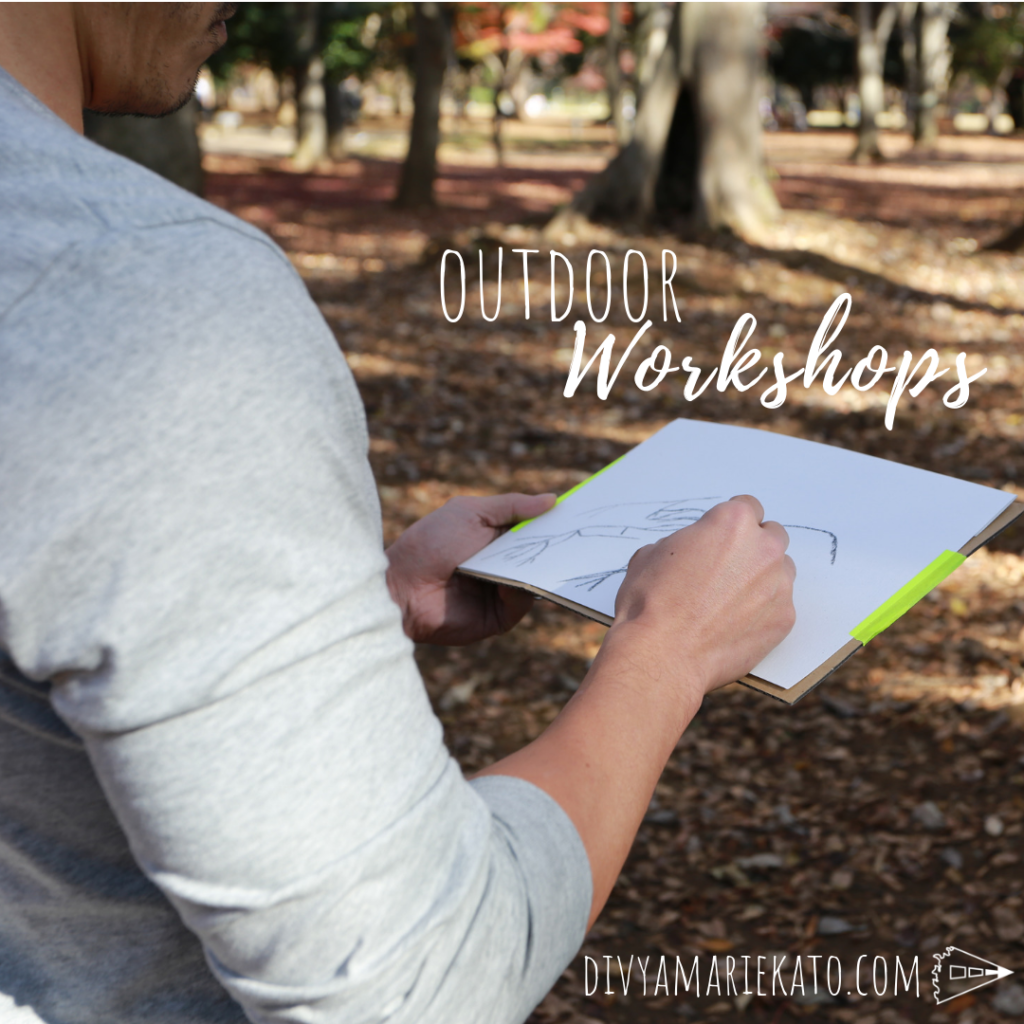 **************
CREATIVE EMPOWERMENT 
メールでのご質問は日本語でも対応可能です。 
EMAIL: info@divyamariekato.com  にご連絡下さい!
"My art teacher Divya taught me so much! My door of happiness opened thanks to her lesson.  It's more than just drawing. It's magic!!! It's totally worth experiencing this new world.  So beautiful!"  – Megumi Hagiuda, Founder, Afrika Rose Tokyo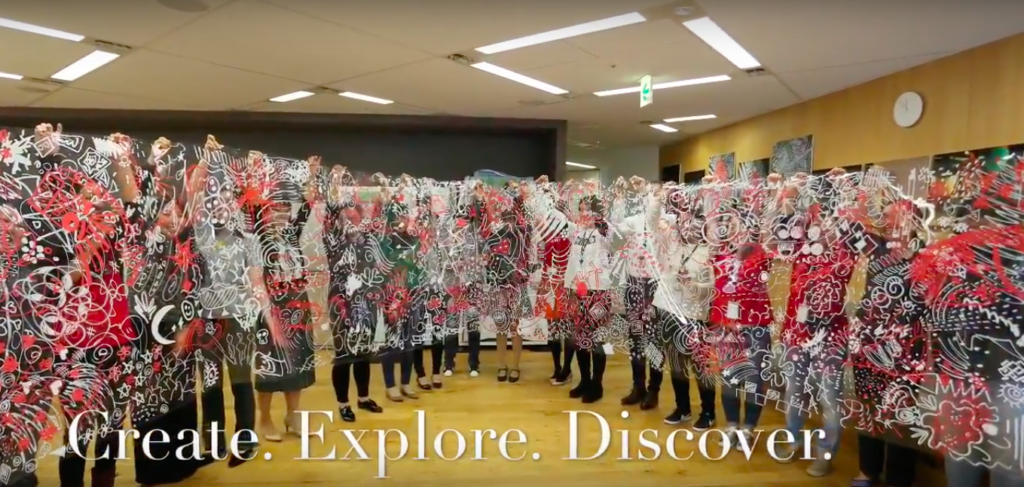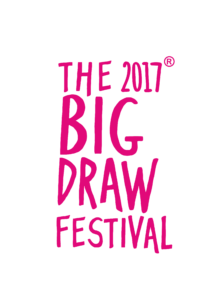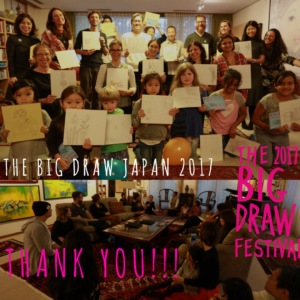 **************************************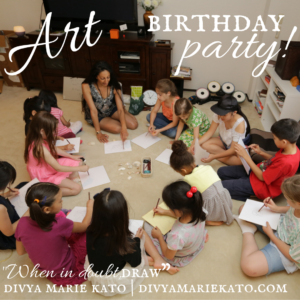 ---
Hi I'm Divya.
I'm a British artist based in Tokyo helping people reignite creativity at home and at work through drawing. 初めまして!私はディヴィヤ・マリ・加藤と言います。英国から日本へ移り住んで10数年が経ちました。アーティストそして美術教師として活動しています。
I've been drawing my whole life and have been sharing drawing with others for over 13 years.
Drawing For…
Work & Play.  Assigned by TEDx to host workshops, by LUSH to highlight environmental issues, by the British Chamber of Commerce to take part in creative community aid work, by For Empowering Women in Japan to host empowerment workshops, by Dokkyo University to empower their international students, by Tokyo Helps to raise money for community relief, my portfolio is colourful and diverse.  More examples here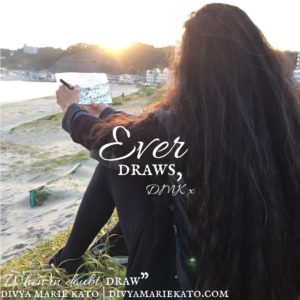 Years of experience…
teaching within the international school environment, have familiarised me with what's good and what's not so good about our education system.
Being raised around the world, meeting people from all walks of life, has made me into someone who lights up around others.
I've coached preschoolers to students to adults and have held countless live painting events, community events, classes and workshops.
Sharing drawing's my life's work
and what I know I do best.  Why?  I love the light up moments. When faces light up in recognition of what they've created.
From "I used to draw…"
to "I became more brave…it was so much fun!  I'll definitely recommend this class to my friends!" and  "I want to draw again…" to "I'm more open minded, I want to draw more, I'm more creative and I enjoy life even more – I want to continue my art journey!"  – Fumi & Alicia, Class of 2017
Been a while?  Believe you can't?
The biggest renewable resource available to us, is one that doesn't get given enough attention at school or at work.
From idea sparking to stress relief, team building to highlighting important issues, discovering purpose, motivation and daily joy – creativity is the one thing that no one can take from you and the one thing that only increases the more the you use it.
Pick up a pencil. Start and see. I'll show you how.
---
Download my free, beginners guide
Pop your email in the sidebar to the right or at the bottom to access and receive DMK News
Join us for classes or workshops in person or online
Email for availability for yourself, to gift a course, or workshops:  info@divyamariekato.com
Commission Art
Commission art work:  info@divyamariekato.com
Can't find what you're after?
Get in touch: info@divyamariekato.com
---
Want us to bring drawing workshops to your home or office?
Divya's partnered with her husband, Masahiro Kato, to be able to deliver workshops bilingually.  The British-Japanese husband and wife team are combining their shared experiences of creative living around the world, in order to being creativity to your home or workplace.
These are workshops with a difference and the experience will be an unforgettable one for your family or for your team.  Creativity workshops click here
---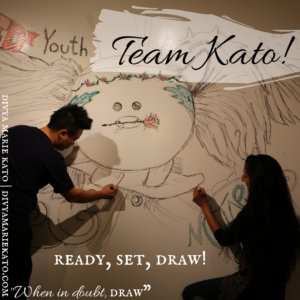 Who Are We?
Husband and wife team, Divya and Masahiro Kato, have been working together since they met in 2013.  They have both led lives guided by creativity and believe this is what ultimately brought them together.
British and Japanese by nationality, they draw on experiences from being raised around the world, with influences from different cultures.
Both with years of teaching experience: within the international school environment, privately and through public events and workshops.
What they have to share with you and your family or team at work, is an unforgettable experience reintroducing you to the joy of creating – something often left behind in adulthood and something that sparks countless ideas, conversations and connections.
The ways of business are changing.  The new way involves connection, creativity and innovation.
We look forward to meeting you!
Divya & Masa Kato
***********************************
 Get In Touch
About bringing creativity workshops to your home or work place.
メールでのご質問は日本語でも対応可能です。 Email: info@divyamariekato.com  にご連絡下さい!
******************************************************************
Divya has always stayed close to nature and starts all of her drawing classes and workshops with the organic lines to be found in the natural world.
Nothing beats Mother Nature in terms of being the best place to start learning incredible life lessons, as well as the fundamentals of mark making, design and establishing a sense of purpose, place and connection.
Although some of her work's featured here, she's out and about more than ever – and tries to keep this site as updated as possible!  You can follow Divya's daily drawings and most recent work via Instagram:
Something is wrong.

Instagram token error.