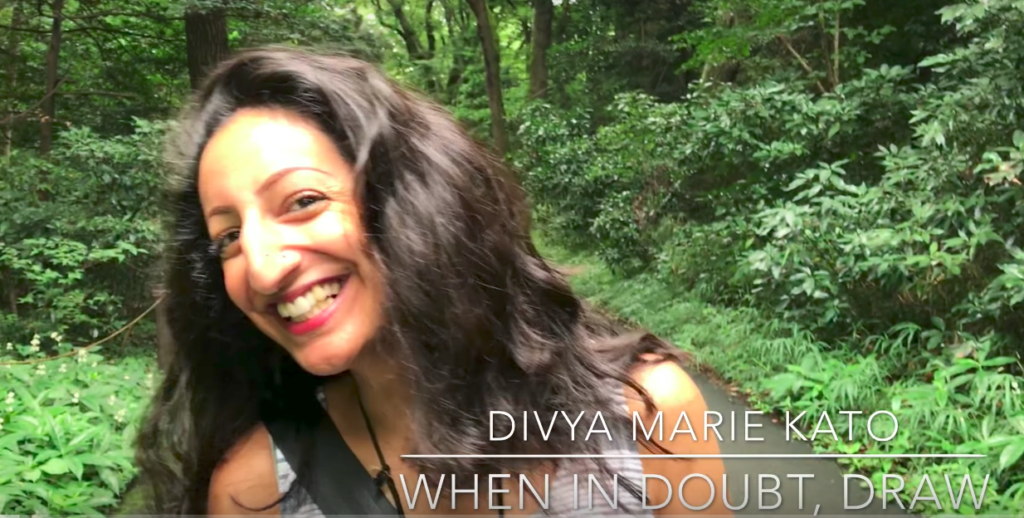 Hi, Divya here! I'm happy and honoured to have you as part of our trusted community.
I respect your privacy – please check out my message and commitment to being safe re: GDPR & Privacy & Cookies by clicking on the picture above and reading information laid out as clearly as possible below.
To a safer online world! Divya x
Hello!  Heard about the new General Data Protection Regulation (GDPR) that kicks off May 25th 2018?
Whether you're in the EU or not, this is really good stuff in terms of privacy in a world online.
That's me up there – Divya Marie Kato 🙂
I write newsletters to family, friends old and new and students of my When In Doubt, Draw drawing programme.
I write these letters to share art courses, drawing classes, events, projects, paintings and inspiring Art For Hope stories.
Most of you receive my letters by opting in to receive my free beginner guide to drawing via my website.
I'm happy to be in touch with you and respect your privacy. I want you to be happy too!
I treat your privacy as I do my own.
I do not spam, sell, share, rent or lease the details of anyone on my trusted list of contacts and strictly follow the privacy policy outlined below.
I use MailChimp to send out my newsletters.  You can read their commitment to GDPR and privacy updates here
If you'd like to continue hearing from me, or if you'd like to use this opportunity to view and update your information, please take a minute to update your subscription settings over here via my newsletter addressing this issue.  Click on the big, blue button that says I Want To Update My Settings!
I want to be as transparent as possible, so if anything is at all unclear below, know you can contact me at info@divyamariekato.com
To a safer online world!
Warm wishes from Japan,
Divya x
Divya Marie Kato, When In Doubt, Draw
Copyright © 2019 Divya Marie Kato, Atelier Kato Tokyo, All Rights Reserved.
Our Mailing Address:
Divya Marie Kato, Atelier Kato Tokyo, Yoyogi
Shibuya, Tokyo 151-0053, JAPAN
Further Links To Useful (easy to read!) Articles Outlining Privacy Laws:
Information Commissioner's Office
The UK's independent authority set up to uphold information rights in the public interest, promoting openness by public bodies and data privacy for individuals
Newsletter Service
Privacy Rules & Business In Japan
*************************************************************
Summary Of What's Included In This Privacy Policy
Relevant contact information:  Divya Marie Kato, info@divyamariekato.com
What information we collect and the basis for collecting it:  Name, email, location
What we do with the data:  Keep in touch via Divya Marie Kato's newsletters
Visitors rights (your rights) under the GDPR:  The right to request, update or withdraw your details
Privacy
Divya Marie Kato is committed to protecting and respecting your privacy.
This policy (together with our Terms of Website Use (and any other documents referred to on it) sets out the basis on which any personal data we collect from you, or that you provide to us, will be processed by us.
Please read the following carefully to understand our views and practices regarding your personal data and how we will treat it. By submitting personal data to us, you agree to us using your data as follows.
For the purpose of the Data Protection Act 1998 (the Act), the data controller is  Divya Marie Kato, Atelier Kato Tokyo.
Information We May Collect From You
We may collect and process the following data about you:
Information that you provide by filling in forms on our site divyamariekato.com (our site) i.e. your name, email, country
This includes information provided at the time of registering to use our site, subscribing to our service, posting material or requesting further services.
We may also ask you for information when you enter a competition or promotion or if you report a problem with our site or service.
If you contact us, we may keep a record of that correspondence in order to learn from it, implement improvements or keep on file for protection.
We may also ask you to complete surveys that we use for research purposes, although you do not have to respond to them.
Details of your visits to our site including, but not limited to, traffic data, location data, weblogs and other communication data, whether this is required for our own billing purposes or otherwise and the resources that you access.
Where We Store Your Personal Data
The data that we collect from you may be transferred to, and stored at, a destination outside the European Economic Area ("EEA"). By submitting your personal data, you agree to this transfer, storing or processing.
We will take all steps reasonably necessary to ensure that your data is treated securely and in accordance with this privacy policy.
Where we have given you (or where you have chosen) a password which enables you to access certain parts of our site, you are responsible for keeping this password confidential. We ask you not to share a password with anyone.
Unfortunately, the transmission of information via the internet is not completely secure. Although we will do our best to protect your personal data, we cannot guarantee the security of your data transmitted to our site; any transmission is at your own risk.
Once we have received your information, we will use strict procedures and security features to try to prevent un-authorised access.
Uses Made Of The Information
We use information held about you in the following ways:
To send you our newsletters.
To ensure that content from our site is presented in the most effective manner for you and for your computer.
To provide you with information, products or services that you request from us or which we feel may interest you.
To carry out our obligations arising from any contracts entered into between you and us.
To allow you to participate in interactive features of our service, when you choose to do so.
To notify you about changes to our service.
Disclosure Of Your Information
If we are under a duty to disclose or share your personal data in order to comply with any legal obligation, or in order to enforce or apply our Terms of Use or terms and conditions of membership and other agreements; or to protect the rights, property, or safety of us or any of our customers, or others. This includes exchanging information with other companies and organisations for the purposes of fraud protection and credit risk reduction.
Your Rights
You have the right to ask us not to process your personal data for marketing purposes.
We will usually inform you (before collecting your data) if we intend to use your data for such purposes or if we intend to disclose your information to any third party for such purposes. You can exercise your right to prevent such processing by contacting us at info@divyamariekato.com
Our site may, from time to time, contain links to and from the websites of our partner networks, advertisers and affiliates.
If you follow a link to any of these websites, please note that these websites have their own privacy policies and that we do not accept any responsibility or liability for these policies. Please check these policies before you submit any personal data to these websites.
Changes To Our Privacy Policy
Any changes we may make to our privacy policy in the future will be posted on this page and, where appropriate, notified to you by e-mail.
Contact
Questions, comments and requests regarding this privacy policy are welcomed and should be addressed to info@divyamariekato.com
*************************************************************
Terms Of Website Use
This page (together with the documents referred to on it) tells you the terms of use on which you may make use of our website divyamariekato.com (our site), whether as a guest or a registered user.
Please read these terms of use carefully before you start to use the site. By using our site, you indicate that you accept these terms of use and that you agree to abide by them. If you do not agree to these terms of use, please refrain from using our site.
Information About Us
divyamariekato.com is a site operated by Divya Marie Kato, Atelier Kato Tokyo ("we" or "us").
Our registered address is Atelier Kato Tokyo and our email address is info@divyamariekato.com
Accessing Our Site
Access to our site is permitted on a temporary basis, and we reserve the right to withdraw or amend the service we provide on our site without notice. We will not be liable if for any reason our site is unavailable at any time or for any period.
From time to time, we may restrict access to some parts of our site, or our entire site, to users who have registered with us.
If at any time you choose, or you are provided with, a user identification code, password or any other piece of information as part of our security procedures, you must treat such information as confidential, and you must not disclose it to any third party.
We have the right to disable any user identification code or password, whether chosen by you or allocated by us, at any time, if in our opinion you have failed to comply with any of the provisions of these terms of use.
When using our site, you must comply with the provisions of our Acceptable Use Policy.
You are responsible for making all arrangements necessary for you to have access to our site. You are also responsible for ensuring that all persons who access our site through your internet connection are aware of these terms, and that they comply with them.
Prohibited Uses
You may use our site only for lawful purposes. You may not use our site:
In any way that breaches any applicable local, national or international law or regulation.
In any way that is unlawful or fraudulent, or has any unlawful or fraudulent purpose or effect.
For the purpose of harming or attempting to harm minors in any way.
To send, knowingly receive, upload, download, use or re-use any material which does not comply with our content standards which are set out below.
To transmit, or procure the sending of, any unsolicited or unauthorised advertising or promotional material or any other form of similar solicitation (spam).
To knowingly transmit any data, send or upload any material that contains viruses, Trojan horses, worms, time-bombs, keystroke loggers, spyware, adware or any other harmful programs or similar computer code designed to adversely affect the operation of any computer software or hardware.
You also agree:
Not to reproduce, duplicate, copy or re-sell any part of our site in contravention of the provisions of our Terms of Website Use.
Not to access without authority, interfere with, damage or disrupt:
Any part of our site
Any equipment or network on which our site is stored
Any software used in the provision of our site
Any equipment or network or software owned or used by any third party
Intellectual Property Rights
We are the owner or the licensee of all intellectual property rights in our site, and in the material published on it.
Those works are protected by copyright laws and treaties around the world. All such rights are reserved.
You must not use any part of the materials on our site for commercial purposes without obtaining a licence to do so from us or our licensors.
You may not reproduce in any format (including on another website) any part of our site (including content, images, designs, look and feel) without our prior written consent.
If you print off, reproduce, copy or download any part of our site in breach of these terms of use, your right to use our site will cease immediately and you must, at our option, return or destroy any copies of the materials you have made.
Reliance On Information Posted
Commentary and other materials posted on our site are not intended to amount to advice on which reliance should be placed.
We therefore disclaim all liability and responsibility arising from any reliance placed on such materials by any visitor to our site, or by anyone who may be informed of any of its contents.
Our Site Changes Often
We aim to update our site regularly, and may change the content at any time. If the need arises, we may suspend access to our site, or close it indefinitely. Any of the material on our site may be out of date at any given time, and we are under no obligation to update such material.
Our Liability
The material displayed on our site is provided without any guarantees, conditions or warranties as to its accuracy. To the extent permitted by law, we hereby expressly exclude:
All conditions, warranties and other terms which might otherwise be implied by statute, common law or the law of equity.
Any liability for any direct, indirect or consequential loss or damage incurred by any user in connection with our site or in connection with the use, inability to use, or results of the use of our site, any websites linked to it and any materials posted on it (whether by us or a third party), including, without limitation any liability for:
Loss of income or revenue
Loss of business
Loss of profits or contracts
Loss of anticipated savings
Loss of data
Loss of goodwill
Wasted management or office time
For any other loss or damage of any kind, however arising and whether caused by tort (including negligence), breach of contract or otherwise, even if foreseeable.
This does not affect our liability for death or personal injury arising from our negligence, nor our liability for fraudulent misrepresentation or misrepresentation as to a fundamental matter, nor any other liability which cannot be excluded or limited under applicable law.
Information About You And Your Visits To Our Site
We process information about you in accordance with our Privacy Policy. By using our site, you consent to such processing and you warrant that all data provided by you is accurate.
Uploading Material To Our Site
Whenever you make use of a feature that allows you to upload material to our site, or to make contact with other users of our site, you must comply with the content standards set out below. You warrant that any such contribution does comply with those standards, and you indemnify us for any breach of that warranty.
Any material you upload to our site will be considered non-confidential and non-proprietary, and we have the right to use, copy, distribute and disclose to third parties any such material for any purpose. We also have the right to disclose your identity to any third party who is claiming that any material posted or uploaded by you to our site constitutes a violation of their intellectual property rights, or of their right to privacy.
We will not be responsible, or liable to any third party, for the content or accuracy of any materials posted by you or any other user of our site.
We have the right to remove any material or posting you make on our site if, in our opinion, such material does not comply with the content standards set out below.
Viruses, Hacking And Other Offences
You must not misuse our site by knowingly introducing viruses, trojans, worms, logic bombs or other material which is malicious or technologically harmful. You must not attempt to gain unauthorised access to our site, the server on which our site is stored or any server, computer or database connected to our site. You must not attack our site via a denial-of-service attack or a distributed denial-of service attack.
By breaching this provision, you would commit a criminal offence under the Computer Misuse Act 1990. We will report any such breach to the relevant law enforcement authorities and we will co-operate with those authorities by disclosing your identity to them. In the event of such a breach, your right to use our site will cease immediately.
We will not be liable for any loss or damage caused by a distributed denial-of-service attack, viruses or other technologically harmful material that may infect your computer equipment, computer programs, data or other proprietary material due to your use of our site or to your downloading of any material posted on it, or on any website linked to it.
Linking To Our site
You may link to our home page, provided you have obtained our prior written consent and provided you do so in a way that is fair and legal and does not damage our reputation or take advantage of it. You must not establish a link in such a way as to suggest any form of association, approval or endorsement on our part where none exists.
You must not establish a link from any website that is not owned by you.
Our site must not be framed on any other site, nor may you create a link to any part of our site other than the home page. We reserve the right to withdraw linking permission without notice. The website from which you are linking must comply in all respects with the content standards set out below.
If you wish to make any use of material on our site other than that set out above, please address your request to info@divyamariekato.com
Links From Our Site
Where our site contains links to other sites and resources provided by third parties, these links are provided for your information only. We have no control over the contents of those sites or resources, and accept no responsibility for them or for any loss or damage that may arise from your use of them.
Interactive Services
We may from time to time provide interactive services on our site, including, without limitation:
Chat rooms
Bulletin boards
Allowing users to comment on blog post and submit articles to the site. (interactive services).
Where we do provide any interactive service, we will provide clear information to you about the kind of service offered, if it is moderated and what form of moderation is used (including whether it is human or technical).
We will do our best to assess any possible risks for users (and in particular, for children) from third parties when they use any interactive service provided on our site, and we will decide in each case whether it is appropriate to use moderation of the relevant service (including what kind of moderation to use) in the light of those risks.
However, we are under no obligation to oversee, monitor or moderate any interactive service we provide on our site, and we expressly exclude our liability for any loss or damage arising from the use of any interactive service by a user in contravention of our content standards, whether the service is moderated or not.
The use of any of our interactive services by a minor is subject to the consent of their parent or guardian. We advise parents who permit their children to use an interactive service that it is important that they communicate with their children about their safety online, as moderation is not foolproof.
Minors who are using any interactive service should be made aware of the potential risks to them.
Where we do moderate an interactive service, we will normally provide you with a means of contacting the moderator, should a concern or difficulty arise.
Content Standards
These content standards apply to any and all material which you contribute to our site (contributions), and to any interactive services associated with it.
You must comply with the spirit of the following standards as well as the letter. The standards apply to each part of any contribution as well as to its whole.
Contributions Must:
Be accurate (where they state facts).
Be genuinely held (where they state opinions).
Comply with applicable law in the UK and in any country from which they are posted.
Contributions Must Not:
Contain any material which is defamatory of any person.
Contain any material which is obscene, offensive, hateful or inflammatory.
Promote sexually explicit material.
Promote violence.
Promote discrimination based on race, sex, religion, nationality, disability, sexual orientation or age.
Infringe any copyright, database right or trade mark of any other person.
Be likely to deceive any person.
Be made in breach of any legal duty owed to a third party, such as a contractual duty or a duty of confidence.
Promote any illegal activity.
Be threatening, abuse or invade another's privacy, or cause annoyance, inconvenience or needless anxiety.
Be likely to harass, upset, embarrass, alarm or annoy any other person.
Be used to impersonate any person, or to misrepresent your identity or affiliation with any person.
Give the impression that they emanate from us, if this is not the case.
Advocate, promote or assist any unlawful act such as (by way of example only) copyright infringement or computer misuse.
Suspension And Termination
We will determine, in our discretion, whether there has been a breach of this Acceptable Use Policy through your use of our site. When a breach of this policy has occurred, we may take such action as we deem appropriate.
Failure to comply with this Acceptable Use Policy constitutes a material breach of the Terms of Website Use upon which you are permitted to use our site, and may result in our taking all or any of the following actions:
Immediate, temporary or permanent withdrawal of your right to use our site.
Immediate, temporary or permanent removal of any posting or material uploaded by you to our site.
Issue of a warning to you.
Legal proceedings against you for reimbursement of all costs on an indemnity basis (including, but not limited to, reasonable administrative and legal costs) resulting from the breach.
Further legal action against you.
Disclosure of such information to law enforcement authorities as we reasonably feel is necessary.
We exclude all liability for our actions taken in response to breaches of this Acceptable Use Policy. The responses described in this policy are not limited, and we may take any other action we reasonably deem appropriate.
Jurisdiction And Applicable Law
The Japanese courts will have exclusive jurisdiction over any claim arising from, or related to, a visit to our site.
These terms of use and any dispute or claim arising out of or in connection with them or their subject matter or formation (including non-contractual disputes or claims) shall be governed by and construed in accordance with the law of Japan.
Variations
We may revise these terms of use at any time by amending this page. You are expected to check this page from time to time to take notice of any changes we made, as they are binding on you. Some of the provisions contained in these terms of use may also be superseded by provisions or notices published elsewhere on our site.
***************************************************
Cookie Policy
Information about our use of cookies.
What are cookies?
Cookies are small data files that are placed on your computer or mobile device when you visit a website. A cookie is a small file of letters and numbers that we store on your browser or the hard drive of your computer if you agree.
Cookies contain information that is transferred to your computer's hard drive. Cookies are widely used by online service providers in order to (for example) make their websites or services work, or to work more efficiently, as well as to provide reporting information.
Our website uses cookies to distinguish you from other users of our website. This helps us to provide you with a good experience when you browse our website and also allows us to improve our site.
The cookies we use are "analytical" cookies. They allow us to recognise and count the number of visitors and to see how visitors move around the site when they are using it.
This helps us to improve the way our website works, for example, by ensuring that users are finding what they are looking for easily. You can find more information about the individual cookies we use and the purposes for which we use them below:
Cookie
Name
Purpose
More Information
Examples of purposes for which a cookie may be used:
Estimate our audience size and usage pattern
Store information about your preferences, and so allow us to customise our site and to provide you with offers that are targeted at your individual interests
Speed up your searches
Recognise you when you return to our site
Allow you to use our site in a way that makes your browsing experience more convenient, for example, by allowing you to store items in an electronic shopping basket between visits
If you register with us or complete our online forms, we will use cookies to remember your details during your current visit, and any future visits provided the cookie was not deleted in the interim
Please note that our advertisers may also use cookies, over which we have no control.
Learn More About Cookies
You block cookies by activating the setting on your browser that allows you to refuse the setting of all or some cookies.
However, if you use your browser settings to block all cookies (including essential cookies) you may not be able to access all or parts of our site.
Most web browsers allow some control of most cookies through the browser settings.
To find out more about cookies, including how to see what cookies have been set and how to manage and delete them, visit www.allaboutcookies.org.
By using our website, you consent to our use of cookies as described above.