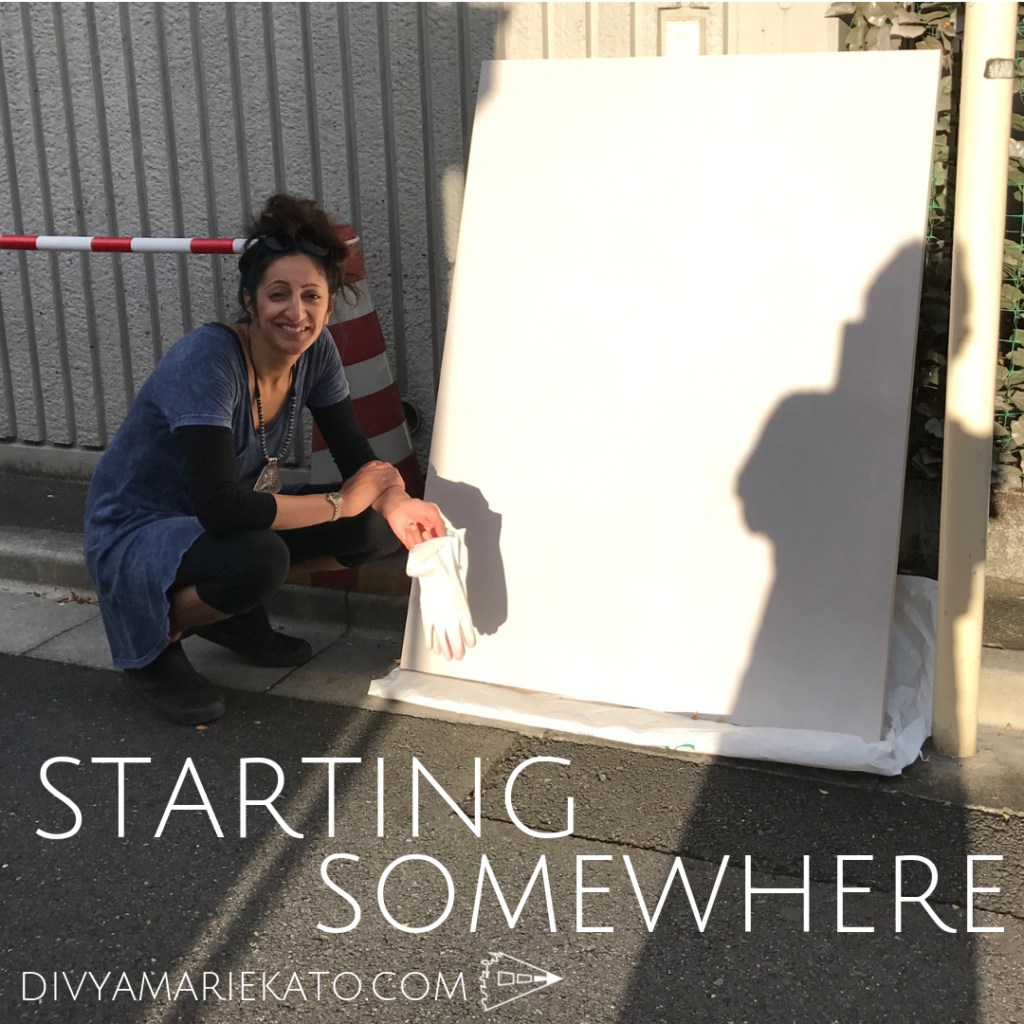 "Nothing can come of nothing."
– King Lear
Happy birthday to The Bard born in April 1564.  This quote brought to mind a few things that have happened recently:
A current situation I thought was too big to tackle
What often comes up when I mention drawing!
Something I couldn't find in Japan
Best book of 2019 so far
They're all to do with starting somewhere – hope you enjoy! 
Best wishes for a happy spring and friends in Japan, happy Golden Week holidays to you!
Love,
Divya x
Some Issues Seem Too Big To Tackle…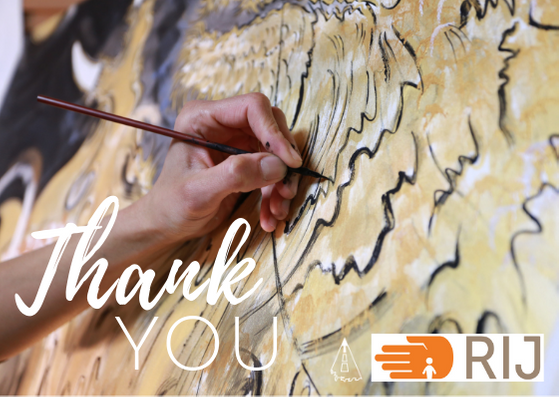 Refugees.  What do you think of when you hear this word?
To me, the word represented a situation too big to think about.  I felt sorry for them and looked away because I didn't know where to start…
Until…
Jane Best, Executive Director of Refugees International Japan, shared success stories and encouraged me to have fun fundraising.  So I did!
I created a painting about trust (we all put our trust in something!) for their annual fundraiser and although the painting sold on the night…
You Can Now Order Gallery Quality Giclee Art Prints Of The Piece!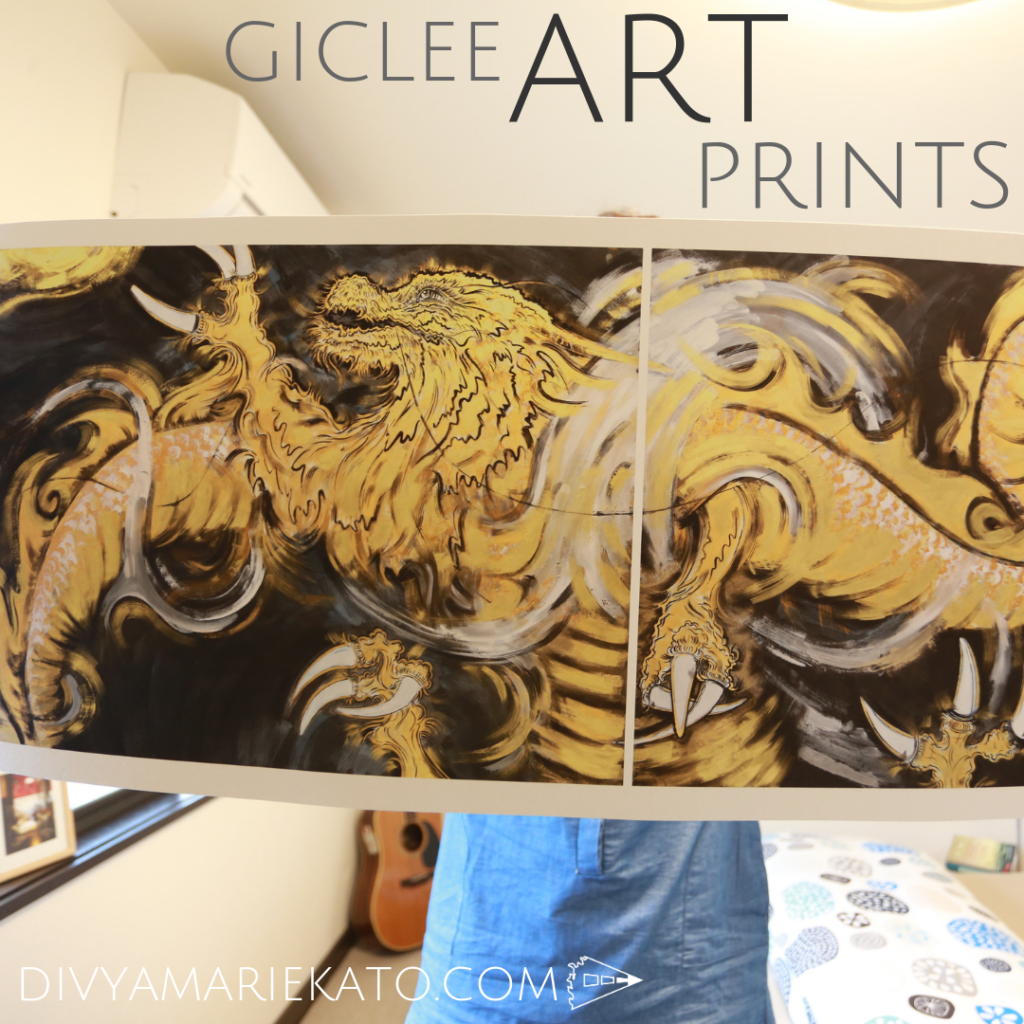 Purchase Art Prints & Support Refugees International Japan
Email: info@divyamariekato.com | 20% proceeds to RIJ
View:  If you'd like to see the prints and the high quality of the Giclee printing (gallery quality, thick, textured, cloth like paper) on 100% cotton rag, textured matte, archival etching paper, email to arrange a viewing at Atelier Kato Tokyo
Art Prints:  Giclee (Gallery Quality) Art Prints: 2 Sizes Available (Large:  31cm x 84cm | Small: A4)
Options:  Print Only | Framed Print | Print Mounted On Board
The Start Of A Bigger Project:  Welcome To Art For Hope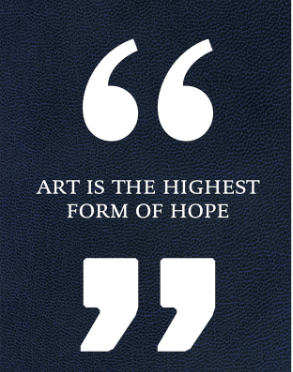 For more inspiring stories about the power of art click here
Don't Think Art:  Just Start With A Line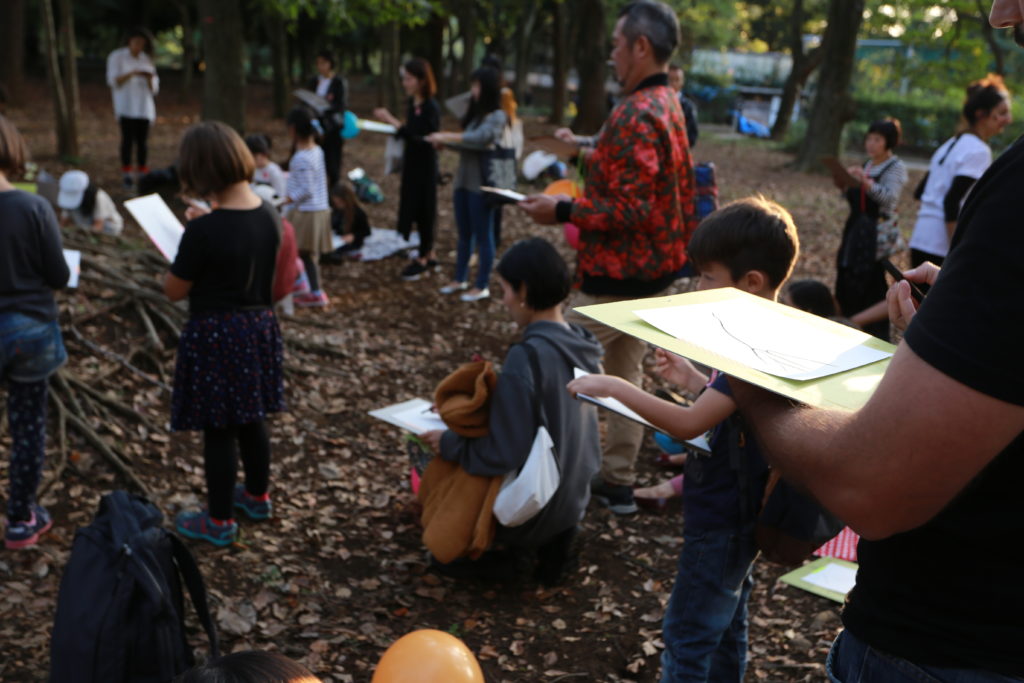 Over the years, I've heard lots of the doubts people have about drawing.
So I simply tell them to start with one line.  And the amazing thing?  Once they start, they can't stop!  I know this holds true to many things in life.  My friend Annie wrote a fantastic piece about it: One Line, One Note, One Movement. You can read it here
Lines Are Like Clay
That big, white space can seem daunting, but that's why you need to break into it – just as you would with new shoes!  Once you have those initial lines down, you then have something to mould like clay: you can shape, smudge, shade and bring that drawing to life!
When In Doubt, Draw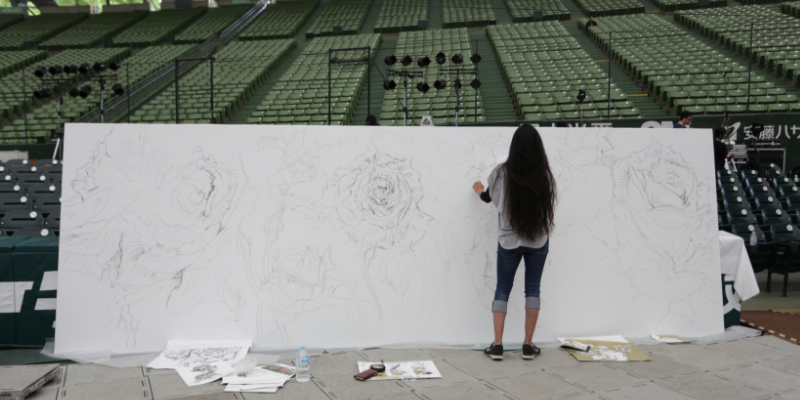 What exactly is When In Doubt, Draw?
And why have I built a business around it?  I've always used drawing to work things out since school: doubts, ideas, understanding, heartbreaks…  And the doubts keep coming!  I'm certainly not immune and find those annoying, little voices are loudest just before I start – funny that!
Drawing's Not About Great Art
To me, drawing's about seeing.  It's about that delicious scratch that starts to make something out of nothing.  It's about:
Reconnecting with yourself

Reconnecting with your environment

And reconnecting with your place in a bigger picture.
And, seeing as it's something we've been doing for thousands of years in caves…
and what most of us love to do as kids, it's such a shame so many people stop drawing as they get older!  
Power To The Pencil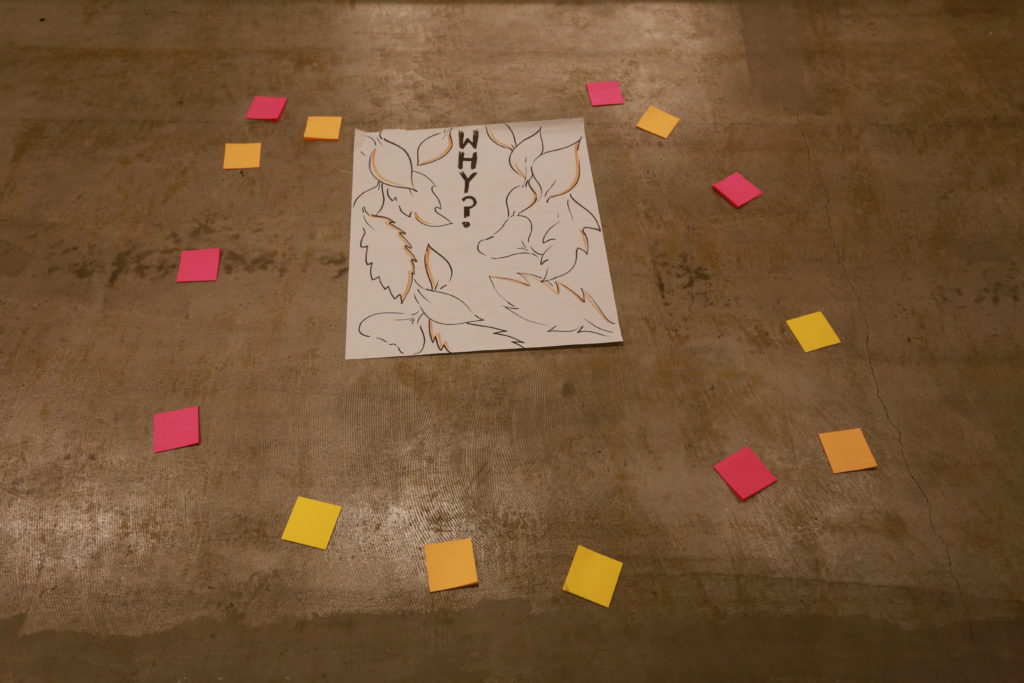 Look Around You
How many things do you see that first started off as a drawing?  Drawing's an incredible tool for communicating ideas and bringing them to life.  The power of visuals help us retain information for longer and liven up information in presentations.
Your Sketchbook:  A Box For Ideas!
Drawing's a way of exploring life's big questions and reflecting on experiences.  It helps spark new ideas, release stress, is lots of fun AND can be done, for free, anytime, anywhere and at any age!
The World's Biggest Drawing Festival Comes Back To Tokyo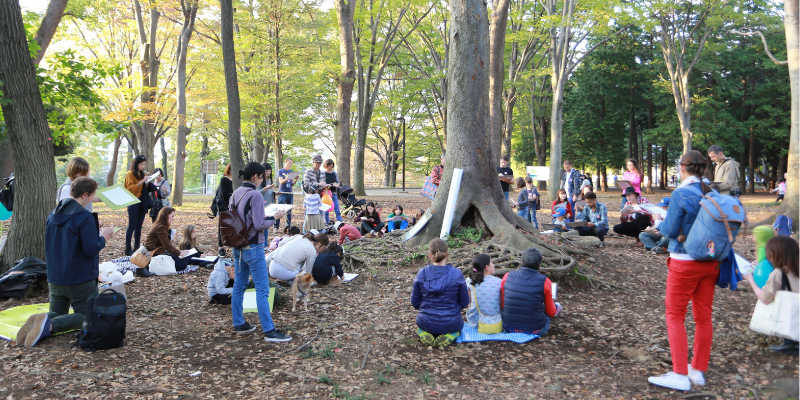 I wanted to take part in the Big Draw festival in Japan but…
Discovered that there had been no Big Draws here!
So… we started with the very first one in 2017!
We're thrilled to announce that we're now proud Companions of The Guild of St. George, the organisation founded by the great Victorian polymath and champion of drawing, John Ruskin and that…
The Big Draw 2019 will be on October 27th 2019
The Big Draw is the world's largest drawing festival and we brought it here to Japan for the first time in 2017.  In 2018, we organised a bilateral Japan-UK event and, with 2019 marking the bicentenary of Ruskin's birth, this year's going to be a good one too!
Mark Your Diaries & Register Now
Last year, our event was fully booked!  Please make a note of the date for 2019: 
Sunday October 27th
To register, please email: info@divyamariekato.com with your name and number of people.  Fee: ¥1000.    See What We Got Up To Last Year Here
One Last Recommendation: Best Book Of 2019 So Far!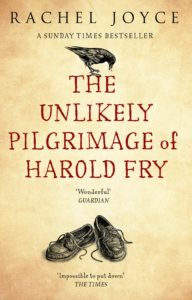 If there was a perfect book about starting somewhere…
This would be it:  The Unlikely Pilgrimage Of Harold Fry
And, much like a pencil, once you pick it up, you won't be able to put it down!
*****************************************************
Spring Term:  Drawing Classes & Workshops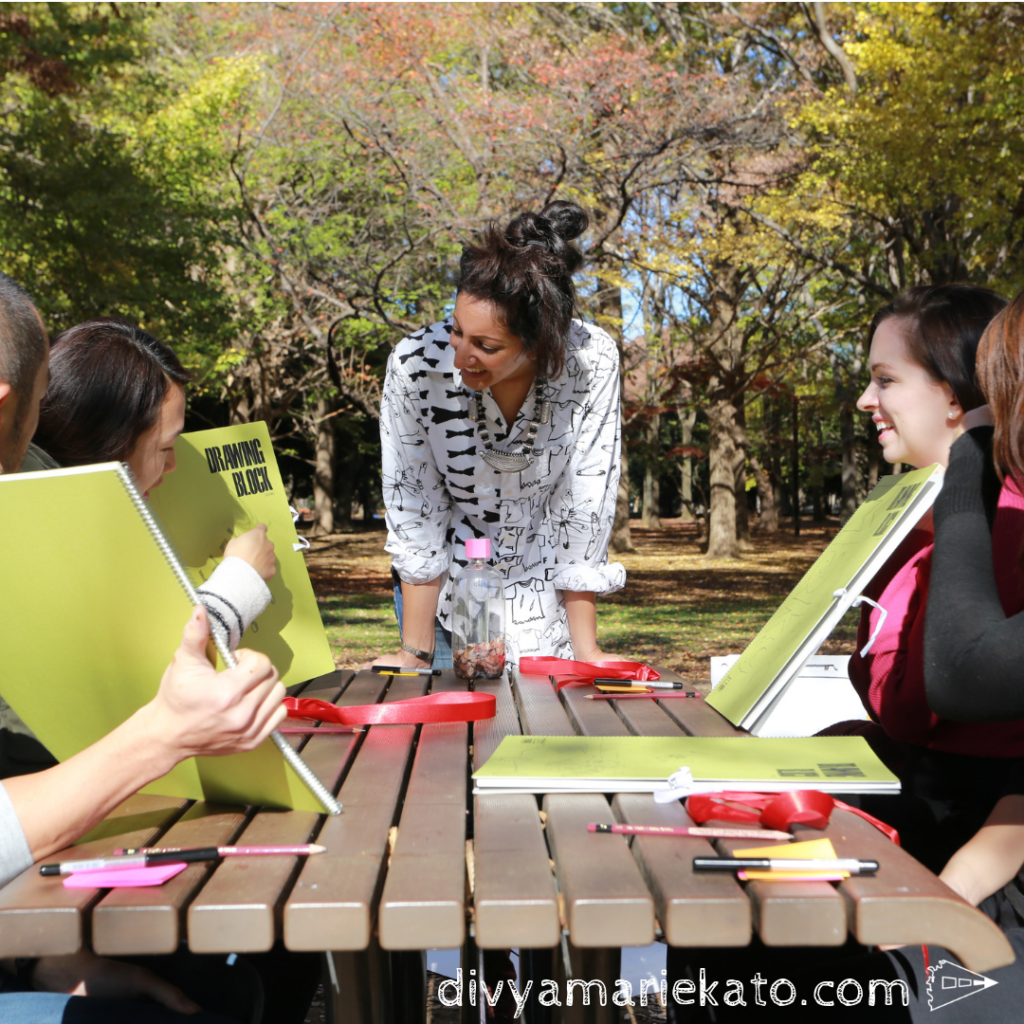 ***************************************************************
Commission Artwork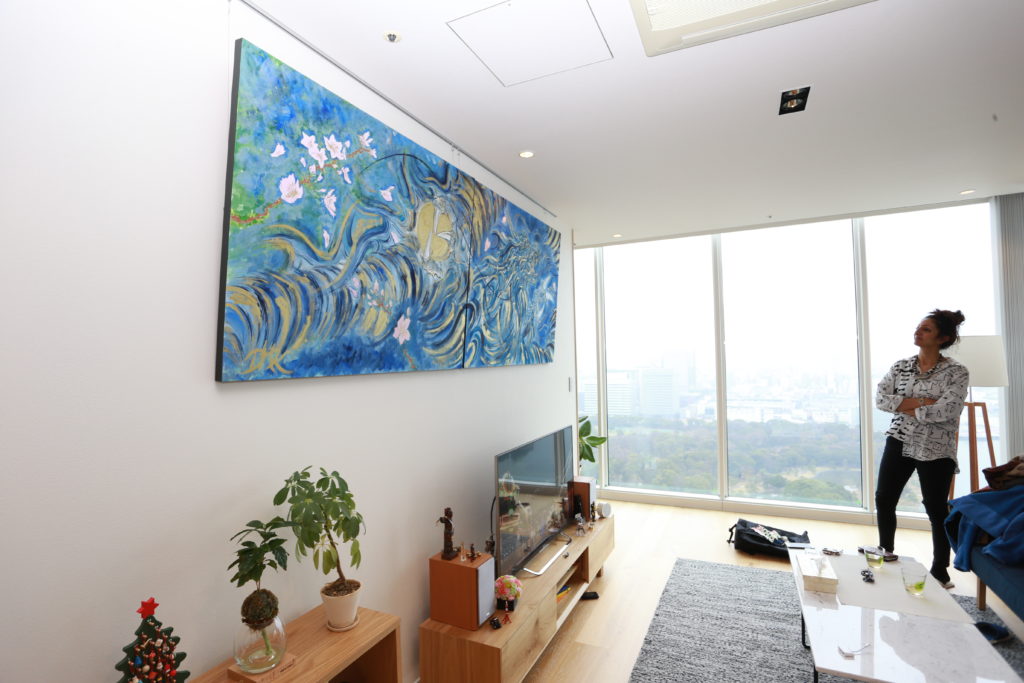 Commissioning Artwork:  Consultation To Installation
info@divyamariekato.com
*****************************************
Divya Marie Kato, Artist & Educator, CEO Atelier Kato Tokyo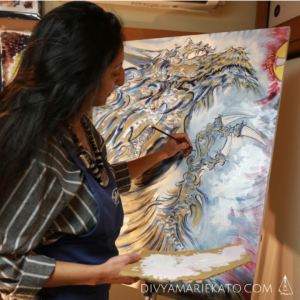 Artist & Educator, CEO Atelier Kato Tokyo, Creator, When In Doubt, Draw. Paris-born, Tokyo-based, British Indian artist and educator working in Japan since 2005.
Private and public collections, including ANA InterContinental Tokyo, featured in ELLE, The Indian Express, the Royal Society of Arts (RSA), Metropolis and collaborations with international organisations, local communities and schools. (Full portfolio here)
Fellow of The Royal Society of Arts, Companion of The Guild of St. George and passionate advocate of drawing.
***************************************
Drawing For Work, Life & Play
Drawing Classes In Person, Atelier Kato Tokyo | INFO
Divya's Online Drawing School | INFO
Divya's Full Portfolio | INFO
Services |  INFO
*****************************************
info@divyamariekato.com
******************************************
Something is wrong.

Instagram token error.