"Who am I? And why draw?"
---
Hello I'm Divya and I'm so happy you're here.  I'm here to help you get back to drawing and show you the many ways drawing can help you, as it has helped me.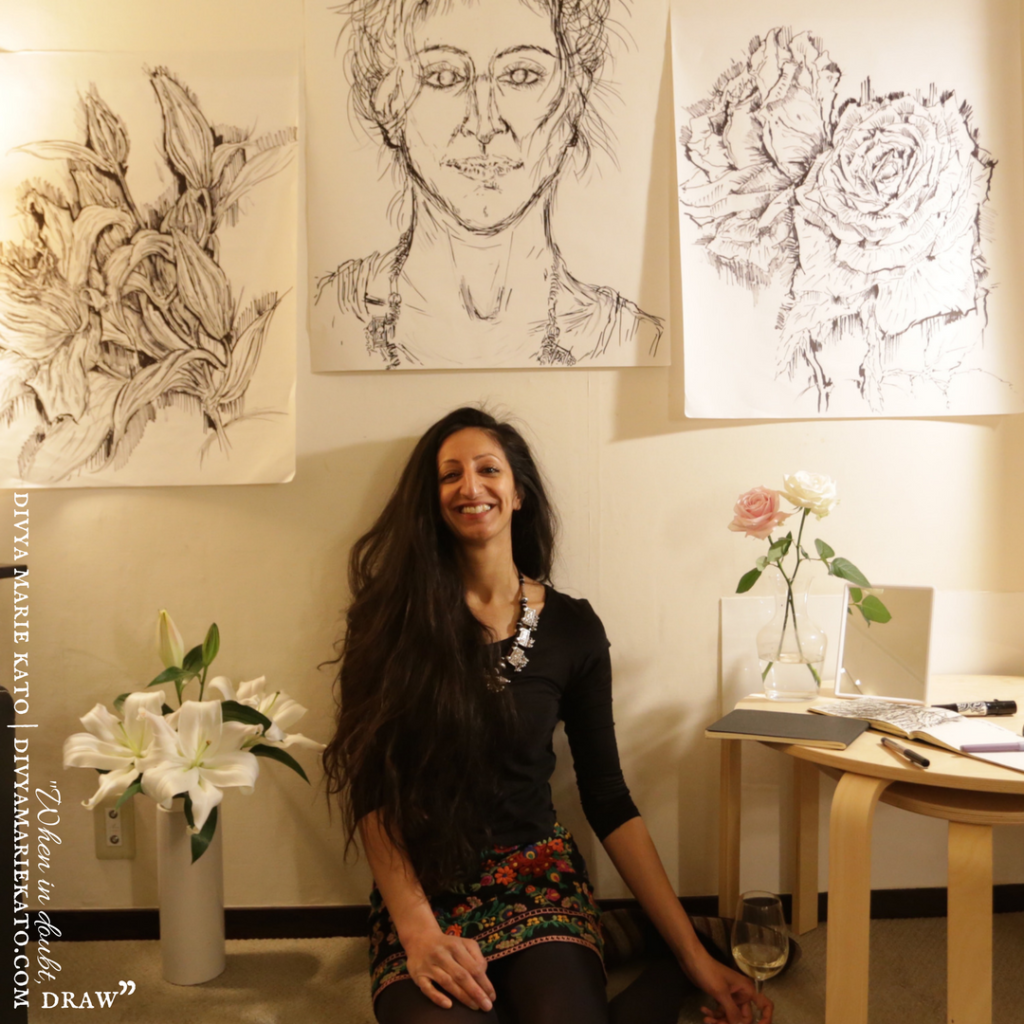 Dream.  And dream big.
The first thing I share with others, is to let their drawings take up as much space as their imaginations.
Fill the page.  Go off the edges.
There's nothing worse than having your big, beautiful dreams squashed into a canvas that's just too small.
Your dreams want to get out and grow.  And this is exactly what I can help you with.
Even if you've tried before.
Even if it's been a while.
Even if you HATE doing things you're not good at.
Even if you TRULY MADLY DEEPLY believe you can't draw and aren't creative.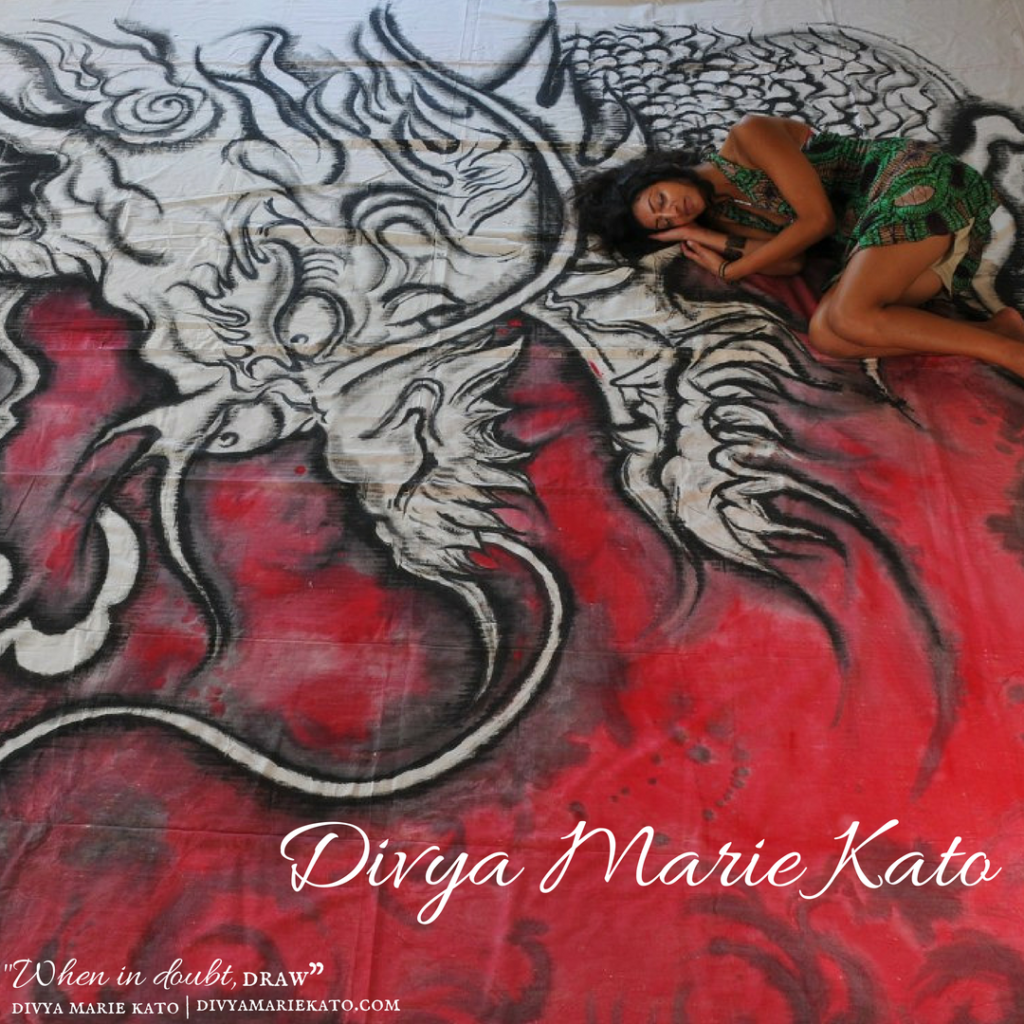 ---
What I see most, and what keeps me going, is the sight of people lighting up.
Discovering new things. Seeing differently. Making changes.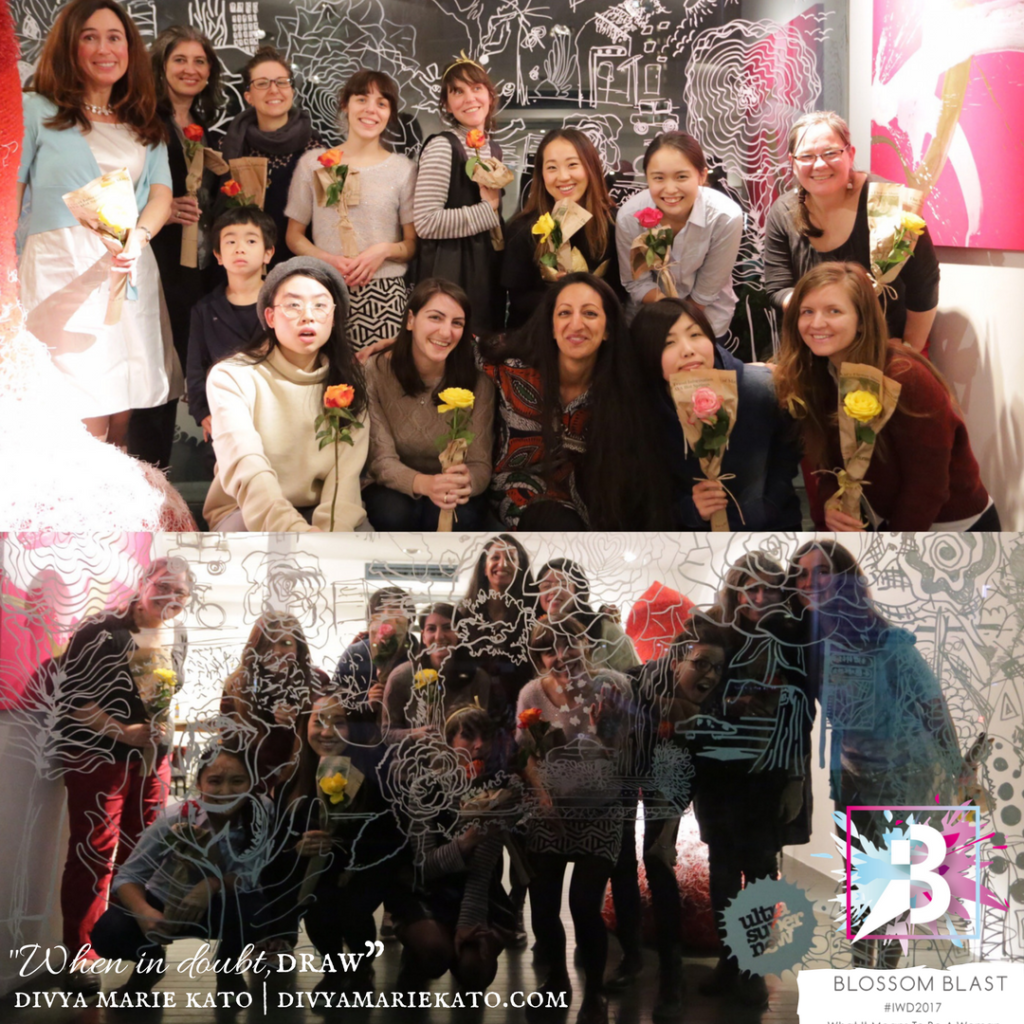 ---
WHEN IT COMES TO CREATIVITY MY BIGGEST FRUSTRATION IS….
"It's feast or famine. I'm either on fire creatively and feel great about it, or I feel like I can't possibly create anything and I feel completely stuck.
There is no middle ground and that is frustrating to me because I feel like I can't sustain it this way.
I'm either in a dry spell or I'm overflowing. I wish I could have a way to remain a creative person even when my personal life is falling apart.
I wish my emotions didn't affect my creativity so much."
– Sally
Abundance followed by dry spells.
Were you once highly creative yourself?  And life happened?
The good news is the door's always open.  You'll always be highly creative.  And your creativity's always right there.
For some of my clients, they're drawing after 30 years.
They're embracing being a beginner again.
Some haven't picked up a pencil since the 3rd grade.
Creativity takes courage. Especially later on in life!

---
---
My Clients Include:
Closet Artists, Parents who want to connect with their kids, Job-Hunting Undergraduates, Job-Hunting Masters Graduates, Children who dream of becoming artists, Adults who dream of becoming artists, Students seeking to engage their whole brain, Professionals wanting to improve problem solving skills or expand corporate or business capabilities, People who wish to integrate creativity into daily life, get over blocks or fears, move forward, People at the crossroads wanting to make a life or career change, or interested in a creative outlet, People who have difficulty communicating or expressing themselves
---
"It can be difficult to know which step to take next. What I now know is that drawing's more valuable than most people imagine.

This has been my experience, the experience of those I work with, and leaves me wondering why it is something all too often left behind in school."
---
An Extra Set Of Tools For Life's Toolbox
Find A Way Forward | Release Stress | Team Build | Discover Something New About Yourself | Make A Change | Integrate Creativity Into Daily Life | Practice Presence | Get Unstuck | Express Yourself | Reflect On & Process Experiences | Spark New Ideas | Nurture Community & Collaboration | Connect With Your Kids
I champion an approach of start and see, learning from nature and reconnecting with the blank page in the way you did as a kid.
It's the playground of possibility, presence, purpose and so much more.

---
Drawing helps us get over fears and move our feelings forward
Drawing helps us get out of old habits and old thought patterns
Drawing sparks new ideas and paves the way forward with new paths
Drawing and Creativity, help nurture a sense of community, ownership & belonging
---
Get out of the left brain and into the right.  You'll surprise yourself.  Guaranteed.
---
How Drawing's Different To Writing
As both an artist and a writer, I've observed how drawing helps us move feelings forward in a very different way to writing.  Extensive vocabulary or no, there are times when it is difficult to find the words to express our feelings.  Drawing is more elemental – a stage before – and has the power to catch feelings before words.
---
When In Doubt, Draw: Divya's Original Drawing Programme
In person or from the comfort of your own home. Drawing Classes & Workshops Here
************************************
Stay In Touch With Divya's Work Via Instagram Click Here
***********************************
 DIVYA'S PORTFOLIO HERE
**********************************
Can't find what you're looking for?
Get in touch with us here:  info@divyamariekato.com
***********************************
Something is wrong.

Instagram token error.