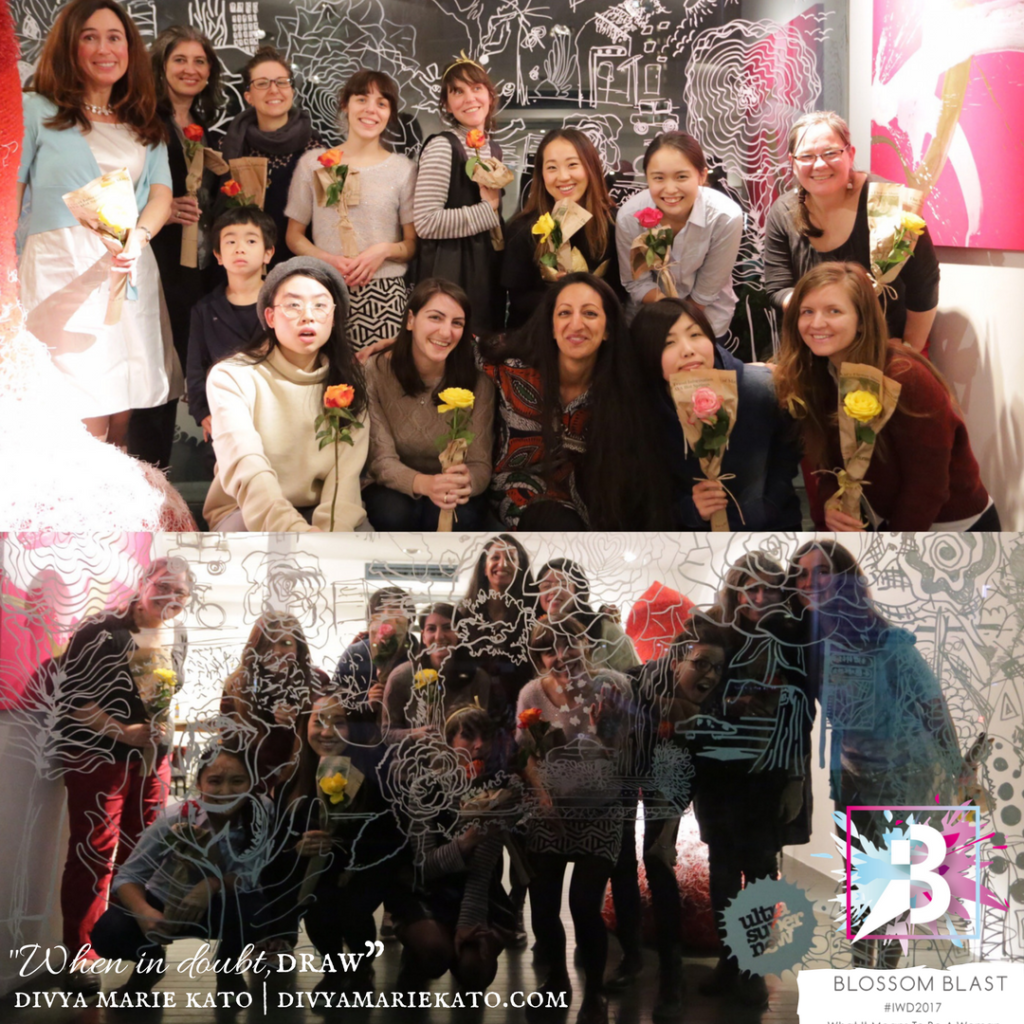 Since my last post, about how drawing trees has been helping me with everything from digestion to diversity to political conversations, here's a story about how art can be used to drive away doubts, highlight a cause and invite others to join us in a conversation.
Blossom Blast 2017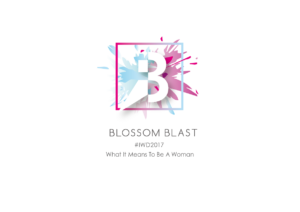 Joining this collaboration of female artists exploring, What It Means To Be A Woman, for International Womens Day 2017, has been an incredible opportunity and I've learned so much. Especially about ways of diving deeper into dialogue with a sensitive issue, that different people see in different ways.
From the artists themselves, and the questions they raise with their work, from the events – like Men Supporting Women to Women In The Arts – and from the interactions with visitors who came from a variety of different backgrounds – including students – loved meeting them! (below right)  An open dialogue in a safe space.
I was honoured to display a piece for the show, In Bloom, (above centre) and host a Female Empowerment Workshop for Blossom Blast 2017.  In Bloom:
Women – sensitive and strong, feminine and fierce, beautiful and bold.  The full spectrum of womanhood deserves the same space to grow and flourish, as all life that exists in the natural world.  Flowers, often thought of as feminine and delicate, are at the same time wild and free and carry the scent and strength of nature.  They represent the bigger picture of which we are all a part, as well as the limited time we have.
Being so irrepressibly present, petals wide open to the world, they speak to us of the WONDER-full wild.  This wildness is the feeling that flows through the lines of my work and is my hope for all women.
Female Empowerment Workshop:  What Does Female Empowerment Look Like?
We began with a discussion on doubts – those we have as women and those that hold us back from creating – and moved onto empowerment – what does empowerment look like and how can the creative process empower us?  I introduced drawing as an empowerment tool – one that's free, always available and easily accessible – handed everyone their empowerment tools and guided the group through activities to lead them to the heart of the creative process.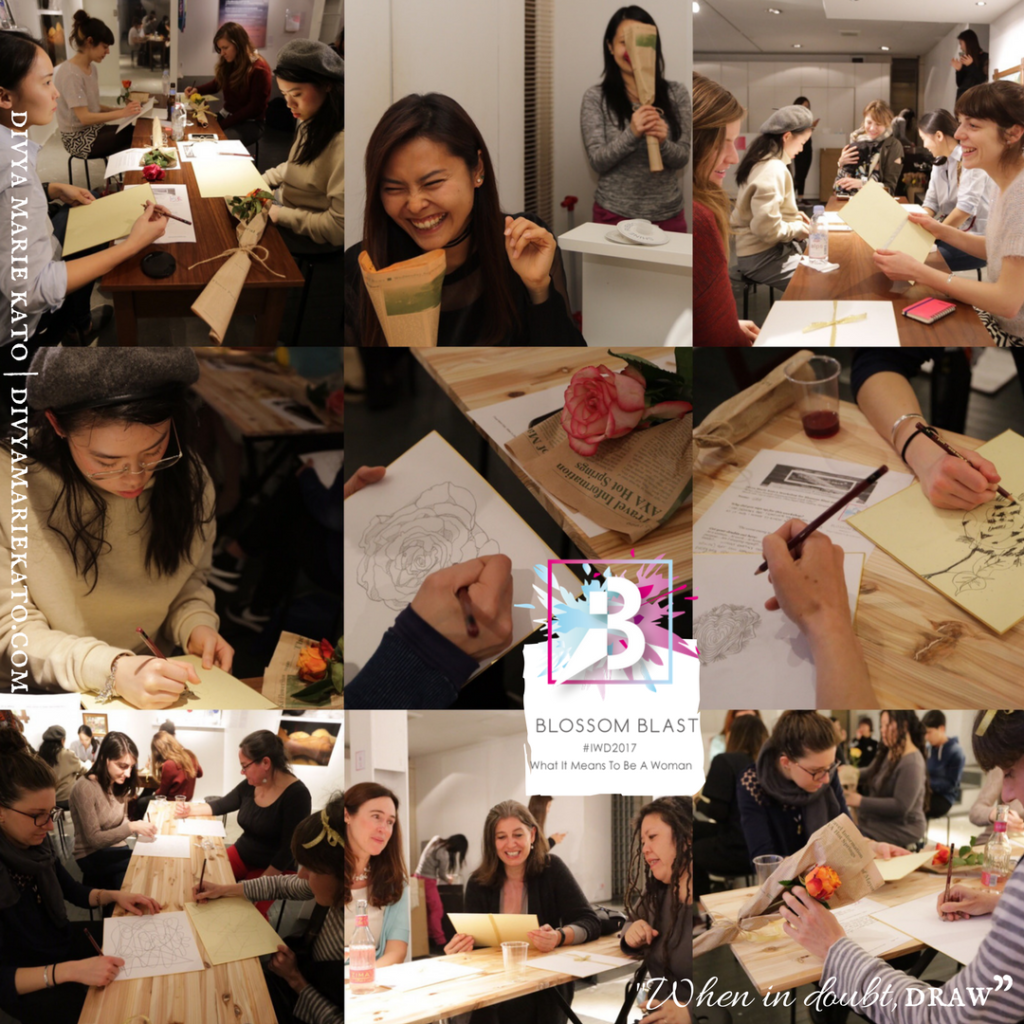 What resulted blew us all away.  From the tables and the inner, vulnerable work of sharing our doubts, to the windows and the outer, expressive work of getting the message across, I think it's safe to say, we did a great job of, at least for while, kicking doubts to the curb and showing the world what empowerment looks like.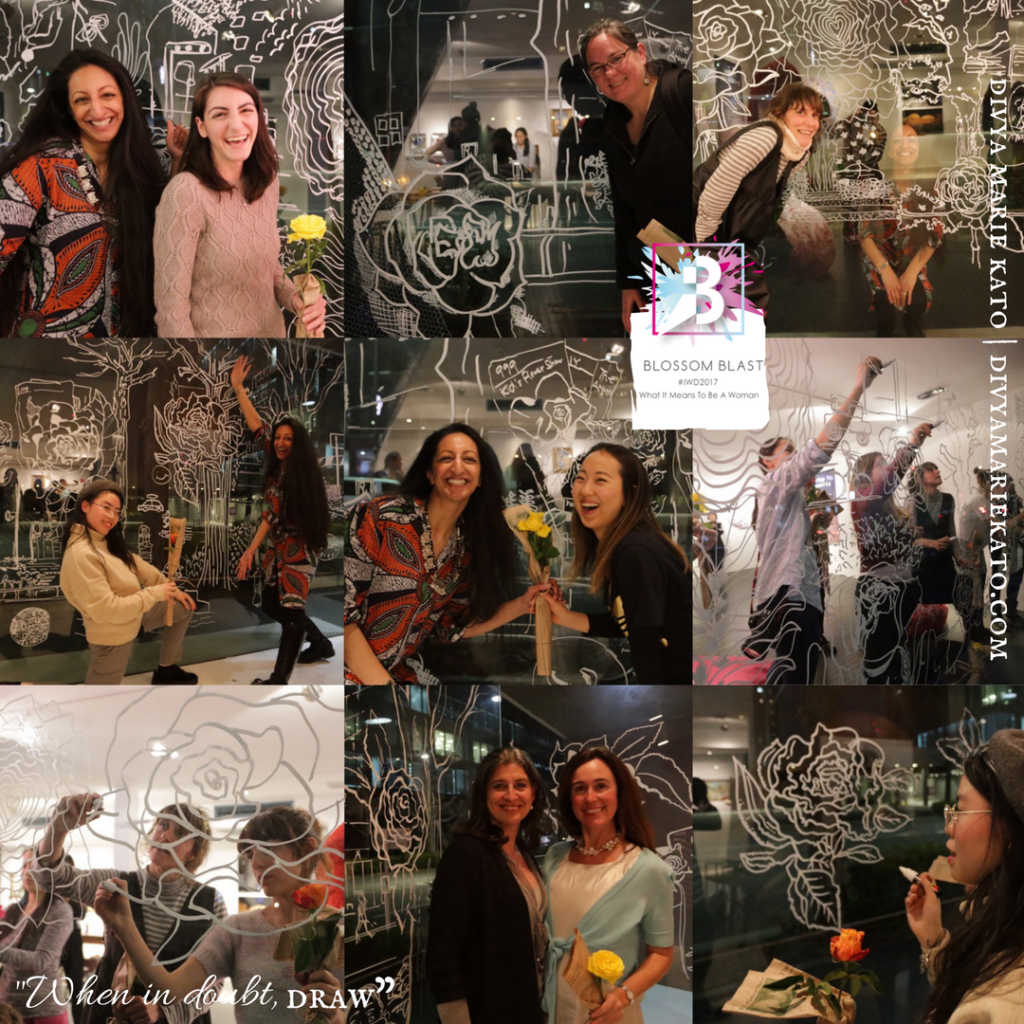 For the full coverage on Blossom Blast 2017, do check out the articles and artists and their websites here.
*********************************************************************************************
Next Event: Tokyo American Club April 12th 7pm With a very special guest!  Details  Here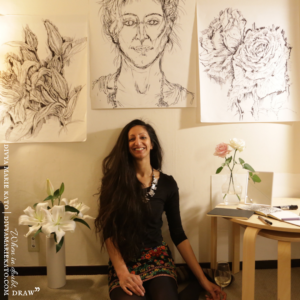 More Tree Talk Yup, still barking up trees!  You can follow my drawings on Instagram here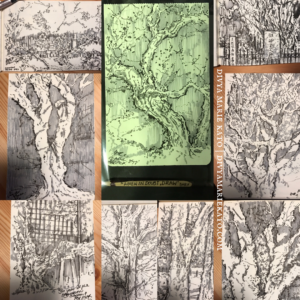 Drawing Classes Tokyo – all welcome – come visit us on March 28th!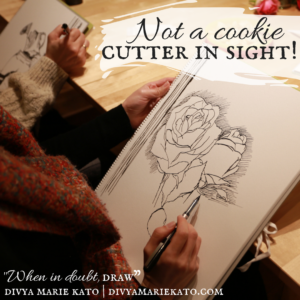 Not a cookie-cutter in sight. Nope. Not a single one. As I see the current group finding their own styles, for those thinking about joining my classes – a word of warning:  This is NOT a cookie-cutter course i.e. I draw, you copy, and repeat… and now we all have identical replicas…
The way I share drawing is about bringing out YOUR style, feeding YOUR inner artist and getting YOUR work out into the world: Practical tools with which to explore the bigger picture and the big questions.
This is about how drawing – if approached differently – can help you wake up your inner artist, move forward in times of doubt, reconnect with creativity, release stress, practice presence, process experiences, cultivate inner peace, spark ideas, make discoveries and more!
Spring Course Tokyo Starts April 4th 2017.  Details here. Come visit us at the venue, Afrika Rose in Hiroo, (3 mins walk from station) March 28th at 7pm. Meet us and see the work of the current group for their end of course exhibition!
Art Retreats:  Drawing On Nature & Learning From Land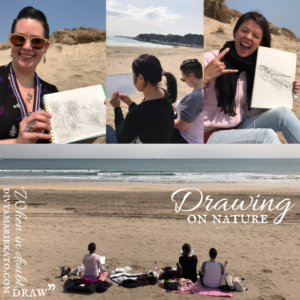 What a weekend away! We rode waves and climber trees and brought half the sand back to Tokyo.
Details on the next retreat coming soon.  Sign up to my newsletter for updates or email me to register your interest.
Application only:  info@divyamariekato.com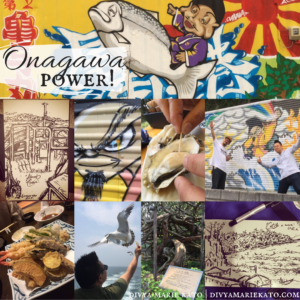 Onagawa 女川 Power. 6 years following the 3/11 earthquake and tsunami and the residents of this fishing town, including one and only street artist and all round DUDE, Shuhei Sakimura, are moving forward and going strong.
A fantastic place to visit with incredible art work, people, food, trees, a beautiful coast and Bar Sugar Shack!  Article in The Independent:   Read Here
***********************************************************************************
In my last post…  Barking Up Trees Click Here 
Drawing Classes & Workshops 2017
"My art teacher Divya taught me so much! My door of happiness opened thanks to her lesson. It's more than just drawing. It's magic!!! It's totally worth experiencing this new world. So beautiful!"  
– Megumi Hagiuda, Afrika Rose Tokyo
"It's 2017 and I am back to draw!!! It's been a while…anyone living in Tokyo wanting to take up a drawing class, Divya Marie Kato's drawing class maybe the perfect choice!"
– Alicia Naruse, Paradiddle Lifestyle Tokyo
もっと事前にご案内するべきでした
冬レッスンは1/24明日スタートです…
私の人生を大きく変えた素晴らしい描くレッスン💖幸せの扉が音を立ててパカっと開きました🌟
興味ある方は、スケジュール抑えることをオススメします
全5回、19-21時、少人数制。
冬レッスン: ***Fully Booked***
春レッスン: 4/4, 4/18, 5/9, 6/6, 6/13 ***Registration Open: info@divyamariekato.com***
秋レッスン: 9/21, 9/26, 10/10, 10/24, 11/7 ***Check For Updates***
私の大好きな先生divya💖   Details Here
Hi, I'm Divya and I'm a British artist in Tokyo helping people reignite creativity at home and at work through drawing.  Classes & Workshops:  Details here or email me at: info@divyamariekato.com 

As adults, we often lose sight of our creativity:
Always wanted to draw, but think you're not good enough?
Did you draw before when you were a kid, but now you've left it behind?
Heard all these great things about creativity and drawing and how it helps you release stress, problem solve, spark ideas…but you don't know where to start or it's been a while?
---
Well, did you know that drawing's the easiest way to get it back?
---
Through drawing, we can rediscover our creative selves and receive inspiration, happiness, creativity and joy in the process.  Drawing's also frequently used in forms of art therapy,  personal and professional development, for its cathartic, stress releasing and idea sparking properties.
---
Pick up a pencil. Start and see. I'll show you how. Click Here For A Video On What You'll Learn
---
Wanna dip your toe in?  Click  here
Wanna join us for classes or workshops?  Head here for classes and here for workshops
Can't find what you're after?   Get in touch with me right here: info@divyamariekato.com
---
And…things just got even better!  Want us to bring creativity to your home or office?
Divya's now partnered with her husband, Masahiro Kato, to be able to deliver workshops bilingually.  The British-Japanese husband and wife team are combining their shared experiences of creative living around the world, in order to being creativity to your home or workplace.
These are workshops with a difference and the experience will be an unforgettable one for your family or for your team.  Creativity workshops click here
---
 Keep in touch via email:  info@divyamariekato.com or for latest news, follow us on Instagram:
Something is wrong.

Instagram token error.